The International Christian Retail Show teems with authors, musicians—anyone who creates unique ways for Christians to minister not only to those who don't know Christ but to the Christian community. It's exciting to discover what God is doing in the lives of authors (the story behind the story) and how He is transforming them through story. I hope these snippets from this incredible group of authors encourage you and intrigue you to read their works.

Ginny Yttrup, author of Words, Christy winner for First Novel, and Lost and Found
Where was that story for Lost and Found inspired in your heart?
It came from my own experience, when I was unraveling my life from a destructive relationship. During that time, a friend quoted Madame Jean Guyon to me, and I asked myself the question: "What would a modern-day Madame Jean Guyon look like?" So I took my emotions and experiences and began to weave a story around her life.
What do you hope that your readers will take away from this novel?
I spent my whole life as a people pleaser, placing people in the place where only God should be and allowing them to have more control over my life than God did. So I wrote Jenna's character very much out of my own experience and heart. I hope others will learn the consequence of placing people in the place of God.
Gina Holmes, Christy nominee for Dry as Rain

Gina said this about the Christy Awards:
Christian authors truly want to see books that will change lives nominated for the Christy Awards, whether or not it's our book. As authors we support one another. We are brothers and sisters in Christ. That's as it should be.
I'm still the same person, I'm still the same writer, I still have the same advice, so the Christy nomination does validate my work as a writer.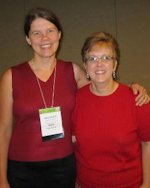 Heather Munn, Christy nominee for How Huge the Night
It was fascinating to discover the story behind this award-winning book!
I really believed in this book, so the Christy nomination is a kind of validation for this story.
The story is based on a true story of a little village in the middle of nowhere that became one of the safest havens for the Jews in Europe during World War II. A town of about 3,000 people saved the lives of about 3,000 refugees. The village is not far from where I grew up, because my parents were missionaries in France.
Mom learned that American's didn't know about this heroic village. She started the book when I was about thirteen—wrote and rewrote it several times—and got tired of being told to rewrite it. So my dad suggested that I help her rewrite it. It was a great experience.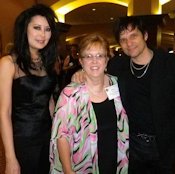 Ted Dekker and Tosca Lee, coauthors of Forbidden, nominated for the Christy Award, and Morta
How are your readers responding to the series?
Tosca: They are getting tattoos of the cover art!
Ted: My readers have always been passionate!
Tosca: I want one!
Was it easier or harder to work on the second book?
Tosca: Much easier. It takes shared experiences to earn trust between each other. We fought less while writing Mortals than we did writing Forbidden [she laughs].
Ted: We both have strong personalities. The key is to learn each other's strengths and respect them. Trust them. She has strong prose, poetic writing, great descriptions—all the things we need to build a world.
Tosca: Ted has great trademark strengths in plot and pacing, characterization and theme.
Kathi Macias, Freedom Series, last in the trilogy: The Deliverer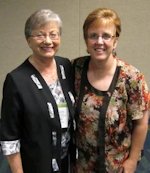 In her own words:
Almost 30,000,000 people worldwide are held involuntarily in sex slavery, forced labor, or for the donation of human organs . . . many of them are children as young as eighteen months old. The U. S. State Department's conservative estimate is that 300,000 minors—two- to sixteen-year-olds—are being held for sex slaves in the Unites States alone. The average preferred age is between eight and fifteen years old.
New Hope Publishing challenged me to write on the subject. Research included talking to law enforcement, investigative journalists, people involved in rescuing these slaves, and survivors. Once I'd interviewed an investigative reporter who'd witnessed an undercover cop bust a man trying to buy an eighteen-month-old child as a sex slave, I couldn't walk away from this project.
As I'm completing the fictional series, I'm getting calls from Homeland Security, colleges, churches—everywhere—to talk to and educate people about this growing problem.
Martha Bolton, Josiah for President, releasing October 9
Martha is taking Amish fiction in an entirely new direction!
Josiah is asked to run for president, which goes against his Amish ways, so an internal struggle takes place throughout the novel because he feels he's doing what God has called him to do. Josiah has learned an important lesson in forgiveness, which enables him to maintain his personal integrity before very aggressive political opponents. He says to a friend, "You hang on . . . and you let go. The fact that I've forgiven . . . doesn't alter the truth. But not forgiving would alter my future."
Josiah's story is applicable to all of us. He remains true to himself and maintains his integrity. He doesn't have to give away his whole heart, even though he sacrifices to follow God's leadership but remains true to his beliefs.
Lysa Terkeurst, Unglued
I hope my book can help others avoid the extremes of stuffing emotions or exploding emotions . . . and stay centered on soul integrity. "Soul integrity . . . brings the passion of the exploder and the peacemaking of the stuffer under the authority of Jesus, where honesty and godliness embrace the balance of each other" (p52).
Progress is possible if we are brave enough to look at our reactions and examine them before God, because reactions have a direct impact on all relationships . . . they influence other's lives.
Steven James, winner of Christy Award for The Queen

Where do you get your ideas, and how do you get into the minds of your characters?
Each book begins with a question instead of an answer. The question in this book is "What does it mean to forgive yourself?" Does it mean anything? Nowhere in the Bible does God encourage us to forgive ourselves. All of the characters have different ways to ask the same question. All of them come to a different answer. Their journeys to their answers are what this novel is built around. Because they all struggle with forgiveness, it does create a lot of emotional struggle in the course of the story. All of the characters experience deep growth in one way or another.
Mary Manz Simon, First Virtues
Mary explains the need first-generation Christian parents have:
Children have so many outside influences today. We need to influence the filter between their ears—the child's brain—and introduce them to the Word of God and basic virtues early. If there is a vacuum, something will fill it. Anyone who touches the life of a child can influence them in a good way.
First Virtues introduces the abstract concept of twelve virtues to the concrete world of young children. The virtues were chosen from a list given to parents who rank them.
Crystal Bowman, God's Big Promises for Kids and God's Big Ideas for Kids
Crystal shares the love she has for her audience!
Adults reading to children may not know the Lord, and reading Scripture promises to their children can transform the adults' lives as well as the children's. Many parents are first-generation Christians, and some tell me that they are learning a lot through my books. I'm writing to two audiences, and I hope the adults reading my books will be convicted, encouraged, and blessed, as well as the children.
Big Ideas is a little more abstract—God's commandments to His children. Not the Ten Commandments, but God's commands throughout Scripture that direct us how to live our lives as His children. Promises is more comforting, while Big Ideas is more convicting. The books are marketed as a complimentary pair.
Melody Carlson, The Christmas Pony, The Best Friend, and River's End
It's always fun to ask this prolific writer what she's up to!
I've been doing a Christmas novella for the last eight years. The Christmas Pony is set in the Depression. The main character is a little girl who wants a pony. Her mom, a widow, runs a boarding house and can barely afford to put food on the table, much less feed a pony.
The Best Friend is the second of Life at Kingston High series. The main character is feeling left out, when a new girl befriends her and pulls her in a negative direction. The main character of the first book returns and helps her figure a way out.
The third book in the River's Call series, River's End, will release in August. A companion Bible study will release soon as well. The themes of forgiveness and healing run through all of the books in this series, so the publishers thought they would use excerpts to create a Bible study.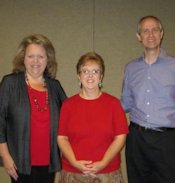 John and Mindy Clark, Echoes of the Titanic
What is the genesis of this story?
Our publisher suggested the idea, and I immediately became excited because John is a huge Titanic buff. John has always played a huge role in my writing: my brainstorm and research partner, first reader, story helper . . . he has always been a coauthor anyway. The idea was suggested four years ago in anticipation of the Titanic's anniversary.
John has an instinct for story like no one I've ever met. He can detect where the story lags, where the characters need more development, and suggest ideas that take my story from good to the next level of wow! I've never had as much fun as writing with my husband!
Paul Young, The Shack and Crossroads
Paul shared about his writing journey:
Any art form is not about someone getting out of your work what you put into it. The beauty of creativity is the part that the Holy Spirit is all over. You write out of your history and your experience, and others will see what they think you put there for them. When some get upset about something I've written, they're not telling me about me, they're telling me about them. They're bringing to the table what they've got. It a beautiful part of the conversation.
Relationship is always uncomfortable. The journey is not about trying to please God but about learning to trust God. The world takes us to some very dark places. God doesn't take us there, He comes with us. He says, "I'm never going to leave you nor forsake you." If trust is the central issue, you cannot trust someone who doesn't love you all the time. God says to us: "I'm still going to stay with you in the middle of things when your lack of trust is going to be revealed so I can heal that place."
He gave a sneak peek into his new novel.
Crossroads is coming out soon and will surprise you like The Shack. This catches a man between life and death. The main character has to deal with the roads he has crossed and those he has yet to cross. This place of decision spins him into a place of consideration of decisions he has already made and choices he has yet to make.
Mary DeMuth, Beautiful Battle
A book about spiritual warfare, Mary shares her heart about this misunderstood battle.
The primary purpose it to elevate God and make Him big in our lives. Many books about spiritual warfare concentrate on the power of the Enemy, with God almost an afterthought. The book focuses on the bigness of God in our lives—His sovereignty and goodness.
Many people view spiritual warfare as a wrestling match between God and Satan, giving them equal power. That is a wrong view of spiritual warfare. Christ has already won.
David Teems, Discovering Your Spiritual Center
David's words speak for themselves.
My focus was Scripture itself. "Let it toil in me. Let it search my heart. Turn on a lamp to all my inwardness. Speak a word of comfort to all my distress. All these benefits are written in this one psalm. It was glorious" (p19).
God's Word is a map that will spiritually center your life, and it is important to spend daily time in the Word. God used a musician to lead me to Christ at a time when music was the focus of my life. Then He led me to a church where the pastor was a clinical psychologist (my area of education) who focused on the power of God's Word. God moved in a very specific way in my life, and He continues to do that to this day.
---

---