Kelly Klepfer came on board Novel Reviews several years ago as the Senior Editor through her connections with Gina Holmes, Ane Mulligan and Jessica Dotta of Novel Journey fame. Novel Reviews is the baby sister of the popular Novel Journey. At Novel Reviews we offer honest reviews of Christian and secular fiction titles and love to promote exceptional fiction. We began to do so after we met the authors via their interviews at Novel Journey. Disclaimer: Our reviewers are not paid for their reviews. Some may consider the receiving of a complimentary book or loosley bound manuscript (by publisher or author), as a form of compensation, so, be forewarned that our reviewers RECEIVE BOOKS. In our defense, it would be difficult to review without them. (Also, we are not affiliated or paid for any links to online bookstores.)


NOVEL REVIEWS CORNER
---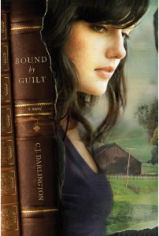 Bound by Guilt
By C.J. Darlington
Published by Tyndale
ISBN# 978-1-4143-4012-8
402 Pages
Roxi Gold has been shuttled from one foster home to another for most of her life. She longs for a family and will do anything to fit in, even if it's against the law. Soon she's traveling the country in an RV, stealing rare books from unsuspecting bookstores. She knows it's wrong, but if she refuses, she'll be put out on the streets.
Police officer Abby Dawson has seen the worst of society, and not just at work. Her ex-husband wrested their daughter away from her in a bitter custody battle. The job she once loved has become a chore, the world isn't any safer, and there's no joy in her life.
One fateful night, a man's innocent blood changes both Roxi's and Abby's lives forever. One searches for justice; the other finds herself on the run until a first edition of The Great Gatsby catches up with her. Will the power of forgiveness set them free, or will they both remain bound by guilt?
Review:
I was intrigued by the beautifully bound book and the troubled teen on the front cover. I was thrilled to receive a review copy of such an intriguing, tension filled, heartfelt book. This novel kept me spellbound on many levels, as C.J. took me through the homey Book Barn - a place I'd love to go and explore its treasures myself. The author's passion for books and her book experience shines through in this haunting, suspenseful tale of a teen caught in a hopeless web she struggles to get out of. Contrast to a female cop named Abby, a character who feels trapped in a different kind of situation! She too is looking for a way out!
Roxie longed for a family of her own and a place to call home. She was abandoned by her mom and shuffled though the foster care system at a young age, ending up with a distant relative. Roxi felt trapped in the family business she wanted no part of. But where would she go? If she didn't comply, they'd give her back to foster care and she couldn't have that.
Abby Dawson is a cop with an attitude. She joined the force to help people and clean up the streets. Abby felt she did very little good when the bad guys didn't stay in jail long, and were back out on the streets. Life didn't quite seem fair in the legal system or in her personal life either. Where was she headed? Her life had no meaning?
Then Roxi and Abby's life change in an instant! Abby receives a phone call from her dad that rocks her world, and sets Abby on a new path in life. Roxi has started down a new path as well...one she never thought she'd be on – ever. Will this event be the end to both of them? Or will they both seek the truth and be set free, in more ways than one.
The author says, "If you take away one thing from Bound by Guilt, may it be the challenge to look past outward appearances and reach out to a hurting teen in your life. Teenagers, even those with tattoos and nose rings, need people like you and me to love them for who they are. I hope we can be Jesus' hands and feet and love this generation unconditionally,"
While reading this story I could sense the authors' soft spot for teens and the people society throws away. This is a book that will touch your heart, mind and emotions. It will also get you thinking about how you can be the hands and feet of Jesus in your corner of the world. C.J.'s a deep thinker and full of love that radiates on every page she writes. She shows how God uses flawed characters' to do amazing things in their lives if we let Him!
C. J. Darlington has been in the antiquarian book selling business for over a decade. Her passion for books and the experience she's had in book selling bleeds through in every chapter. It was enthralling. In the author notes, C.J. mentions she used a real life story as the back drop to this book. It made the story all the more interesting for me. I enjoyed how C.J. took the reader behind the scenes of the mysterious world of antique books, buyers, sellers and thieves. The world that C.J. creates is sincere, interesting, suspenseful and clever!
I can't wait to have my book club read and discuss this book. You'll definitely want to read this book, I'm sure you'll be talking about it to friends and co-workers. I'm looking forward to the next book C.J. writes, you will too!
Reviewed by: Nora St.Laurent at: The Book Club Network
---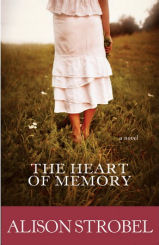 The Heart of Memory
By Alison Strobel
Published by Zondervan, March 2011
ISBN 978-0-310-28947-0
Description:

Beloved Christian writer and speaker Savannah Trover expected to wake from surgery missing her former heart—not her former faith. Now her anger toward God threatens to destroy her family and ministry. Can she ever trust her heart again?
Review:

The Heart of Memory will linger in your memory long after you turn the last page. Alison Strobel plumbs the depths of lost faith and the loss of self in this amazing book. She exposes things about transplant recipients and cellular memory that were spellbinding. I couldn't put it down. Novel Journey and I highly recommend it. It's a 5-star read.
Reviewed by: Ane Mulligan at: Novel Journey
---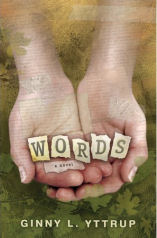 WORDS
by Ginny L. Yttrup
Published by B & H
ISBN#978-14336-7170-8
363 Pages

Description:

"I collect words. I keep them in a box in my mind. I'd like to keep them in a real box, something pretty, maybe a shoe box covered with flowered wrapping paper. Whenever I wanted, I'd open the box and pick up the papers, reading and feeling the words all at once. Then I could hide the box. But the words are safer in my mind. There, he can't take them."
Ten-year old Kaylee Wren doesn't speak. Not since her drug-addled mother walked away, leaving her in a remote cabin nestled in the towering redwoods-in the care of a man who is as dangerous as he is evil. With silence her only refuge, Kaylee collects words she might never speak from the only memento her mother left behind: a dictionary.
Sierra Dawn is thirty-four, an artist, and alone. She has allowed the shame of her past to silence her present hopes and chooses to bury her pain by trying to control her circumstances. But on the twelfth anniversary of her daughter's death, Sierra's control begins to crumble as the God of her childhood woos her back to Himself.
Brought together by Divine design, Kaylee and Sierra will discover together the healing mercy of the Word-Jesus Christ.
Review:

"I can't talk. I can't breathe. Tears choke me."
That's exactly how I felt when I read the last page of this book. I'm thrilled to have received a review copy of such an astounding, debut novel. I haven't read anything this profound, inspiring and life changing since Redeeming Love and June Bug. The author is a master wordsmith and trusts the readers' imagination to fill in the blanks about the abuse Kaylee endures and talks about it without being graphic. Ginny L. Yttrup has overcome sexual abuse in her own life, is compassionate towards its victims and has penned a story filled with healing and hope. Ginny shows the reader a way to shine the light of Jesus in the darkest places of life in a real way.
Kaylee is a ten year old girl fascinated by words. Words are a colorful protective shield she uses to give her hope and clarify things she doesn't quite understand. Kaylee is a bright and loving child surviving day after day anticipating her mother's return.
I enjoyed Ginny Yttrup creative writing style. It was fun to read and had a powerful impact to the story, for example Kaylee says, "my favorite C word - co-loss-al. It means awesomely huge."
She uses it to describe the colossal redwood trees she loves. The tree is her special place to hide her earthly treasures and new words. The author's style adds richness to the novel and gives Kaylee a distinctive way of expressing herself.
"I'm so hungry I could eat the scrambled egg in one bite. Instead, I try to make it last, make it seem like more. I take tiny bites. I think of a word that I added to my box this week.
Sa-vor – verb 1) to perceive by taste or smell, esp, with realism 2) to give oneself to the enjoyment of: savor the best in life.
Yes, I savor each bit of my eggs." This author's unique voice allows the reader to experience and see the healing power of love in action. This book is not preachy but potent. The message is clear "Jesus is the word – the most important word"
Ginny had me going in parts of the story I thought I had figured out, and threw in twists I didn't see coming. Parts were surprising, suspenseful and I found myself nervous for the characters. This book is quite an experience, one you'll never forget and don't want to miss. This novel is one of the reasons why I read and promote Christian Fiction. I highly, highly recommend it. Treat yourself to reading Words. I don't know where Ginny will go from here but I'll be following.
Reviewed by: Nora St.Laurent at: The Book Club Network
Bonus Review:
Brilliant, brave and beautiful are the words that come to my mind when I ponder Ginny Yttrup's debut novel, Words, a story that is captivating and generates tears of sadness and joy. Drawing from her own experience of abuse, Ginny invites readers, with skill and sensitivity, into young Kaylee's traumatized world revealing her fears and her determined spirit. Sierra is a complex character whose battle with loss and devastating guilt will resonate with anyone who looks back on their life choices with regret. Words is a compelling reminder that while tragedy and sin are confronting and soul shattering, there is hope and healing to be found in the forgiveness and grace Jesus offers. I cannot speak highly enough of this new found talent and I look forward to reading many more of her books to come.
Reviewed by: Rel Mollet at: Relz Reviews
---

---