Kelly Klepfer came on board Novel Reviews several years ago as the Senior Editor through her connections with Gina Holmes, Ane Mulligan and Jessica Dotta of Novel Journey fame. Novel Reviews is the baby sister of the popular Novel Journey. At Novel Reviews we offer honest reviews of Christian and secular fiction titles and love to promote exceptional fiction. We began to do so after we met the authors via their interviews at Novel Journey. Disclaimer: Our reviewers are not paid for their reviews. Some may consider the receiving of a complimentary book or loosley bound manuscript (by publisher or author), as a form of compensation, so, be forewarned that our reviewers RECEIVE BOOKS. In our defense, it would be difficult to review without them. (Also, we are not affiliated or paid for any links to online bookstores.)


NOVEL REVIEWS CORNER
---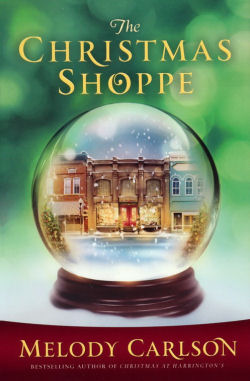 by Melody Carlson
Published by: Revell
ISBN #: 978-0-8007-1926-5
168 Pages
Description
The small town of Parrish Springs is not ready for Matilda Honeycutt. A strange older woman with scraggly gray hair and jewelry that jangles as she walks, Matilda is certainly not the most likely person to buy the old Barton Building on the town's quaint main street. When it becomes apparent that her new shop doesn't fit the expectations of Parrish Springs residents, a brouhaha erupts. After all, Christmas is approaching, and the last thing the town needs is a junky shop run by someone who looks and acts like a gypsy. But as townsfolk venture into the strange store, they discover that old memories can bring new life and healing.
Review:
I've enjoyed several of Melody Carlson's Christmas books and this one is no exception. The Christmas Shoppe reminded me of of two things, one the movie with Johnny Depp called Chocolat, where a mother and daughter set up a chocolate shop in a small town in France and also a book called The Legend of the Candy Cane, where a man comes to town and opens a mysterious shop that turns out to be a candy shop. In each of these stories the whole town watches in anticipation to see what the shop owner will sell.
Melody's story starts out in a similar way, the whole town is intrigued at what kind of store will open in their small town of Parrish Springs. Matilda Honeycutt is setting up shop and doesn't want to tell just yet what type of shop she has in mind. "Matilda has a little something for each one of them (towns people) sitting on her cluttered shelves, just waiting to be discovered."
Everyone speculates and wonders what is behind the papered-up windows and locked doors! The town counsel is watching and wants to make sure Matilda follows the rules. She has to follow strict guidelines. When she is cornered about these rules and would she comply with them, she asks the board her own questions and confronts Rose "The secret value of this treasure is impossible to measure-what do you think peace is worth Rose? Impossible to measure?"
Rose ponders that idea and leaves Matilda alone. She talks to another, "Please don't turn down a gift, George. You might not get another chance. Today is here. It's yours for the taking! Please, just take it?"
It's an easy read that helps you see the gifts only God can provide! Definitely a warm, fuzzy, feel good novel with a few twists and subtle messages for the characters and you to ponder. This was a sweet tale that helps the reader catch the spirit of Christmas.
Reviewed by: Nora St.Laurent at: The Book Club Network
---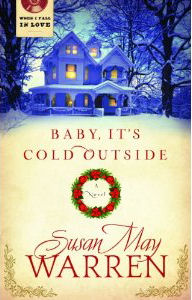 by Susan May Warren
Published by Summerside Press
ISBN-13: 978-60936-215-7
Description:

Dottie Morgan has no desire to share her home or her heart over the Christmas holidays. After all, her Christmas spirit froze over when Dottie lost her son in World War II. But when a blizzard of the decade traps Dottie in her home with four near strangers, she just might discover that opening her door might also open her heart to a Christmas miracle and a new reason to celebrate Christmas.
Review:

Baby, It's Cold Outside has an eclectic cast of characters from Dottie the curmudgeon, Jake the pretender, Gordy the neighbor, to Violet the WAAC. Warren's characters take you into their hearts and don't let go. I laughed and cried and turned pages all night long. Baby, It's Cold Outside is a must read this Christmas! Novel Rocket and I give it our highest recommendation: a 5-star read.
Reviewed by: Ane Mulligan at: Novel Rocket
---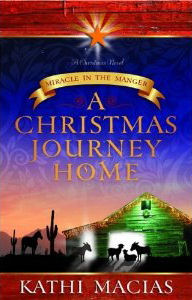 by Kathi Macias
Published by New Hope Publishers (October 5, 2011)
ISBN# 978-1596693289
240 Pages
Description:

During Isabella Alcantara's seventh month of pregnancy, her parents and siblings are murdered in gang- and drug-related violence, simply because their home was targeted by mistake. Isabella knows she was spared only because she now lives in a different location, but she knows too that the same thing could easily happen to her and her husband, Francisco. When her grandfather offers to hire a "coyote" to bring them across the border to America, she agrees. But Francisco and Isabella are abandoned by the coyote and left to die. Francisco then valiantly sacrifices himself to get Isabella to safety. Homeless, nearly penniless, pregnant, and alone, Isabella determines to find a way to honor her promise to her beloved husband.
Living on one of the smaller spreads along the Arizona border, Miriam Nelson becomes furious with God and turns from her faith when her border patrol agent husband, David, is killed in a skirmish with drug smugglers. Though her mother and young son do their best to woo her back from the anger and bitterness that have overtaken her, they make little headway. Two widows—one driven by fear and a promise, the other by bitterness and revenge—must make their journeys along different pathways, but with the same destination: a barn full of animals that stands waiting for them on Christmas Eve. Forced to face their personal demons, Isabella and Miriam soon discover a common yearning that will bind them together in a most miraculous way.
Review:

Looking for a warm cozy feel good Christmas story? – It's not found here! Just like Jesus' life on earth was not filled with cute fuzzy experiences but what he went through here on earth changed the world forever. It was miraculous and so was the ending of this book. Kathi Macias writes stories with heart and they have a mission. This story is to make people aware of Illegal Immigration. Even at the mention of this topic images and emotions stir, Kathi doesn't take sides. She shows the situation from many angels. I really liked that about her books.
This author looks at two women from different parts of the world - living completely diverse lives. Isabella is in Mexico, recently married and is 19 years old. After Isabella's family is murdered by drug Lords her grandfather gives the couple his blessing and life savings. He wants them to flee to America in hopes of a better life.
Isabella's husband Francisco secures a Coyote to help them get to the Promised Land. Instead they find themselves all alone in the desert, with no hope of survival.
Miriam is a widow raising her young son with her mother. Her husband patrolled the Borders and was killed doing his job. Enforcing immigration laws was what he did and she was angry at "those" people! The ones trying to cross the boarder, they were all the same and responsible for her being alone!
The author has you empathize with these women and their struggle, each trying to push past their hurts, fear and walk one step at a time trying to hear from God. Living out the Christian life wasn't easy for Miriam or Isabella.
This is not an easy read as Isabella goes through a series of unfortunate events. It's hard to read because I know that this kind of thing does exist. Kathi doesn't get graphic but gives you a glimpse into their struggle. I like how this author shows the grandfather interceding for the young couple! He knows the power of prayer and does it without ceasing! This is an emotional, gripping tale that will have you look at this situation with new eyes! Kathi also shows what greed, can lead to and what poverty does to people. In the end and all throughout the story reveals how we can only make it thru impossible situations with God working in us and through us with His love, compassion and forgiveness. When we let God work in us and through us our life and the people in our life are forever changed. I highly recommend this story and Kathi's Extreme Devotion series; her books are unforgettable in so many ways!
Reviewed by: Nora St.Laurent at: The Book Club Network
---

---