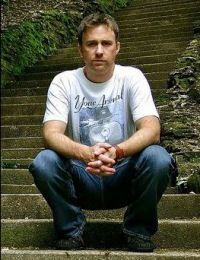 Travis Thrasher's words span many genres and explore some of life's difficult questions and situations. His stories explore life in all of its gritty reality and offer readers a different perspective in areas of faith where they may be facing particularly difficult questions. Difficult questions intrigue Travis, and his novels provide emotionally charged answers.
Travis's writing does not neatly fit into one category. Instead of approaching his stories with a particular story-type, he emotionally and spiritually entertains and challenges his readers! Travis is now writing for both adult and young adult audiences. He seeks to follow God one day, one step at a time, and he writes stories that reflect this sincere, moment-by-moment approach to faith.
I'm twenty-seven years old. (I also make up stories for a living.)
Speaking of young, I see that you're now writing YA. Solitary was your first young-adult novel. Are you planning others? Can you give readers a sneak peek?
Yes, I'd better be planning others! Some people reach the end of Solitary and are frustrated because it didn't provide any answers. Answers are coming! It's a four-book series. I'm writing book three now. Book two just released and is called Gravestone.
Even that title sounds really spooky. What is the premise?
This second book in the Solitary Tales continues Chris's journey toward finding out who he is and what his own role is in the darkness suffocating his tiny new hometown. Gravestone is a tale of a teenager thrown into a battle over a town, a secret—and ultimately his own soul.
At first, Chris Buckley was simply warned. And watched. But as Chris unravels the haunting riddles of the town of Solitary, he finds that much more than the life of a town is at stake.
Whether facing a pastor with a house full of skeletons or a cousin he never knew existed, Chris is forced to choose between light and darkness, life and nightmarish death. Every choice he makes reminds him that the unthinkable has already happened—and if he trusts the wrong person, it may happen again.
What exciting things has God been showing you recently?
To walk in faith. One day at a time.
I have read in various venues that you have several projects going on simultaneously. Can you tell your readers what's coming up?
I have two collaborations coming this fall: Letters from War written with Christian singer Mark Schultz, and Paper Angels written with country musician Jimmy Wayne. Then in 2012, the world will come to an end, so oh well…
How difficult is it for you to work on so many projects at once? Is there one particular thing about balancing them that you find particularly challenging?
My DNA is crazy enough to be able to handle the many things at once. Seriously. Ideally I'd write only one book at a time, but last year proved that I can actually work on a couple of projects at once (in terms of actually writing it). Since I'm a full-time writer, I have the time to do that. I've built up my mental stamina (sorry, that sounds corny, but it's true) to be able to do that. The problem is that my mind is mush at the end of each day.
I strive for emotional authenticity with each project I'm writing. Some stories are smaller and some quite big. 40 was a big novel
for me, but I'd been thinking and working on it for a long time before I physically started writing it. I'm always keeping folders and notes—since I've been doing this for a while, I have systems that work for me.
Speaking of 40, does that novel reveal a hidden fear of turning forty? Why does that particular year get such a bad wrap? It used to be fifty! What's up with that?
I don't think it's the fear of turning forty. I think it's probably more the fear of death and leaving things messy. Forty is such a great number—a Biblical number with a lot of meaning. The age is associated with mid-life crises. This is sort of the ultimate mid-life crisis novel.
Give your readers an inside view of how the story line for 40 was developed. Does it reveal anything particular about you? Or does it represent some basic fears that everyone faces at some point in their life?
40 is introspective and an almost poetic novel. It doesn't follow a formula or a map in terms of the plot. I tried to be as honest with the character as possible. A lot of myself is in the character, so I really walked in his shoes. What would I do if I were him? I always put my fears in my stories. But in 40, I also put in my interests and some real-life experiences. The story morphed from there. I knew where it was going to end—that I knew a long time ago. But getting there was more of an unknown adventure.
What do you feel is the greatest take-away value that 40 offers your readers? What do you hope they will relate to the most?
I hope they will take a look at their lives and view each day and each hour as a gift. We get busy and it's difficult truly being able to acknowledge that all the time. Sometimes we just have to gut it out during a day. But I wrote 40 as a reminder to me: What if this was my last day? How would I live it? And what if I'm given tomorrow? What can I do with that?
You recently added twins to your life! What a terrific change that must be! Tell us how this has influenced your life and your writing!
I wrote four novels last year and we had twins. I now feel that nothing is impossible. Bring on Mt. Everest. I'll climb it. That's really how I sometimes feel.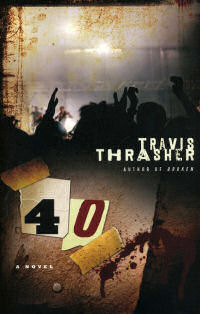 Our three daughters are joys and blessings. I'd give up every sentence of every book just to hear their laughter and see their smiles. It's been an incredible amount of work, but it does help me see that this life is really not about me.
Each new experience in life is something that I can't help but put into the pages of my books. So from here on out, readers of mine will be seeing lots and lots of pink!
Do you have any closing words of encouragement you'd like to share with your fans?
I heard that there were over three million books published last year. I don't know if that's true, but it certainly feels true. I appreciate anybody taking the time to read one of my stories. My hope continues to be that I'm learning and getting better. And the books that I'm working on and thinking about now are going to be stories that are written with my readers in mind. I've been writing stories for myself for a while; it's time to write stories for others, to reward them for taking these melancholy journeys like 40!
---

---
Kim Ford has been a resident of Alabama for more than ten years. Originally from Georgia, she holds a Bachelor's degree in English from Brenau Women's College. She has spent the past 9 years in sales and marketing and has been an avid reader of Christian Fiction for more than 20 years. A mother of two teen sons and married to a technical writer and Army veteran, Kim's life is full and blessed. She and her husband also volunteer as teachers for a resident rehab program for women with life-controlling issues. She uses her fiction to encourage the ladies she teaches. She blogs at: Window To My World