REVIEWERS CORNER
Featured Reviewer - Peg Phifer Featured Reviewing of the Month - Historical

Until her relocation to Nevada in 1980, Peg Phifer has lived most of her life in Wisconsin. An avid reader since Dick and Jane, she is seldom seen without a book in hand. A sufferer of childhood asthma, Peg spent a lot of time bed-ridden (those days they didn't know how to treat asthma) and created stories of her own based on other books she loved to read. But her desire to pursue writing seriously didn't surface until past mid-life. Peg had a prayer she wrote accepted by Guideposts Books; has written numerous columns for e-newsletters; is web-mistress for Sheaf House Publishers, and just recently signed a contract for her first book with Sheaf House to release in the fall of 2011. Peg is also a member of ACFW and CWFI. In her spare time she loves to work with small craft projects which can be seen around her house.
I'd never thought much of actually doing a public review of a book, ever. But about fifteen years ago someone suggested I try it. I had no clue what to do, what to say. So I started out to simply talk about the book. Even now, as much as I love books and love reading them, reviewing is difficult for me. I have to read the whole book, absorb it—live it—before I feel I can do justice to it. Therefore, I am selective in the books and genre I choose to feature.
If I've learned anything over these past few years it's that I'm not cut out to accept and review every book that comes along. When it becomes a burdensome pressure I have to back off. I still do my reviews the way I began: conversational rather than critical. (That's probably why I fail at critique groups.)
You'll see what I mean below as one of my chosen genres for reading and reviewing is historical fiction. And why not? My high school major was history. Matter of fact, I'm writing a historical suspense right now, but it's still in the WIP stage and not the one coming out from Sheaf House.
---
A CONSTANT HEART By Siri Mitchell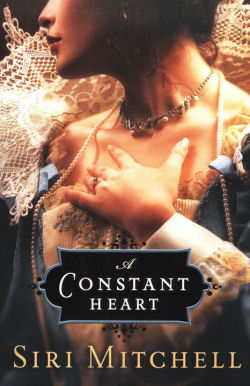 I looooved this book. As a dedicated Anglophile, I thoroughly enjoyed this trip back to Elizabethan England. It was a bit like peeking into a page from my own heritage. Well, sort of. You see, my ancestor was Mary Stuart, cousin of Elizabeth I. Yeah, the one Queen Elizabeth imprisoned in the Tower then had beheaded. But Mary won in the end when, at Elizabeth's death—without issue—Mary's son James became king of both England and Scotland. Ah, vindication. [grin]
I found this journey one of fascination for all the intriguing details of Elizabethan England fashion, customs and 'beauty' dictates of the court. I mean, who knew the women's clothing was donned in pieces? Like they had an assortment of sleeves they could choose to wear with a specific gown by simply tying them on. And those starched ruffs . . . pinned on. But the most appalling thing about being part of Elizabeth's court, for the women, was the need to dye all hair red and paint their faces white, with terrible consequences. You'll have to read the book to find out what.
Siri Mitchell has written an engrossing and captivating story. The love story of Marget Bernardsen, daughter of a knight, and the Earl of Lytham is fraught with danger and secrecy since love is forbidden in Elizabeth's court. Courtier's are allowed only to love the Queen and must pay all due respect, adoration and devotion to her alone. To fall in love is to risk imprisonment and perhaps even death.
The book is written from the viewpoint of both Marget and Lytham, in first person, which I found a bit disconcerting at first. It took a few sentences or paragraphs to determine which point of view I was reading. Some transitions were a bit awkward, halting the flow of the story at times. Yet, I read on, captivated by what was happening, wondering if anything would ever turn out right, for things looked really hopeless.
Despite the point-of-view issues, I found A Constant Heart difficult to put down. I read this one in less than two days.
Reviewed by Peg Phifer of Sips 'n Cups Cafe
---
Hannah Grace by Sharlene MacLaren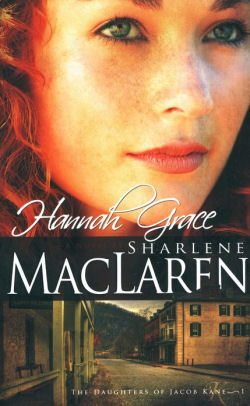 Ooooohh!! I didn't get my book in time to post this review on its FIRST day, but I jumped right in when it finally arrived! Sharlene MacLaren is truly writing stories that will take your heart on a fine emotional ride!! Hannah Grace is just the berries!!
Hannah Grace Kane is the oldest of the three Kane daughters, and it seems she and the local doctor will be tying the knot pretty soon! Gabe Devlin is the new sheriff in town, and it seems he has picked up a young waif of a man – mute from some past terror, and his first job upon arrival in Sandy Shores Michigan is to find out who is responsible for this homeless child. Not too far away, the McCurdy gang is searching for the only witness to their latest and deadliest crime. Slowly and ever so purposefully, Sharlene MacLaren weaves the threads of these lives together. The result??? Amazing!
You will adore the Kane family from the outset, and Gabe's blue eyes will give you a fit of the vapors! Your heart will melt as the silent child Gabe discovers at the beginning of the story blossoms into a young man whose nightmares slowly turn into hope-filled dreams. Hannah Grace herself is a young woman tying to understand her own faith and puzzling over the mystery of trying to understand God's will for her personal life. Truly, this story just draws you in and captivates your heart and imagination completely!
Sharlene MacLaren brings the past alive, and shares spiritual insight along the way that is timeless. I loved this book and am so glad I had the opportunity to read it! Please, pick up your own copy today! You can look here to read the first chapter.
Reviewed by Kim Ford at Window To My World
---
The House In Grosvenor Square by Linore Rose Burkard: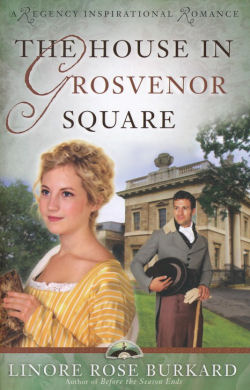 I'm rapidly becoming a fan of Regency romantic fiction, especially when it's written by Linore Rose Burkard! With a rich and authentic voice, eye for detail and a wit that fits my personality style, the sequel to her successful novel, "Before the Season Ends" is just as wonderful.
**WARNING: SPOILER ALERT!!**
Ariana has finally met the man of her dreams, and nothing could be sweeter than her soon to begin life with Mr. Mornay.
Right??
Well, that all depends on how you view the events in The House on Grosvenor Square, Linore's soon-to-be released second Regency London novel. The household staff takes an immediate distrust to Ariana through a comedy of errors that leaves few laughing.
Added into the mix is a wild plot to kidnap Philip's bride-to-be...a plot of revenge against Philip for his interference in a budding romance. Can the Paragon of London thwart the plan before tragedy befalls him?
And what of Mr. O'Brien and his unrequited affection for Ariana Forsythe? Will he ever find his one true love...or is Ariana meant for him?
**END OF SPOILER ALERT!!**
Although you need a reference guide to make it through one of Linore's novels, nothing can detract from the skillful use of language and her knowledge of detail as she captivates you page after page. While it's true Linore writes in the style of Jane Austen...
...I enjoy Linore's writing so much more! The faith element is never contrived and adds an extra layer of richness to the storyline. Picture perfect is the scene with Ariana in her captive's carriage and the aftermath of that ordeal--just read it and you'll see what I mean.
This is an excellent sequel to her debut novel, and leaves you hoping for more! Linore rates another five out of five bookmarks, with a set of pantaloons as a charm...silk, no less!
Happy Reading!
Reviewed by Deena Peterson at A Peek At My Bookshelf
---