When I think about Christian thrillers, I think of best-selling author Robert Liparulo. His adult novels Comes a Horseman, Germ, and Deadlock are widely known and loved. Recently, Robert has delved into the young adult genre with his Dreamhouse Kings series, and what a thrill it has been.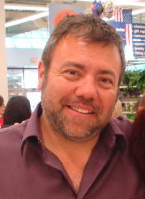 The series follows the King family, who has moved into a creepy old house in a small town. They soon discover that their new home has some strange abilities. Here is my review of the first book in the series, House of Dark Shadows.
Fifteen-year-old Xander King is not happy to be moving away from Pasadena, California, to live in the tiny town of Pinedale. Everything he has always wanted was in Pasadena: his friends, his girlfriend, Hollywood. An amateur filmmaker, Xander wants to make movies someday, and living in Pinedale isn't going to help.
When the Kings finally find a house, it's nothing like Xander would have imagined living in. But it's everything he'd expect to see on the silver screen. Haunted isn't quite the right word, but sounds come from the wrong direction, strange footprints appear that are too big to belong to any of the Kings, and the linen closet teleports him to locker 119 at his new school. Something is beyond weird with the house, but the weirdness, along with the house's history—the previous owner killed his wife thirty years before—intrigues Xander and his brother, David. The two decide to explore a little more and discover not only that the house has a strange connection to their family, but also it can put their lives in danger.
What an intriguing premise for a book. I've read nothing like it in the young adult genre. Xander and Dave are very well-written. I enjoyed their differences, similarities, and relationship as brothers. Robert Liparulo can tell a great story. House of Dark Shadows kept me spellbound, unable to stop reading until I got to the end of the book, only to find these words: Not the end. No! Well, thankfully, there are more books in the series. Whew! Highly recommended, but a little scary. Read with caution.

If you love scary books, also check out:
Always Watching by Brandilyn and Amberly Collins (Zondervan) As her mother's concert wraps up, Shaley O'Connor stumbles upon the dead body of her friend Tom. If the killer is a member of the band or crew, he's still out there, and as the messages in Shaley's gifts say, he's always watching.
Bad Connection by Melanie Carlson Samantha McGregor's ability to receive dreams and visions from God gets her involved in solving the case of a missing teenage girl.
Hangman's Curse by Frank Peretti (Thomas Nelson) Three football stars fall into mysterious, hallucinating comas. Rumor is they are victims of Abel Frye, a dead student's ghost who curses those who would pick on the less popular. Elijah and Elisha, teenage twins, go undercover at the school to solve the mystery.
Chosen by Ted Dekker (Thomas Nelson) Four young leaders are sent on a quest to prove themselves, but their mission changes when they meet a special someone who sends them on a new mission: find the seven lost Books of History before the Dark One does.
The Door in the Dragon's Throat by Frank Peretti (Crossway) Jay and Lila Cooper travel to Nepur with their archaeologist father to uncover the truth behind an ancient legend. Is there really a massive treasure behind the Door in the Dragon's Throat? Or could there be a reason no one has ever managed to open it?
And here are some adult novels I recommend for older teens (sixteen and up) who love to be scared by a good story.
Field of Blood by Eric Wilson (Thomas Nelson) The Akeldama Collectors are demon-like beings who have been waiting 2000 years to awaken the dead. Now that they've each chosen a body, they need to feed. Gina Lazarescu could be the one person who can stand against them, but are they already hunting her?
Shade by John Olson (B&H Publishers) Hailey believes she was attacked in Golden Gate Park, but the hospital workers think she hallucinated the whole ordeal. Hailey knows she's not crazy, and the only way to prove it is to find the monster that attacked her.
Thirsty by Tracey Bateman (Waterbrook) Animals keep disappearing from the Ozark reserve where Nina works. They later turn up slaughtered. And someone—or something—is watching Nina. Wanting her. Stalking her with a 250-year-old desire that burns like a raging wildfire.
The Firstborn by Conlan Brown (Strang) The Firstborn fall into three orders: Prima, Ora, and Domani. Those that can see the past, present, and future. But the Firstborn has grown paranoid over the years, each order fearing the other, and one man is trying to take over. Can Devin manage to follow God's will or his own to fight against what lies ahead?