Rich in significance, the Carol Awards ceremony highlighted brilliance in Christian fiction while honoring a pioneering heroine in the industry, Carol Johnson. Mrs. Johnson attended the ACFW conference in Indianapolis to receive the first Life Time Achievement Award ever presented by the American Christian Fiction Writers. She also honored the authors whose novels or novellas won the Carol Award. The full list of Carol Award and Genesis winners can be found at: http://www.acfw.com/pressroom/acfw_awards_banquet_2010.shtml.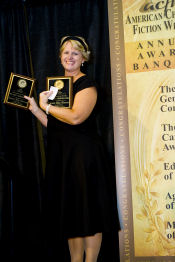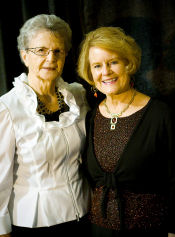 In addition to the author awards, ACFW honors significant contributions by industry professionals and members. Winners of these awards display selfless service, ethics, and Christian living.
Mentor of the Year: Susan May Warren.
Member Service Award: Fay Lamb.
Agent of the Year: Sandra Bishop of MacGregor Literary.

New media and entertainment opportunities provided a live blog event with over 200 participants following the evening's events, while 690 banquet attendees watched live on huge video screens.
Still available, please visit http://acfw.com/conference/liveblog.shtml.
Christian Store Day, October 23
American Christian Fiction Writers are joining forces with Christian stores across the country featuring special events, author chats, and reader interaction on October 23, 2010, with product giveaways for customers, special promotions to bring customers to the stores, and an inexpensive exclusive enhanced CD to create lots of excitement. Included in the special day is a ministry outreach for Haiti via the enhanced CD. It will include e-books from Christian authors, special recordings by Christian musicians to help raise awareness and relief for Haiti—all for $5! All funds raised from the CD will go to the Haiti relief.
Published authors can be a part of this by making in-store appearances: offering a talk, serving on a panel, or discussing how your book and personal experience ministers to people coping with important life issues like adoption, giving back, forgiveness, crisis pregnancy, divorce, teen suicide, or any other topic.
ACFW's Website (http://www.acfw.com) reaches into the heart of our hurting world by listing the books our authors write that deal with social issues happening in the lives of our readers today. Christian authors can offer a crucial ministry to their readers. By reaching out in person, we can help our Christian stores meet the needs of their local clientele. Touching lives and giving hope builds relationships and allows both the stores and the authors to be effective together in ministry.
Please contact Angela Breidenbach, ACFW publicity officer, if you'd like to take part in this national event by e-mailing pr@acfw.com with your name, book title, back copy, social or life issue you can speak on, contact information, and the area you live or are willing to serve on October 23. Time is limited, so please do this right away to allow stores to connect with the authors and also communicate to the community around them.
Prepublished authors can offer their local stores support by assisting the published authors with the event and creating relationship with store personnel. Connect with the published authors in your ACFW zone to volunteer with them. Be aware of what the store is doing in your area and tell your friends about the exciting event.
Everyone is encouraged to blog, tweet, and post on Facebook to help raise awareness for Christian stores, Haiti relief, and the ministry available on October 23, 2010. Start now! Let's support the stores that support our authors, reach out in love to those who need our care, and share Christ through a massive national effort moving both inside and outside our borders.
For a store near you, see the participating store list and then sign up through the ACFW publicity officer by e-mailing pr@acfw.com. See http://www.Christianstoreday.com for more information and go to http://www.Christianstores.org for participating stores in your area.
He Said/She Said:
How to Have an Amazing Author Event
From a Bookstore Owner's Perspective
Part 3
We continue with Angela Breidenbach's interview with Suzanne and Shawn Kuhn of P & K Books and SuzyQ4U. Together we hope to help authors have stronger, more successful events in marketing their books to readers and reaching out in ministry, especially fitting for the upcoming Christian Store Day on October 23.
Angela: How does an author take that extra step and support the bookstores that are selling their books?
Suzanne: An author must approach the situation with an upbeat attitude. Bring energy. Communicate with the bookstore about your style. Let them know how you usually like to do a book signing. Bring your own giveaways.
Shawn: Sell your books to your fans and customers; sell them as gifts and offer to personalize them. Find out about your readers online and then sell to their interest or life experience. Don't be afraid ask them what they like to read. You could have common interests in other authors, sparking great conversation. The public is reading other authors, graciously acknowledge them and bridge the gap. Weave your story into their lives and they will immerse themselves in your books.
Angela: What happens before an author shows up, behind-the-scenes, on a bookstore's end?
Suzanne: We talk up the event to all our customers, send out e-mail blasts, and advertise through local radio. We sometimes put bag stuffers in shopping bags, promoting a bounce-back coupon for that author's merchandise good only the day of the event.
Shawn: The burden here should be on booksellers. We should have a healthy supply of your new title and backlist titles. But we sometimes goof up, so bring a supply with you to the store in case we fall down on the job. Regardless of who is at fault, you will still look bad. This is your opportunity to shine; don't leave it to chance (or sloppy bookselling by the store).
Angela: What happens after an author leaves?
Suzanne: Hopefully we've become known as the local connection for all of that author's products. We like the author to remain in contact with our stores, giving us current updates on their books, etc. We'll add those updates on our Websites, Facebook pages, and social media. Keeping in touch is a key tip for an author.
Shawn: Personalize and give books to all the employees. They'll become your daily sales force. They'll encourage the owners to keep you in stock. Anytime a customer comes in the store and asks for Wanda Brunstetter, I never hesitate to tell them she comes to our Lancaster store with her husband and signs for us. The readers have a vicarious experience with Wanda because of my personal interaction with her. Consequently, I sell many of her books. Leave books at the store on consignment. They're more likely to sell on my shelf than in your trunk or garage. It's the same principle as to why we try to get all of your stock out of the back room. Show it to sell it.
Angela: What's a good length for an event? Time? Day of the week?
Suzanne: Length of event depends on the popularity of the author. An author should be at an event long enough to see everyone who came specifically to see them or long enough to create an excitement about meeting them. I love Saturday, mid-morning.
Shawn: The right length for an event is till the last interested fan/customer is satisfied. If no one is there, until you and the management know you've given it the old college try.
Angela: What creative ideas should an author be thinking about for promotion?
Suzanne: Again, anything that goes along with their theme. Camy Tang recently sent us bookmarks made by her mother. I love them. We shared them with our employees. They love them. All our stores are promoting her more now.
Shawn: Sign bookmarks or other promotional materials. Offer a giveaway for signing up on your Facebook. (Angela here: A giveaway can be a chapter as a download or an e-book to show your voice and style of writing. It doesn't have to be an expensive mailing.)
Angela: How does the author partner with the bookstore for promotion and preparation?
Suzanne: An author can communicate with the bookstore. Authors should let the bookstore know how they envision the event. But also be willing to work with the bookstores vision as well. Because the individual bookstores know their clientele best, it is important to give them the opportunity to troubleshoot your thoughts.
Shawn: Go with the flow of the store and leave your mark. Be your unique self.
Angela: What if an event has low numbers?
Suzanne: Work the crowd that you have. Be very personable. Talk to those who are there. Make your line move slower. Share your stories and listen to their stories.
Shawn: Twitter the names, stories, and comments of your attendees. Sign every book in the store.
Angela: What if an event has super high numbers?
Suzanne: Keep the line moving, but don't let people feel like they are being herded through. That's when those who travel with you are most important. Have them "work the line," engaging your fans. Then it is especially important that you have fun, energetic folk with you. Have them handing out sticky notes for the books so that fans can write the name of the personalization on it prior to reaching the author. Also use them to prescreen the author's fans. They can come to the author prior to any specific fans reaching him or her to relate any special detail that should be brought to the author's attention.
Shawn: In the Gospels it says that Jesus healed every one who came to him, and in another case He asked in a crowd, "Who touched me?" This is why you write Christian fiction. Dying to self in a super busy event sure beats dying in a store with you, the staff, and the crickets. Live in the moment. Remember those days of struggle and make the most of this fun moment.
Angela: What's the absolute worst thing an author can do at a signing or event?
Suzanne: Be unapproachable or appear to be uninterested.
Shawn: Give up on an event before it is over.
Angela: What kind of media might help an event if an author lives too far away? Skype party, or other ideas for book clubs?
Suzanne: Book clubs definitely, Facebook interaction, and/or YouTube videos.
Shawn: Bookstores and authors need to embrace social media; it is social and relational and not just about selling more books.
Angela: Does it help if an author can come early and meet the store personnel before the event (like days or weeks)?
Suzanne: Absolutely. Anything an author can do in advance to create excitement within the bookstore will always add to the success of the event.
Shawn: Authors can familiarize themselves with where their books are in the store. The authors can also let the store know about placement of series or any books that the store should also be carrying.
Angela: Favorite author event story?
Suzanne: I think my personal favorite was a Women of Faith event. Karen Kingsbury had been to three cities, eight flights in thirty-six hours. With 9,000 in attendance, her arrival had been much anticipated. Before she even entered the building, the line was already 500 deep. She stayed and signed books, swapped stories, hugged, laughed, and cried with her fan friends for the next four hours. I was at a table directly next to Karen. I never once saw anything but warmth and joy from her. The next day, lines were just as long and the crowd just as eager to meet her. She stayed for another five hours with her fans. She remained until she saw every last fan/friend. She never sat down, and went through more than a dozen Sharpies (smelling them for nine hours total). The warmth and love that the last person received was the same as the very first.
Shawn: Years ago we had a local author come and do a book signing for Ethic Poetry. He sold over twenty copies of his book on a weekday. He was highly entertaining and engaging and sold many copies to people who had no intention of buying his book or genre. But they went home as happy, new fans. This was on of the most successful and fun book signings we had ever had at that store. Why so many, they were sold on the author by the author.
Angela: What's handselling and how does an author earn it?
Suzanne: Ah, this may be my favorite question. Handselling is when I take a special interest in a book or author. I individually recommend, offer, suggest it to all customers who I think may even slightly be interested. Because my personal selling style is to become my customer's friend, I find great success in handselling.
Shawn: I really can't hold a candle to Suzanne when it comes to handselling. But in my own way I try to find a point of contact and then look to bridge the customer to product and authors of interest. I truly sell more books than I have read myself because I know the author or have been educated by a customer or another coworker.
Angela: What advice do you want to share?
Suzanne: Regardless of the situation's specifics, make it fun for the fans.
Shawn: I have been told that 95 percent of the authors struggle to make a living at writing. The other 5 percent are "lucky." Surprisingly they make their own luck with hard work, great attitudes, and a lot of perseverance. All authors are forged in the same crucible and have many testings in bookstore events. The "lucky" ones are those who live in their calling and see with eyes of faith what God has placed in them.
Guest Bio: Shawn and Suzanne Kuhn have been married for twenty-two years. They have done many author events in and out of their bookstores. Shawn and his business partner, Tom Pilsch, own seven stores in the mid-Atlantic states, including the Bible Outlet in Lancaster, Pennsylvania. Suzanne has recently founded SuzyQ4U, an author event–focused business to handsell books and bridge readers to the author during book tours and large events.
---

---