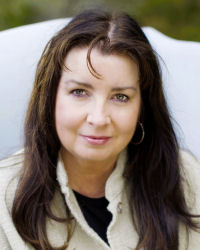 Melody Carlson is a prolific and versatile writer. I had the privilege of meeting her at the International Christian Retail Show in Atlanta this past July. Melody has a quiet voice and a laid-back disposition, but her passion for writing is evident in everything she says and does. She has a real burden for today's teens, saying that they think they can handle everything in their lives, but when things go wrong, they don't have the coping skills to deal with the problems that result from the choices they make.
I hope you will enjoy spending time with Melody and that you will look among her many titles for entertainment and encouragement.
Your publishing history is pretty awesome! How many books will you publish in 2011? How many books have you published to date?
In 2011 I will publish ten to eleven books including women's fiction and teen fiction. The economy is so uncertain right now, and I didn't feel comfortable turning down any of the projects I was given a contract for.
Genre is something that doesn't hold you in constraint at all! Tweens, teens, adults, children: you cover them all! What is your favorite genre? One that really pulls at your heart strings?
Writing for teens has become really important to me. The response from these readers is like no other age group. When readers write to tell you that something you wrote changed their lives, it keeps you coming back to your writing with fresh ideas. I also like to move between types of projects. When I write a story that is emotionally heavy, it's nice to be able to move to something lighter before I tackle another heavy topic.
Tell us briefly about your road to publication.
I've always loved writing and had a great respect for books. In my mid-thirties I had a son who was a voracious reader, and he didn't have a lot of books to choose from that weren't so very dark. When I picked up some of the books offered to teens I thought to myself, "I can write this badly!" At the time, I was running a group-home day care, and I started writing on legal pads when I had time. I was rejected by all of the publishers who now publish my work, because at the time I was submitting my work, they weren't publishing fiction.
My first published work was in 1994, a nonfiction book about how to run a day care successfully. I also worked for a publisher for about two years, and that is where I received a real education in the writing process and the publishing industry. As of today, I have a contract for six books with Bethany House next year.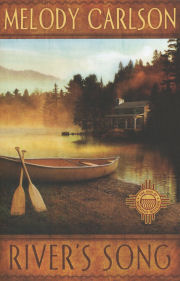 I could have never planned this. Only God could do this in my life.
River's Song is one of your recent projects, and it covers a lot of areas of personal growth and change: facing one's past, overcoming familial obstacles, moving past your own borders and trying new things . . . I could go on. Where was the idea for this story born?
River's Song was born in my mind early in my writing career. I took many trips on the Salisaw River, and I became fascinated by the Indian history. The Salisaw Indians could file for a forty-acre plot of land, but most of them didn't know how, and those who did eventually lost the land. So my imagination said, "What if?" The Salisaw Indians had a matriarchal society, and I wondered what would happen if a woman was able to keep this land and pass it on to the women in her family.
There is a lot of pain in the history of the Indian people, and it took about ten years before I decided to write the story that is now River's Song.
One of your latest books is Here's To Friends, which closes out your popular Four Lindas series. How did you come up with the ideas for this series?
I wanted to do a series about baby-boomer aged women. I just think we have some interesting elements going on at this stage of life. Many women are in transition or reinventing themselves—adjusting to life changes like empty-nest, health issues, parents who are aging, grown children who are floundering. There's a lot to "talk" about. Anyway, one day I was trying to email a friend named Linda and my address book threw a whole page of Lindas at me. And I suddenly remembered how it was when I was growing up—it seemed girls all had names like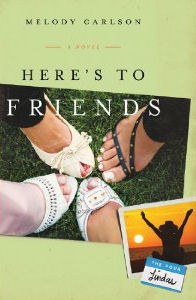 Linda, Susan, Brenda…and such. And I was stuck with the oddball name of Melody. Then I recalled how one year I had two classmates named Donna and I thought—what if a class had four girls with the same first name. So I just went with it.
Each of the four women are very different, yet they all have a common thread that runs through their lives. What is that common thread?
Besides having been named Linda and meeting each other in first grade (where they formed the original Four Lindas club—and started going by their middle names) they had common roots. They all grew up in the same small charming coastal town (which I call Clifden, but it really patterned after our second-home, Florence Oregon). They attended the same schools and had shared experiences. But like many childhood friends, they drifted apart in their teens. And beyond high school, they all went some very separate ways. A New York attorney who's widowed…a Seattle artist with a failed marriage…a wannabe actress who's still glamorous…and the hometown girl suffering from an empty-next. However, when they meet up again, their common thread is their age and background and the fact that they're all reinventing themselves in their hometown.
Do you find their struggles to be indicative of the life situations you see today?
Absolutely. I've had more women tell me that this reads like their lives and their friends' lives! I'm sure that's because I pattern it after real life, as well as some of my own friends. Challenges like parents with Alzheimer's or children with addiction problems or marriages that need some work…all are part of the baggage that comes with "growing up."
Here's to Friends is a book about boomers, do you think life seems more complicated for this generation of women?
I suppose it's more complicated in some ways. For instance, we live in a generation that worships youth—and we're dealing with things like wrinkles, sags, bags, gray hair, and hot-flashes. Also we have issues like aging parents and kids who don't grow up as planned. But on the other hand, there's a sense of accomplishment in having raised your children, learned a few things along the way, and perhaps being in a position to make some positive lifestyle changes—and, of course, there are grandchildren! So I guess it's a mixed bag.
What would you like the reader to draw from this series?
Growing old does come with its challenges…but with a few good friends by your side, it can be a whole lot of fun too. I hope that readers will be encouraged by the friendships shared in the Four Lindas, and that they'll be reminded to appreciate and nurture their own friendships. As well as being open to making new friends along the way! Because, really, who wants to grow old alone?
What is the most exciting thing that God is doing in your life through your writing?
The letters I get from the teens who read my books mean the most to me. I have a separate e-mail for mail from teens, and many times my husband will sort through the e-mails and come to me with tears in his eyes and say, "You have to read this." This keeps me encouraged to keep writing for teens, and gives my writing a fresh momentum. I've been writing for teens for ten years, and now those who started reading my work are now young women reading my women's fiction series.
---

---
Kim Ford has been a resident of Alabama for more than ten years. Originally from Georgia, she holds a Bachelor's degree in English from Brenau Women's College. She has spent the past 9 years in sales and marketing and has been an avid reader of Christian Fiction for more than 20 years. A mother of two teen sons and married to a technical writer and Army veteran, Kim's life is full and blessed. She and her husband also volunteer as teachers for a resident rehab program for women with life-controlling issues. She uses her fiction to encourage the ladies she teaches. She blogs at: Window To My World