Kelly Klepfer came on board Novel Reviews several years ago as the Senior Editor through her connections with Gina Holmes, Ane Mulligan and Jessica Dotta of Novel Journey fame. Novel Reviews is the baby sister of the popular Novel Journey. At Novel Reviews we offer honest reviews of Christian and secular fiction titles and love to promote exceptional fiction. We began to do so after we met the authors via their interviews at Novel Journey. Disclaimer: Our reviewers are not paid for their reviews. Some may consider the receiving of a complimentary book or loosley bound manuscript (by publisher or author), as a form of compensation, so, be forewarned that our reviewers RECEIVE BOOKS. In our defense, it would be difficult to review without them. (Also, we are not affiliated or paid for any links to online bookstores.)


NOVEL REVIEWS CORNER
---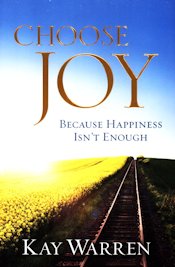 Choose Joy
by Kay Warren
Hardcover: 259 pages
Publisher: Revell (April 1, 2012)
Language: English
ISBN-10: 0800721721
Description
Everyone knows how to be joyful in the peaks of life.
I've graduated!
I'm engaged!
I've been hired!
I'm having a baby!
I'm cancer-free!
When all your fondest hopes and wildest dreams come true, and your heart nearly explodes with happiness, it's easy to feel joyful.
But what about the valleys? When nothing seems to go your way? When everything is falling apart? When God is silent, and you feel all alone?
Where does joy fit into those moments?
In Choose Joy, acclaimed author and Christian leader Kay Warren shares the path to experiencing soul-satisfying joy no matter what you're going through. Joy is deeper than happiness, lasts longer than excitement, and is more satisfying than pleasure and thrills. Joy is richer. Fuller. And it's far more accessible than you've thought.
Joy comes from God . . . and it can be yours! Today.
Review:
"Joy is the settled assurance that God is in control of all the details of my life, the quiet confidence that ultimately everything Is going to be alright, and the determined choice to praise God in all things." (p. 31)
Kay Warren uses this definition of joy throughout this amazing book to show readers that joy – real, lasting joy, doesn't depend on our circumstances, but rather who God is and what Christ has done to redeem us from sin and ourselves. Using personal experiences and examples, and a very honest voice, Warren teaches some very powerful truths from God's Word. This is, as I've already stated, an amazing book!
Once again, a God appointment in my life, I've learned some very solid truths about God, and some very unflattering things about my own spiritual condition. I'm just being honest. But there is HOPE! God is working in my heart and teaching me things – growing me in my faith – and drawing me closer to Him. I am learning what God's definition of joy is in a very real way.
My highlighter and Bible were employed throughout this wonderful book, and I will be re-reading very soon! We serve an amazing God, folks! He can bring joy into your life that the world can never change. Praise HIM!!!
Needless to say, I HIGHLY RECOMMEND THIS BOOK!! It's amazing! Be blessed!!
Reviewed by: Kim Ford at: Window To My World
---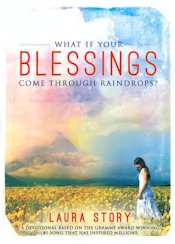 What If Your Blessings Come Through Raindrops?
by Laura Story
Published by Worthy Media
ISBN#978-1-60587-322-0
239 Pages
Description:

30 Devotions by Laura Story. Whose Grammy-nominated song "Blessings" has inspired millions. Empowering messages about heartache, healing and grace.
Review:

I had the honor of meeting and hearing Laura Story speak at a Women of Faith event last year in Atlanta. She sang the song Blessings that has captivated listeners and stirred hearts all across this country.
I was fascinated at how this young woman shared the events that lead up to her writing this song, she was calm, transparent, and funny. In the intro to her book she says, "When my husband Martin was first diagnosed with a brain tumor, well-meaning strangers asked him if he had any unconfessed sin in his life, for surely God would not curse him for now reason. But the more my husband and I looked to God's word, the more we came to realize that sometimes God actually blesses his children through the absence of the very things they pray for.
Paul asked God to remove the thorn from his flesh; instead, God chose to teach Paul about a power that is only made perfect in weakness. Job deeply mourned the loss of his possessions and his health, yet he learned to worship God in the midst of his nakedness."
I loved Laura Story's transparency, humor and worshipful spirit as she spoke at the conference in Atlanta. I felt the same way after reading this devotional.
Laura starts out each chapter with a scripture, she shares from her heart a page or two, then has four quotes from well known Christian Figures about the topic she is discussing and then five different scriptures with different bible translations typed out for you to read. There's no need to flip your bible open unless you want to read more.
Then there is a page where she asks the reader a question for example in the first chapter the question is, "How can you be a blessing today?" Then she sums up the chapter in a sentence or two. The last page of the chapter is blank and lined for you to fill in Your Own Thoughts.
Laura starts this devotional with the words to her Grammy-nominated song, Blessings. She ends the devotional with a section called,"Bible Verses to Consider." Scriptures are arranged to encourage you in different topics. For example there are scriptures to help you with fear, worry, prayer, worship etc.
Everyone has been hit with something in these changing times weather it's been your health, hurricanes, tornadoes, earthquakes, etc. How you view your circumstances, the attitude in which you face them and who you turn to in the middle of the storm, is crucial to how you come out on the other side. I highly recommend this devotional for anyone. It's honest, encouraging and simple!
Reviewed by: Nora St.Laurent at: The Book Club Network
---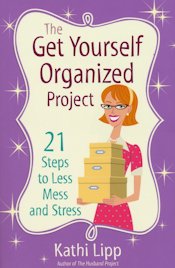 The Get Yourself Organized Project: 21 Steps to Less Mess and Stress
by Kathi Lipp
Paperback: 224 pages
Publisher: Harvest House Publishers (May 1, 2012)
Language: English
ISBN-10: 0736943854
Description:

Finally, an organizational book for women who have given up trying to be Martha Stewart but still desire some semblance of order in their lives.
Most organizational books are written by and for people who are naturally structured and orderly. For the woman who is more ADD than type A, the advice sounds terrific but seldom works. These women are looking for help that takes into account their free-spirited outlook while providing tips and tricks they can easily follow to live a more organized life.
Kathi Lipp, author of The Husband Project and other "project" books, is just the author to address this need. In her inimitable style, she offers

~easy and effective ways women can restore peace to their everyday lives

~simple and manageable long-term solutions for organizing any room in one's home (and keeping it that way)

~a realistic way to de-stress a busy schedule

~strategies for efficient shopping, meal preparation, cleaning, and more
Full of helpful tips and abundant good humor, The Get Yourself Organized Project is for those who want to spend their time living and enjoying life rather than organizing their sock drawer.
Review:

Kathi Lipp's style of organizing makes sense. I love to look at glossy pictures of beautiful rooms, but my rooms look anything but most of the time. Lipp uses common sense tips to help the wannabes reach just a bit more and find the solution that conquers their clutter, so her advice was something I could wrap my mind around. Where one family may use the dining room table as a catch all, another might have front door issues. She goes into the flow of the room, how to identify and conquer trouble spots and gives hints and tips from others who may share your unique struggles. Lipp also comes across as a chatty girlfriend who's been there rather than a lofty expert. This is a plus when I want to tackle a problem. Nothing like a lofty expert to make me hide my head in shame. I'll never, never, never be a Martha Stewart clone, but I could learn a few good hints from Kathi Lipp.
Lipp covers all areas of the house (and a few life issues, too) and tackles them one at a time. Bathroom got you buried, turn to the section on bathrooms. Office your nightmare? Good news, she covers that one, too. She even has a chapter on food preparation and organization which just might reimburse you for the price of the book, over and over again if you are prone to hitting drive-thrus due to "what's for dinner?" paralysis. If you are looking to get organized and tame your clutter beast this is a great resource.
Reviewed by: Kelly Klepfer at: Scrambled Dregs
---

---