REVIEWERS CORNER
Featured Reviewer - Cynthia Hickey - Reading...Mystery

I began reading at an early age, growing up on Nancy Drew and Trixie Beldon, to name a few. I read everything. The backs of cereal boxes, menus, street signs. I couldn't escape the magic of the printed word. Books were often my escape. From the moment I began to put letters into words, a book was never far from my hand. Yes, I was one of those kids beneath the blankets with a flashlight. My parents are readers and my sisters are readers. I grew up in Arkansas listening to my relatives tell stories. Some true, not elaborated. Stories became a journey into another land and place. I began writing as a teenager, making up suspense and mystery stories of my own. Even tried a sappy romance.
When the opportunity rose to become a reviewer for Author's Choice Reviews, I jumped! What better opportunity to satisfy my craving for a good story than to receive several books in the mail at once. And for free! If I read a good book review, it's a guarantee I'll purchase the book. If I enjoy a novel, I'll pass the word. The best perk about being a reviewer is passing along an amazing new author.
---
Deadly Charm by Claudia Mair Burney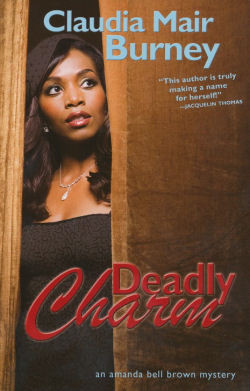 Synopsis:
When the ominous Thunders roll into Dr. Amanda Bell Brown's town, the sassy sleuth sees a storm brewing. Disgraced playboy preacher Ezekiel Thunder and his seductive first lady, Nikki, are on the comeback trail, but Bell is less than charmed by the pair. When their toddler, Baby Zeekie, is found dead from an accidental drowning, forensic psychologist Bell suspects foul play in the fatal family, especially after the mama in mourning flirts with Bell's estranged husband, Jazz. Bell is sickened by the woman's behavior and the thought of someone murdering an innocent child -- or is it morning sickness that's plaguing her? Between babies and bodies, she pushes past the limits to discover the deadly truth.
My Take:
Dr. Amanda Bell Brown is back and neck deep in trouble. Again! When Evangelist, Ezekiel Thunder's baby, is found drowned in the bathtub, Amanda is certain is was no accident and turns her attention on the little boy's mother. Amid babies, illness, and trying to repair her own marriage, Amanda goes head-to-head with the woman. When everything Amanda holds dear is threatened, she "steps it up" to solve a murder and save her marriage.
Claudia Mair Burney has done it again! Amanda Bell Brown is back and sassy as ever. I thoroughly enjoyed the first two books in the Amanda Bell Brown mysteries and wasn't disappointed in the third. Burney has the reader, laughing, crying, and gasping through one page-turning escapade after another. Bravo!
Reviewed by Cynthia Hickey of Fun Cozy Mysteries and Riveting Romantic Suspense. Hang On!
---
Less Than Dead by Tim Downs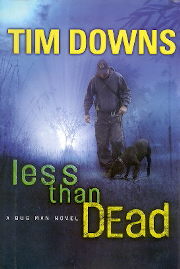 Synopsis:
She's an outcast. The townsfolk of backwoods Endor, Virginia call her a witch. Rumor has it she spends her nights roaming the woods with a three-legged dog searching for the remains of her missing father. Her name is Alena, and the children of Endor say she visits the local animal shelter looking for plump puppies to take home so she can drink their blood. Not exactly a gal you'd want to make friends with, right? She is if you're Nick Polchak, aka "The Bugman". He needs a cadaver search dog yesterday, and if Alena's hound is as good as Nick thinks, he'll do anything to get on Alena's good side. Even if it means risking life and limb.
Nick's been hired by FBI Special Agent Nick Donovan (from Downs' novel Plague Maker) to help solve the mystery of an ancient graveyard a back hoe accidentally uncovered on Senator John Henry Braden's property. This isn't just any cemetary. There are two bodies in each grave. One in a casket, the other buried on top. The workings of a serial killer? The FBI doesn't know for sure, and neither does Nick. All he knows is that he can't start his work until all possible graves in the area are identified by a cadaver dog, and the one the FBI hired is running in circles.
My Take:
Nick Polchak isn't your typical fictional hero. He isn't strong, handsome or social. More like Monk than Jack Bauer. But there's something endearing about this crazy, insect loving man with the enormous coke bottle glasses, wickedly dry sense of humor, and disdain for authority. He says the things we wish we could say, and we never know what hornet's nest he'll step on. We don't delve much into Nick's personal life this time (read Chop Shop if you want to know more about his past). He's basically dropped into this story fully developed, but he's such a quirky character that you get to know him quickly.
Nick is originally called on the graveyard case for his entomology expertise, but it's the cadaver dog aspect which gives us the signature gross out moments, as well as our education. Typical of a Downs novel, we come away armed with some cool facts. Like how a dog can have two hundred million olfactory cells in its nose compared to about five million in humans. Says Alena to Nick at one point, "You walk into a kitchen and smell beef stew; a dog walks into a kitchen and smells beef, carrots, peas, potatoes--it's called `odor layering'. He can even smell the salt--even in a dilution of one in ten million."
Maybe it's because Tim Downs has grown in his three prior Bugman novels (Shoofly Pie, Chop Shop & First The Dead), but the dead-pan humor in Less Than Dead is what sets it above the others. Nick's response to the above stew? "Question," Nick said. "If a dog's sense of smell is so much more sensitive than a man's, how come a dog will stick its nose in your crotch?"
During an interview I did with Tim awhile back I asked him what he'd love to write someday but hadn't yet. He answered: "A pure comedy--and I hope to get to do one fairly soon. I suppose it's a leftover from my comic strip days [he wrote and illustrated the now defunct strip Downstown]: I just love humor, and I'd love to write a book where the humor is more up front."
Mixing humor and suspense can be risky and hard to pull off. If you come off too zany it's hard to take the plot seriously. Jokes in the wrong character's mouths or at the wrong time can end up sounding forced, like the author knew things were getting too intense and tried to lighten things up. But with a character like Nick it all works. The straight-faced banter is usually at its finest between Nick and his female supporting characters (think Dr. Beth Woodbridge from First the Dead), and that's certainly true here with Nick and Alena.
There's a lot going on in Less Than Dead, and the subplot involving the Senator and his wife might seem tedious at first. But everything makes sense as you keep reading. The plot is intricate and comes together without any of the rushed-ending-feel of some thrillers. (You know the type--it's obvious the author was on deadline and had to wrap things up in a hurry.) We get to relish in the conclusion, and it's a satisfying one. A few scenes might be difficult reading for sensitive animal lovers, but this dogphile was able to get through.
Since Shoofly Pie the Bugman novels have progressively developed to become some of the best suspense reading on the market. Less than Dead is the best of the bunch.
Reviewed by CJ Darlington at TitleTrakk.com
---
Intervention by Terri Blackstock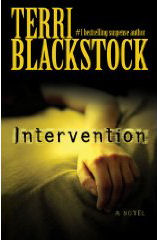 Synposis
Her last hope is the beginning of a new nightmare.
Barbara Covington has one more chance to save her daughter from a devastating addiction, by staging an intervention. But when eighteen-year-old Emily disappears on the way to drug treatment-and her interventionist is found dead at the airport-Barbara enters her darkest nightmare of all.
Barbara and her son set out to find Emily before Detective Kent Harlan arrests her for a crime he is sure she committed. Fearing for Emily's life, Barbara maintains her daughter's innocence. But does she really know her anymore? Meanwhile, Kent has questions of his own. His gut tells him that this is a case of an addict killing for drugs, but as he gets to know Barbara, he begins to hope he is all wrong about Emily.
The panic level rises as the mysteries intensify: Did Emily's obsession with drugs lead her to commit murder-or is she another victim of a cold-blooded killer? Unabridged. 8 CDs. 9 Hours 8 min. Read by Cassandra Campbell.
My Take:
Intervention...what happens when drugs take over a family? And what's a mother to do to save her daughter from the grip of drugs? Barbara Covington does the only thing she can think to. She sends her daughter to an expensive rehab center... a last hope to save her from her addictions. But then the woman traveling with Emily is murdered and Emily disappears. Barbara's worst nightmare just got immensely worse.
Intervention begins a bit slowly, but picks up speed until I could not turn the pages fast enough as I reached the climax and end of the story. As I read the book, I continued to find myself imagining what it must be like to have a loved family member in the clutches of drugs. What would I do and to what lengths would I go to find them and fight for them? Intervention takes you on that twisting journey. In the beginning while some of the threads were forming, I kept waiting for the suspense to build. Once it did, it never stopped.
This book will be a great read for those who like suspense with a strong family dynamic, tiniest hint of romance, and a spiritual thread that leaves the reader with hope at the end -- something missing from much suspense.
Reviewed by Cara Putman at the law, books, and life
---
---