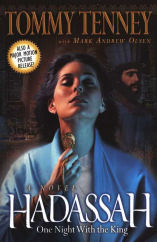 History has always fascinated me, and most especially, family history. In grade school, I went through a phase when all I read were biographies; in college, I spent quite a bit of time studying my ancestry. So recently, when the ladies at my church did a Bible study on lessons from the life of Esther, I was ecstatic. For weeks, nearly a hundred of us met each Tuesday night and sat enthralled, learning about this great woman who had bravely saved her people and had changed the world forever.
One night during Bible study, our leader mentioned that she had begun reading a novel by Tommy Tenney that was a fictionalized account of the life of Esther. She passed the book around and when it came to me, I realized that I had seen this movie: One Night with the King. Weeks later, when I stumbled across Tenney's book Hadassah: One Night with the King, I picked it up and added it to my collection.
Tommy Tenney's book is actually a story within a story. He begins by introducing us to Hadassah Kesselman, a modern Jewish woman who is about to be married. According to her family's tradition, her family challenges her to read a diary written by her ancestor—Queen Esther of Susa. The young bride-to-be opens the diary and finds much more of the story than she—or we—had ever known.
Most of us are familiar with the biblical story of Esther. In some ways, Tenney's novel isn't very different. Hadassah is an orphaned girl who is forced to leave her guardian, Mordecai, to compete for the position of Queen of Susa. However, this book gives us a look at an inside world, albeit a fictionalized version, that the Bible never addresses. We see an overprotective Mordecai, who barely lets young Hadassah out of his sight. We become acquainted with Hadassah's young boyfriend, Jesse, who meets a terrible fate. And we see the inner workings of the highly competitive harem full of women who have been forever stripped from the arms of their families.
The greatest strength of this book, for me, was the kinship I felt with Esther. Through this fictionalized account, for the first time I saw her for the real person she was: an orphan with hurts, weaknesses, insecurities, and fears. I caught a glimpse of her humanity and her greatness, with which I identified.
I saw the movie One Night with the King shortly after it was first released. Directed by Michael O. Sajbel and with the screenplay by Stephan Blinn, the movie was highly anticipated by many Christians. Before I saw it, I had heard of its excellence, especially its cast. Amazingly, in a world where Christian movies have a
tendency to be discounted or completely ignored by the Hollywood establishment, this movie boasts superstars Omar Sharif, Peter O'Toole, John Noble, and John Rhys-Davies. The talented British actor Luke Goss plays King Xerxes, while newcomer Tiffany Dupont plays Hadassah/Queen Esther. Not surprisingly, I fell in love with Rhys-Davies's sweet and grumpily affectionate guardian, Mordecai. I was also impressed with Dupont's convincing portrayal of the Jewish orphan-turned Persian queen. I can't imagine any other actress embodying the character so capably and completely.
Both before seeing the movie and in researching the reviews after viewing it, I noticed that the sets and special effects garnered a lot of attention. It seems that everybody either loved them or hated them, but nobody ignored them. I personally found that there were some scenes that were magnificent (most of the interiors—especially the palace) and others were almost unconvincing (some of the exteriors—especially the panoramic shots of the city). However, what I found more jarring than any of the visual elements were the unconvincing accents the actors used. You would expect the Hebrew characters to have similar accents and the Persians to have similar accents, but instead there was no consistency at all. However, none of these elements was off-putting enough to take away from my overall enjoyment of the film.
Choosing between the book and the movie this month is as difficult as ever. As well-written as the book is, there are parts of the movie that simply shouldn't be missed: Xerxes being captivated by Esther's voice as she tells him a Bible story; and the desperate, rain-soaked Esther falling at Xerxes's feet as he extends his scepter to spare her life.
My favorite line comes from the movie. Hegai, the king's chamberlain, learns that Esther plans to risk her life to go before King Xerxes to plead for the Jews, and he tries to stop her. She rebuffs him, telling him she isn't afraid. She refers to the story of David and Goliath, and looking intently into her friend's face, she explains: "David didn't win because he fought well. He won because he believed well." It was one of those rare moments that I can say with great certainty that a movie changed me and changed the way I see God. For me, that lesson is well worth the price of the movie.