REVIEWERS CORNER
Featured Reviewing of the Month - LIT

Amy is a twenty something book blogger committed to keeping a passion for the written word alive and promoting a culture of literacy. She writes reviews across many genres, discusses bookish news, hosts author interviews, guest posts, and giveaways, explores Southern California's literary scene, and writes about the other pop culture arts as well, including her obsession, LOST. She founded Book Blogger Appreciation Week, the LOST Books Challenge, and the Buy Books for the Holidays Project. She loves interacting with bookish people!
Amy says...I have always been an avid reader but when I found myself reading 4 books a week and blogging, too, I thought...why not put them together? I had never reviewed before but there were definitely books I liked and didn't like. However, at first, I had a hard time making myself write about what I was reading. Then I learned about online social networking sites for readers like Shelfari and LibraryThing and through those sites I learned about blogs that reviewed just books! From reading these blogs, I was able to get an idea of how to review.
And once I started I couldn't get enough! I now have two book review blogs, My Friend Amy and The Friendly Book Nook. My reading horizons have expanded incredibly and the way I process what I read and think about it has changed so much. I am absolutely passionate about great stories and good books and hope that my enthusiasm is contagious! It's been an absolute thrill to connect with authors and readers alike around great books! Last year, I also started hosting Faith 'n Fiction Saturdays which is a weekly meme where readers gather to talk about topics specifically related to Christian fiction.
---
Miracle Girls by Anne Dayton and May Vanderbilt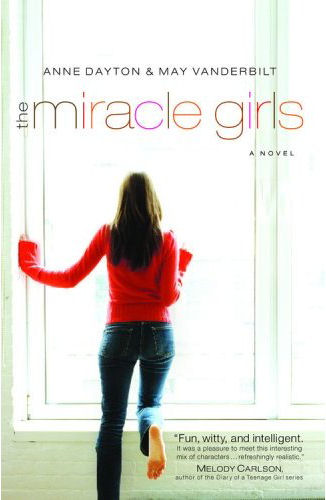 About the Book:
Ana Dominguez was happy in San Jose, but everything changed when her dad moved the family to Half Moon Bay, California, to open a law practice. Her parents think she's settling into her new school nicely, but she has them fooled. Riley, the most popular girl in school, has picked Ana as enemy #1, and Tyler, Ana's crush, doesn't even know Ana exists.
When Ana ends up in detention with Riley, her life suddenly changes. When Ana, Riley, Christine, and Zoe share their essays on "The Day My Life Changed," it turns out they have more in common than they ever would have imagined. Now as Ana lives out her faith, she and Zoe are determined to befriend Riley and Christine. But the drama of high school life has only just begun. . . .
My Review:
Anne Dayton and May Vanderbilt sort of pioneered the world of Christian chick lit, but sadly I havent't read any of those books. This book is, however, written very much chick lit style with the added bonus of being a YA book. (Young Adult) I have only recently stepped back into the world of reading Young Adult books. I was afraid I would find them all quite juvenile but that was silly. After all, I love shows like Veronica Mars, Gossip Girl, and my latest guilty pleasure, The Secret Life of the American Teenager. One thing I have been surprised by is the content of some books for teens. Which is riduculous considering my confession last week, but I'm getting old.
I am so happy to say that this is a fantastic book that any Christian parent could feel safe having their teenage daughter read. And that an old 28 year old girl like me still found tremendously entertaining and page-turning. Additionally, I didn't find the faith content to be overbearing and I imagine that young girls that don't share Ana's faith would still share many other things in common with her.
Ana is new to Half Moon Bay and rather friendless. Add on top of that the fact that her parents have huge ambitions for her and are extremely overprotective, plus her nanny/housekeeper has just been diagnosed with a serious condition...well her plate is full. She wants to be a good girl, though, and this is demonstrated in the opening scene of the book in which she does something I could never have imagined doing ever, and makes an enemy. She later on finds herself in detention where a group of girls each discover they share a secret...their lives are miracles.
I really don't want to spoil the book, but suffice it to say that I enjoyed this one so much, I'm dying for the next in the series to come out. (and this one isn't even on shelves yet) I'm hoping each of the "miracle girls" has their own story, because I can't wait to get in the heads of each of these girls.
Dayton and Vanderbilt have created four very fun and distinct characters with plenty of room for growth. The book is funny and light, and still tackles a few more important issues. Highly recommended to all.
Reviewed by Amy of My Friend Amy
---
A Mile in My Flip-Flops by Melody Carlson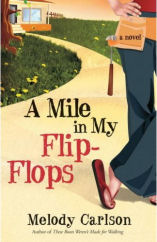 About The Book:
Thirty-something Gretchen Hanover is stuck. Seeking solace from a broken heart, she traded her wedding plans for home improvement shows and ice cream—but she knows she can't live on Ben and Jerry's forever. She also knows that her enthusiastic Lab puppy has outgrown her tiny apartment.
The perfect patch for Gretchen's dilapidated plans? She'll become a first-time house-flipper. As ideas go, it's daring and genius. She'll take out a short-term loan, buy a fixer-upper, renovate it, resell it, and use the profit for an adorable house of her own. What could be easier?
But Gretchen's plans to flip quickly flop when the house turns out to be in worse shape than she expected. She is relying on her retired contractor-father, but he wants to draw in his carpenter friend Noah Campbell. And although Noah is handy with tools, Gretchen isn't so sure about the baggage he brings with him. Will she be able to loosen her grip on the tools when it seems Noah may be her only help?
My Review:
I loved this book. I found it delightfully different and just plain fun. Author Melody Carlson has created one of the most unique heroines I've enjoyed discovering in some time.
Gretchen Hanover's goal to 'flip' a fixer-upper house in an impossibly short length of time is fraught with unexpected hurdles, and she doesn't have time for a love interest, least of all one who has all the issues Gretchen refuses to accept. Then she learns that the house has more 'issues' than the man.
Troubles multiply when Gretchen's father has a heart attack and she has to balance her time working on the house and caring for her father. And, more or less forced to work with the unacceptable Noah Campbell—the man with the issues Gretchen doesn't want to deal with.
There are laugh-out-loud moments sprinkled throughout as Gretchen gets herself into one predicament after another, even when the tension mounts as the short-term loan date looms closer and closer. The question is not only whether she can finish the renovations in time, but can she 'flip' it with enough profit to cover the cost of the renovations and pay off the loan?
I found A Mile in My Flip-Flops very hard to put down. I highly recommend it for a bright and refreshing read.
Reviewed by Peg Phifer at Sips 'n Cups Cafe
---
Word Gets Around by Lisa Wingate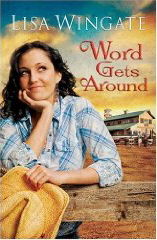 ABOUT THE BOOK:
When Romance Is In the Air, Word Gets Around. Lauren Eldridge thought she'd wiped the dust of Daily, Texas, off her boots forever. Screenwriter Nate Heath thought he was out of second chances. Life's never that predictable, though. Cajoled by her father, Lauren is back in town helping train a skittish race horse set to star in a Hollywood film. But the handsome screenwriter gives her more trouble than the horse. And Nate is realizing there's a spark of magic in the project--and in the eyes of the girl who is so good with horses. Daily, Texas, has a way of offering hope, healing, and a little romance just when folks need it most.
My review:
Lisa Wingate did a fabulous job creating complex characters with very believable internal conflicts. When I read a story I want to be emotionally invested in it. Not only is the cover of Word Gets Around gorgeous, but the story is beautiful as well. I was so caught up in their story world that several times tears welled in my eyes. I love it when I feel so connected that I cry with characters when they overcome something they have battled for years. That makes this one powerful book, IMHO. And while the spiritual component was very subtle, when it did come out in the story it was deep and meaningful.
All that Texas lingo and those hilarious sayings like "Well butter my backside and call me a biscuit" made for interesting reading as did the funny tales the relative shared about Lauren when she was a kid. The author did a great job getting in a man's head, too. The hero, Nate, was incredibly hot and his crazy internal thoughts made me laugh. And Lauren's reason for keeping her heart closed from others was very realistic. I totally understood her.
I also loved how Lauren's friendship with Nate slowly developed. It was refreshing to experience the emotional bonding between them that began with friendship and mutual admiration. I can't stand it when conflict feels contrived. In Word Gets Around everything made sense and felt natural to me. The character arcs were exquisitely done, and this romance sizzled even though it was based on friendship and not just chemistry.
I'd encourage any writer who wants to understand how to make a character come alive on a page to read this book and see how it should be done. I can't think of a time when I've read a story that rang so true when it came to internal conflict. I loved everything about this book including the well-done dysfunction crafted into the minor characters, like "The Shay". Did I mention the hero, Nate, was hot? Oh, and the kisses they shared were amazing, but even better than those were the kisses that never happened. Made my heart pound! And even though you know there will be a happy ever after because it's a romance, I still enjoyed experiencing the emotional journey with them.
Reviewed by Michelle Sutton at Edgy Inspirational Author Blog<
---