Kelly Klepfer came on board Novel Reviews several years ago as the Senior Editor through her connections with Gina Holmes, Ane Mulligan and Jessica Dotta of Novel Journey fame. Novel Reviews is the baby sister of the popular Novel Journey. At Novel Reviews we offer honest reviews of Christian and secular fiction titles and love to promote exceptional fiction. We began to do so after we met the authors via their interviews at Novel Journey. Disclaimer: Our reviewers are not paid for their reviews. Some may consider the receiving of a complimentary book or loosley bound manuscript (by publisher or author), as a form of compensation, so, be forewarned that our reviewers RECEIVE BOOKS. In our defense, it would be difficult to review without them. (Also, we are not affiliated or paid for any links to online bookstores.)


NOVEL REVIEWS CORNER
---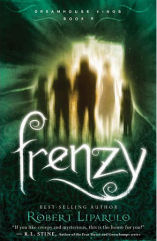 Frenzy (Dreamhouse Kings) by Robert Liparulo
Reading level: Young Adult
Hardcover: 352 pages
Publisher: Thomas Nelson (May 18, 2010)
Language: English
ISBN-10: 1595548165

Book Description:
Their destiny is to fix history. Their dream is to get home.

When you live in a house that's really a gateway between past and present, you have to be ready for anything. It's a painful fact the Kings have faced since moving to Pinedale eight days ago. Desperately trying to rescue their mother from an unknown time and place, brothers Xander and David have lunged headlong into the chaos of history's greatest--and most volatile--events. But their goal has continually escaped their grasp.

And worse: Finding Mom is only a small part of what they must do, thanks to the barbaric Taksidian. His ruthless quest to sieze their house and its power from them has put not only the family, but all of mankind, in grave danger.

Somehow, the key to it all hinges on Uncle Jesse's words to the boys: "Fixing time is what our family was made to do." But how can they fix a world that has been turned upside down--much less ever find their way home?

At long last, the secrets of the house and the King family are revealed in the stunning conclusion to this epic series.

If you would like to read the Prologue and first Chapter of Frenzy, go HERE.
Review:
Frenzy was an exceptional conclusion to the Brilliant Dreamhouse Kings series. I wouldn't have changed a thing about it. It kept me guessing till the very end. The Kings had been through enough struggles to drive anyone insane, and they still haven't gotten any closer to finding there mom. They're all on there last life and they need a miracle. And no one provides miracles like Jesus Christ! Action, suspense, adventure, and fantasy are all served in great quantity in this book. This book was impossible to put down. I had high expectations for this book, and it didn't disappoint. 11 on a scale of 1 to 10!
Reviewed by Reid A. (Teen Reviewer)


Bonus Review 1:
"Let's do it!" (Xander and David – at a critical moment in the story)

Robert Liparulo has written the PERFECT ending (or is it?) for his Dreamhouse King series! Frenzy starts out with a terrifying scene, and doesn't let up the ENTIRE novel! In the last book, Whirlwind, readers learn some key information about the King's house and how it functions. Frenzy opens the reader's mind even further as Xander and David discover even greater details about the ebb and flow of time and how the house serves to channel the flow. They also learn the significance of their family's role within the time continuum, and that theirs is a role which they must choose to embrace. It is a WILD ride, readers! The search for the King's mother becomes quite desperate as does Xander and David's will to simply survive! You DO NOT want to miss this book!!

Xander and David take their lives in their own hands in Frenzy. These boys are determined to find their mother and rescue her from Taksidian and Phemus. What they discover in this novel, is that Taksidian is far more dangerous and evil than they ever imagined, and his plans for mankind…well, let's just say he doesn't care about much except his own sorry self. I don't think he realizes the depth of the King family's love for one another and the sheer determination they each hold in their hearts to protect and defend one another amid this bizarre assault from Time itself. It's hard to imagine that Liparulo could possibly raise the stakes any higher, but he does indeed take suspense to an entirely new level!

As a mom, my heart wrestled with this story. I wanted to protect Xander and David so badly I could hardly contain myself! Yet as the novel went on, I found myself cheering them on, proud that they wouldn't give up no matter the cost, and I loved the way their love for one another matured and deepened. But you know what I loved most about this book? Liparulo showcases the faith element in this story in a bold and dramatic way that readers will NEVER forget! He hasn't done that up until now, but when he decides to share his heart – watch out! He does it in a way that only he can do, and it just blows me away!!

Frenzy…read it! Savor it! Buy the entire series for the teens in your life and give them the grandest adventure reading has to offer! What an AMAZING ride!!

Reviewed by: Kim Ford at: "Window To My World"
Bonus Review 2:
With more twists and turns than the crazy Dreamhouse, Robert Liparulo whips, yanks and stretches the complex storyline to a close...well...not exactly. How about a rest? Kind of.

The six book series span a week in real time and centuries in time travel. The King family is stretched to breaking during their adventures that made me weak in the knees more than once.

Frenzy pulls loose ends tight and reveals more pieces of the Dreamhouse puzzle. Liparulo played out the tiny Christian element beautifully and the book series ended on a satisfying note. There are elements that would be a lot scary for easily disturbed kids so keep that in mind. Otherwise this series is a terrific, page-turning read.

Reviewed by: Kelly Klepfer at: "Scrambled Dregs"
---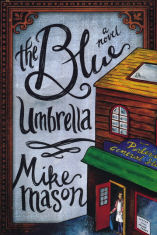 The Blue Umbrella: A Novel (Paperback) Mike Mason
Paperback: 448 pages

Publisher: David C. Cook; New edition (October 1, 2009)

Language: English

ISBN-10: 1434765261
Product Description:
An orphan faces an evil magician in this literary fantasy for readers of all ages that probes the depths of good and evil.

The life of ten-year-old Zac Sparks changes overnight when his mother is killed by lightning. He's sent to live in Five Corners with his Aunties, two cruel old hags who obviously don't like him. It isn't long before Zac knows something really strange is going on. Five Corners is populated with weird characters--a midget butler, a girl who doesn't speak, a blind balloon seller, and a mysterious singer who is heard but not seen. Then there's the Aunties' father, Dada. Zac's first encounter with Dada is so terrifying he faints dead away.

The one bright spot is Sky Porter, the proprietor of the general store across the street, a friendly soul who encourages Zac--when the Aunties aren't looking--and shows him a kindness that is sadly lacking from his dismal life. But Sky isn't what he seems either, and when Zac learns Sky's amazing secret he realizes, to his dismay, that this wonderful man may have a very dark side as well.

Discovering that Dada is an evil magician who is intent on stealing the ultimate treasure, Zac knows many lives are at stake, including his own. With time running out, he must turn to the one person who might be able to help: Sky Porter. Can Zac trust him?
Review:
"Hath the rain a father? Or who hath begotten the drops of dew? Out of whose womb come the ice? And the hoary frost of heaven, who hath gendered it? The waters are his as with a stone, and the face of the deep is frozen." (Job, Chapter 38 verses 28-30)

Weather is something that shapes our lives in tremendous ways. Sunshine brightens our mood, tornadoes and hurricanes terrify us, and a beautiful rainbow leaves us speechless with wonder. Mike Mason has taken the essence of the weather, from its raging terror to its silent an awesome beauty and built upon it a children's fantasy that will be long remembered. As a matter of fact, The Blue Umbrella will always remind me of the very specific and trustworthy ways that God arranges every event of my life.

Simply but very intelligently written, The Blue Umbrella begins as a rather dark tale of loss and anguish. Pricilla and Esmeralda Henbother come swooping down into Zachery Sparks' life during one of his darkest moments and make it even darker. Swept away to the very strange town of Five Corners, Zack begins to notice many unusual things about its people – especially the people and events going on at Porter's store across the street. Asking non-stop questions, Zack eventually uncovers many of the secrets in the town. With each discovery, Zack learns something about the human heart and its fickle ability to turn abruptly from friendship to vengeful anger. Zack also learns that trustworthiness is the foundation of life's most important relationships.

As in any good children's fantasy, the bad guys are especially cruel and scary people, and the good guys seem almost too kind to be sincere. However, Mike Mason has turned these polar opposites into believable characters that draw you deep within the story. The author's own interview at the end of the book assures the reader that this powerful reflection of Christ's love for us was not purposefully intended from the start, but it flows beautifully from the story as I'm sure it flows from the heart of the author.

Mike Mason's novel, The Blue Umbrella, will provide parents with many teachable moments with their children. I think it would be particularly effective read aloud and discussed as a family. No matter how it's enjoyed, whether individually or as a family, The Blue Umbrella will be a story that children will return to again and again for the sheer pleasure of a well-told story. Mike Mason is a very talented wordsmith, and I hope he will continue to write stories for children.

Oh, and just another note...this is a 400+ page novel, so be aware! This is intended for children 9-13, and particularly those who like to read.

Reviewed by: Kim Ford at: "Window To My World"
---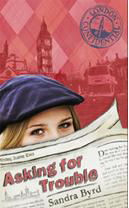 Asking for Trouble, London Confidential Series #1 By Sandra Byrd
More in London Confidential Series

Tyndale House / 2010 / Paperback
Product Description:
When her family moves to London, 15-year-old Savvy Smith has to make her way in a new school and a new country. She just knows the school newspaper is the right place for her, but she doesn't have the required experience, and the cute editor-in-chief is not looking to train anyone. She has to come up with a way to prove herself and nab the one available position on the newspaper staff at Wexburg Academy.
Review:
Stop that plane! I MUST go to London after reading this book! Teen anglophiles will unite after picking up these books. Seriously, I so envy Savvy and her new life. Sandra Byrd made me drool after reading her Lexi Stuart series. Now I want to talk with a British accent and have a cuppa tea with scones and Devonshire cream.

Savvy is my type of girl. Seriously I loved reading about her. Even though she's an American transplant, she doesn't act obnoxiously or try to compare everything to American stuff. While she wants to fit in, she doesn't go out of her way to get into the in crowd or become popular. She just wants to find her niche. I loved how she had to go through several trial runs before finding it and how the teachers would be relieved when she said she wasn't coming back. The newspaper story is handled very well and even though I think that advice columns are a bit passe, I liked Savvy's approach to it.

I want a Fishcoteque pub near me! First off, Savvy's mom is super cool to just let her go there after school on her own (in a new country no less). Second, the food sounds absolutely delish (I'm totally craving some fish and chips right now). Third, the place is described as being a really fun, yet safe hangout that you can go and grab great food and chill with your laptop. And it's British! What more could you possibly want? Fishcoteque is one of the best hangouts I've read in a YA book this year.

I honestly have no complaints about this book. It was really fun to read and allowed me to travel to somewhere I've always wanted to go to in my life. I really like how Savvy is mature enough to explore places on her own, yet still respects her family and gets along very well with her parents. Their search for a church is quite funny as I can relate to the same ordeal with my parents about trying to see where we would finally fit in. It's really nice to know that even in a different country and culture that there are lots of things that are still the same. Ok, I take it back as there is one tiny little detail I had a problem with. I'm not quite sure why this book is marketed towards 8-12 year olds. It's more of a 11-15 year old targeted range if anything. Other than that little quibble, I LOVED this book and I cannot wait to read the rest in the series. Oh...London is calling...

Reviewed by Deborah Khuanghlawn at "Books, Movies and Chinese Food"
---

---