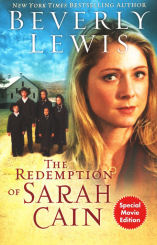 I've known for several years that Beverly Lewis was the queen of Christian fiction of the Amish persuasion. One of the secretaries at an office I worked at during my freshman year of college would often sneak Lewis's books in and read them whenever there was a lull (or she thought the boss wasn't looking). She loaned me one, which I read and enjoyed, but since my taste usually runs a little edgier, I never read any others by Beverly Lewis.
Until The Redemption of Sarah Cain.
When I heard one of Beverly Lewis's books was being made into a movie, I was impressed. Really, you have to be a phenomenal writer to have Hollywood come knocking on your door.
In The Redemption of Sarah Cain, Sarah has built a great life for herself in Portland, Oregon. A successful agent with a profitable real estate firm, she has everything money can buy—except her family and peace with her past. Sarah is convinced that she can ignore all of that until she receives a phone call from her sister Ivy's lawyer.
Lyddie Cottrell is a normal teenager—normal for an Amish teenager, anyway. At seventeen, she is the oldest of the Cottrell children, with four siblings: Caleb, Anna Mae, Josiah, and Hannah. She does her chores, takes care of the younger children, and is courted by her sweetheart, Levi. Life became complicated when her father died three years earlier, but at least Mama has been there to keep the family together. But then Mama dies, and the children must depend on the kindness of an almost-unknown relative to care for them.
Will Sarah give up her lucrative career on the West Coast to move to Amish country to take care of her nieces and nephews? Will she take them away from their home? Or will she just abandon them to the foster system, to be split up among non-Amish families? And how will she cope with facing the painful situations in her past while she decides about the children's future?
Beverly Lewis paints a vivid picture of the Amish world—from the livestock in the barn to the early morning clothes-washing parties to the quilting bees. Not only does she give us a clear picture of the physical world, but she shows the hearts of the Amish. We see the deep faith in Jesus Christ, abiding love for one another, and the fierce loyalty among the Plain People.
The book was a pleasure to read. I fell in love with Lyddie Cottrell from page one. She is the dedicated, sensitive, loving, and hard-working daughter that any mother would love, not to mention a wonderful older sister. She isn't perfect, but when she makes mistakes, she humbly receives the correction of the Lord and asks for forgiveness. Some days I wish I were as good a woman and as strong a Christian as this teenage girl. And though she might seem unrealistic, when you picture her as the orphaned, oldest child of devout Amish upbringing, she really doesn't seem so unrealistic after all.
As always, I was eager to see how director and producer Michael Landon Jr. would translate this beautiful setting and the rich
characters to the screen. In those two areas, I was not at all disappointed. The Lancaster County landscapes were breathtaking, and he could not have asked for better casting. Although the principle characters were played by actors who aren't very widely known, they all handled their characters remarkably. I was especially impressed with Abigail Mason's portrayal of Lyddie. Overall, the movie certainly has the quality that viewers have come to expect from Michael Landon Jr.
If you are seeking a family friendly movie to show on family night, this is a good choice. It has no violence, no foul language, no sensuality, and no other objectionable content. The theme of is definitely redemptive. But if you're seeking a movie with an openly evangelistic message, you will be disappointed.
When I picked up the DVD, the first thing I noticed was the title change from The Redemption of Sarah Cain to Saving Sarah Cain. To me, that implied that there might be an evangelistic overtone; however, that is not the case. There is no mention of Jesus Christ and any changes that happen in the lives of the characters are left unexplained. A non-Christian would probably attribute any character changes purely to chance or circumstance. At the end of the movie, I could not see any clear reasoning for the title change.
Additionally, I was disappointed in the movie because I purchased it expecting to see the film version of the novel. That didn't happen. Whereas Beverly Lewis had woven her tale in Lancaster County, screenwriters Brian Bird (who also coproduced) and Cindy Kelley took the majority of the story to Sarah Cain's home of Portland, Oregon. Although the character names and some of the major circumstances remained the same, the two were so completely different, that I felt cheated by the movie. I wanted to see the children's one-room schoolhouse and go to the quilting parties with Lyddie and Sarah. Instead, I saw cityscapes in Portland that were never in the novel.
This month, I am choosing the bookstore over the box office. Beverly Lewis's version is just too wonderful to miss. It is a must-read for any Christian woman—girls too. If you do choose the movie version, please be aware that it is a good movie. It just isn't a good adaptation of the novel, and it isn't a movie that you will want to show to share the message of salvation through Jesus Christ.
---

---