Kelly Klepfer came on board Novel Reviews several years ago as the Senior Editor through her connections with Gina Holmes, Ane Mulligan and Jessica Dotta of Novel Journey fame. Novel Reviews is the baby sister of the popular Novel Journey. At Novel Reviews we offer honest reviews of Christian and secular fiction titles and love to promote exceptional fiction. We began to do so after we met the authors via their interviews at Novel Journey. Disclaimer: Our reviewers are not paid for their reviews. Some may consider the receiving of a complimentary book or loosley bound manuscript (by publisher or author), as a form of compensation, so, be forewarned that our reviewers RECEIVE BOOKS. In our defense, it would be difficult to review without them. (Also, we are not affiliated or paid for any links to online bookstores.)


NOVEL REVIEWS CORNER
---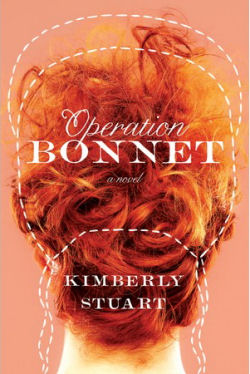 Operation Bonnet
By: Kimberly Stuart
Format: Paperback
Number of Pages: 288
Vendor: David C. Cook
ISBN: 0781448913
Description:
Her enemy will stop at nothing for control … and everything is not enough
Twenty-year-old Nellie Monroe has a restless brilliance that makes her a bit of an odd duck. She wants to be a private investigator, even though her tiny hometown offers no hope of clients.
Until she meets Amos Shetler, an Amish dropout carrying a torch for the girl he left behind. So Nellie straps on her bonnet and goes undercover to get the dish.
But though she's brainy, Nellie is clueless when it comes to real life and real relationships. Soon she's alienated her best friend, angered her college professor, and botched her case. Operation Bonnet is a comedy of errors, a surprising take on love, and a story of grace.
READ THE FIRST CHAPTER HERE
Review:
"Stubborn grace, it turned out, came in various forms, straight from the hand of God and in the form of a cranky old lady in a bonnet." (p.262)
Operation Bonnet it the most original, funny, delightful tale that I have read in a very long time! The characters were such an eclectic group of people – each of them struggling with a private issue that ultimately led them to a very unexpected point of grace. Nellie is the protagonist of the story, and her twenty-year-old life makes about as much sense to her as the wild and unruly mane of red (excuse me, orange) curls that adorns her head. Born to a couple of people who'd rather play golf and spend money rather than raise their only daughter, Nellie finds herself caring for her grandmother and desperately trying to pursue the closest thing she has ever had to a dream – the life of a private detective.
Sounds like a hodge-podge of issues, huh? Well, once you meet Nona, Matt and Amos – oh, and don't forget Tank! – this story takes on the characteristics of adventure, light romance, and contemporary, realistic issues that every man and woman have had to face at some point in time. Kimberly Stuart develops each character with their own, unique blend of quirkiness, and then intertwines their lives in such creative ways that the reader must keep the pages turning at a rather rapid clip to discover what becomes of their lives. There are Amish characters in the book, by the way, but not in any role that you've ever seen them placed within. That fact alone adds a bold, unique feel to this story amid everything I've been reading lately. I cannot begin to tell you the number of times I laughed out loud, giggled, cried and just simply sighed when I read the truth of the human condition so creatively captured in this story.
The truth in this story? Well, there are many truths about the human heart that will touch you. My favorite? Probably this one on page 213: "You cry or pout or laugh or whatever you must about what needs to be let go. And then let go. Never try to run the world. Only a God of bottomless grace can pull off a feat like that." The journey that the reader takes until this point is one you won't soon forget. This tender, funny story will linger in your heart for a very long time.
Bravo! Kimberly Stuart! Bravo!!
Reviewed by: Kim Ford at: Window To My World
Bonus Review:
I love a novel that makes me laugh and makes me pause at moments of poignancy in between laughs. Operation Bonnet is a delightful story that does just that. I would not have picked up the book based on the cover or the title. I'm not a fan of the Amish trend in Christian publishing. However, another reviewer recommended it to me, suggesting that she thought I just might love it and she was right.
Kimberly Stuart has written previous novels that I've either liked or liked a lot. Operation Bonnet blows them all out of the water and is one I loved.
Nellie is a twenty-year-old crazy-haired girl genius with a hunger for private investigating and a sacrificial love for her Nona. Nellie works at a golf shop, studies PI techniques and takes care of her Nona while her parents travel the world. Her best friend Matt helps her score sweet spying tools and listens to her rants. Nona is losing it, but it's slow enough and the spells are infrequent enough that Nellie thinks she can hold off the inevitable. Her life is full. Rich? Fulfilling? Not quite because she lives in a town where crime is rare, stealth is rarely required, and folks are pretty decent. Boring. Then Amos, the used-to-be Amish boy comes to town. He is hired by Tank, the golf club owner, for the annual project, this year, a mini-golf course. Amos is a walking culture shock with a concern. One that he thinks he could hire Nellie, P.I. to look into. She only will need to infiltrate the tight-knit Amish community to help him out. One that he has been firmly shunned from.
Nellie enters a stretching period where she helps, in a backwards, inside-out and upside-down sort of way. And in the process she grows up a little bit and finds out a lot about life.
I loved this novel. Charming, sweet, funny, sweet, touching, did I say sweet, and interesting. If you read one novel this year, I'm thinking you could do far worse than this one.
Reviewed by: Kelly Klepfer at: Scrambled Dregs
---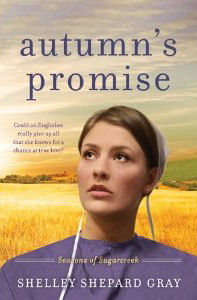 Autumn's Promise: Seasons of Sugarcreek, Book Three by Shelley Shepard Gray
Format: Paperback
Publisher: Avon Inspire; Original edition (August 3, 2010)
Language: English
ISBN-10: 0061852376
Description:

Some promises are meant to be broken...
Until Robert Miller met Lilly Allen, his world had been dark. A widower after only two years of marriage, he'd been living in a haze, feeling that, at twenty-four, his life was already over. But thanks to his friendship with Lilly, he now has new reasons to wake up each day. He knows his connection to her doesn't make sense. She's only nineteen, with a past the whole town talks about. Even more, she's not Amish, like Robert. A marriage between the two of them could never happen.
Lilly's heart is drawn to Robert, not to his faith. No matter how much she admires his quiet strength and dependability, she doesn't think she could ever give up her independence and reliance on the modern world. Is their love doomed before it even begins?
Review:

Autumn's Promise is book three in the Seasons of Sugarcreek Series. It follows a girl named Lilly Allen, who we found out in previous books became pregnant out of wedlock, but lost the baby due to a miscarriage. Feeling down and depressed, she is surprised to find herself showing interest in an Amish man named Robert Miller, who lost his wife to cancer three years previously. Though they live completely different lives, love begins to bloom between them.
I really enjoyed this book. I was unsure to the very end of the book how it was going to end for these characters. It was interesting to me how other people viewed their relationship. Non-Amish people wondered if Lilly could ever give up her modern conveniences for a life with the man she loved. The Amish people tended to look down on their situation, due to the fact that Lilly had a baby out of wedlock. I really liked how the author intertwined the lives of the Amish and the non-Amish.
If you enjoy reading about the life of Amish people, you will really enjoy this book. I would definitely read other books by this author.
Reviewed by: Sarah Porter
---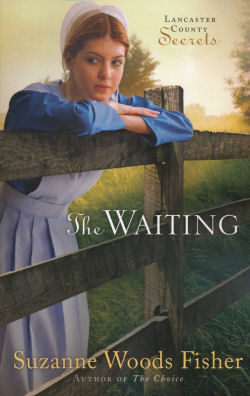 Waiting, The: A Novel (Lancaster County Secrets)
Suzanne Woods Fisher
Paperback: 311 pages
Publisher: Revell; Original edition (October 1, 2010)
Language: English
ISBN-10: 080073386X
Description:

Jorie King has been waiting for Benjamin Zook to return home to Lancaster County so they can marry. When news arrives that Ben has been killed, Jorie finds comfort in the friendship of his brother Caleb. That friendship ripens into love, and it seems that they are meant to be together. But when the unexpected happens, their worlds are turned upside down once more.
Will Jorie trust God to lead her into the arms of a new man?
Review:

Suzanne Fisher Wood returns with her second Lancaster County Secrets novel set during the war in Vietnam. While Amish novels rarely find their way to my TBR, both of Suzanne's have been enjoyable and for me, it comes down to Suzanne's character development. The focus of her stories are on the emotions, heartache, hopes and dreams of her characters rather than the religious order and rules, which appeals to me. Jorie, Cal, Ben and Ephraim are unique and complex, each dealing with grief and pain, battling duty and love and facing difficult choices. The only drawback for me was the slow pacing of the story which is not unexpected for an Amish novel, otherwise The Waiting is a satisfying read.
Reviewed by: Rel Mollet at: Relz Reviews
---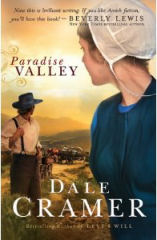 Paradise Valley
By Dale Cramer
Published by Bethany House
ISBN# 978-0-7642-0838-6
359 Pages
Back Cover:
An Amish settlement in Ohio has run afoul of a law requiring their children to attend public school. Caleb Bender and his neighbors are arrested for neglect, with the state ordering the children be placed in an institution. Among them are Caleb's teenage daughter, Rachel, and the boy she has her eye on, Jake Weaver. Romance blooms between the two when Rachel helps Jake escape the children's home. Searching for a place to relocate his family where no such laws apply, Caleb learns there's inexpensive land for sale in Mexico, a place called Paradise Valley. Despite rumors of instability in the wake of the Mexican revolution, the Amish community decides this is their answer. And since it was Caleb's idea, he and his family will be the pioneers. They will send for the others once he's established a foothold and assessed the situation.
READ THE FIRST CHAPTER HERE
Review:
I have loved Levi's Will, a gripping novel written in a Amish males point of view, so when I heard Dale Cramer was doing a prequel to it, I jumped at the chance to receive a review copy. Dale used real events as a backdrop for his new story that caught my interest and made me realize how much America has changed over the years in our education department. In 1921, five Amish fathers were arrested for neglect of their children. The Bing Act of 1920 stated all children in Holmes County, Ohio needed to go to school or parents would be arrested. The Amish men stayed in jail until the government started heating things up to force their case by taking away their children and putting them in foster care. It's unthinkable in a day and age when homeschooling is thriving.
So what do these men do to save their way of life? Caleb is willing to check out another place to live. They wanted to look outside the USA because laws were bound to get passed in all 50 states eventually - then an opportunity opened up outside the states. Mexico. It looked great at ten dollars per acre. So, Caleb volunteers his family to be pioneers in a new land. He'll scout out the terrain and its people, then report back to the Amish community.
Caleb discovers lush farming soil and Mexican people as varied as their languages. Then there are rumors of bandits. They meet Domingo, a young man who takes the Amish family under his wing and guides them through this new world they know nothing about. Paradise Valley could be their new home forever if only the bandits would stop giving them trouble. They were a peace loving people who would not fight for their possessions...even if it meant fighting for one of their daughters. They would trust God in all things, that would not change.
I've enjoy Dale's books, because he is so very passionate about writing and gets to the heart of the matter in his novels. This book is no exception. Dale's father lived in an Amish community as a boy and left when he got older. So, Dale has family connections that come out in his stories and help him in writing about their customs. This trilogy is inspired by historical events I found interesting. You'll definitely want to know what happened to Caleb and his family on their journey to make a living in this foreign land. I know I did!
Reviewed by: Nora St.Laurent at: The Book Club Network
Bonus Review:
I'm not a fan of Amish fiction. I know it's all the rage in Christian Fiction right now, but, enough already.
That said. I do like Dale Cramer which is the reason I agreed to read and review Paradise Valley. Fortunately, the Amish details share space with plenty of 1920 era Mexican details and these add a whole new layer to an interesting story. Plenty of drama -- bandits, forbidden love, snakes, arrests and children taken from loving parents are some of the themes within this well-written novel. I found it fascinating that this story was based on factual events and is part of Cramer's heritage. Cramer also writes some breathtaking prose interspersed with the "Jah's" and the prayer kapps. Amish fiction fans should find much to love, and the rest of us can find a good story within these covers, too.
Reviewed by: Kelly Klepfer at: Scrambled Dregs
---

---