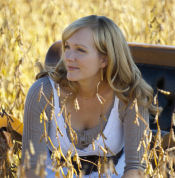 Nicole, what number novel is Far from Here for you?
I guess it depends on how you count! I've written four books for Tyndale House Publishing, collaborated on one book for Threshold Editions with Glenn Beck, and just released Far from Here with Simon & Schuster/Howard. So I guess this is my fifth or sixth book.
How is this book different from the others you've written?
Far from Here marks my transition from the CBA market to the ABA. There is some mild sensuality and mild profanity, but I certainly didn't set out to write shocking things. Instead, I wanted to honor my characters and the journey they were on. To tell their story with honesty and integrity, I needed to step a bit outside of my comfort zone. This doesn't mean that I'm not still a Christian fiction author, or that I'm not proud of the books that I've already written (they're my babies!). It also doesn't mean that I've abandoned my faith or anything silly like that. This transition is just another step on my own personal journey.
In my career as an author, I have both embraced and chafed at the "Christian fiction" label. Apparently, so have my readers. I've been told that my books are "too preachy" and I have also been chastised for "watering down the gospel." In truth, I have never approached a single one of my books with the intent to preach about or hide my beliefs. My goal in writing is to write beautiful, hope-filled stories that resound with truth and resonate deep in the hearts of my readers. If God is beauty and truth and love (and I believe He is), then my books overflow with Him—even if His name is never mentioned.
How is it similar?
I don't think Far from Here is all that different from my other books. No matter what market I'm writing for, I strive to write literary, hope-filled stories about everyday people who face extraordinary circumstances. Tragedy is a part of life, and finding hope amid the ruins of an unforeseen disaster—whether personal or communal—is what compels me to write. I believe that life is a fine balance of both devastation and beauty, and I am passionate about pointing out the light that still glimmers from the ashes of a seemingly unredeemable wreckage. It's all about rising from the ruins, finding hope where none seems possible.
Where did the idea for this book come from?
Far from Here is very loosely based on one of my own family stories. Over thirty years ago, my dad's best friend disappeared off of the coast of Alaska. He was a bush pilot, and he simply vanished into thin air. No trace was ever found of him or his plane. I grew up with this piece of family history, but it wasn't until I was a woman with a husband of my own that I began to grasp the depth of loss that everyone who loved this man must have felt at his disappearance. Far from Here explores that sort of loss, but it's definitely a novel that hinges on hope, even if that hope is a tenuous, ever-changing thing.
Who is your favorite character in the book and why?
Although I love my protagonist, Danica, my favorite character in Far from Here would have to be Dani's older sister, Katrina. Kat is a messy, quirky, somewhat unlovable character who is surprisingly endearing. She's self-destructive and selfish, but she also deeply loves her sister. Kat's bumbling attempts to connect with and care for Dani are incredibly sweet, and I think they betray a depth of emotion in Kat that is not immediately apparent. Kat is definitely a handful, and she is the character who was the most challenging for me to write. But I love her honesty and the way her tough exterior hides a tender, searching woman.
What's your life at home like?
My days are sundry and varied! My husband is the Dean of Chapel at a liberal arts college in the Midwest, so his job alone keeps us hopping. We also have an eight-year-old son who is in second
grade, a five-year-old son who's in kindergarten, and an eighteen-month-old son at home. My big boys play hockey in the fall and winter, and soccer in the spring and summer, so between school, practice, games, and everything else that comes with having little boys in the house, I have a full-time job. Of course, the baby is into everything, and I like to keep my house neat and my family well fed, so I spend a lot of time cleaning, shopping, cooking, and doing mountains of laundry. But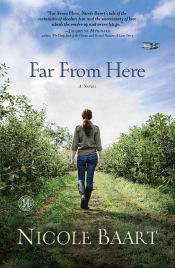 I do manage to find time to write, mostly because I go a little crazy if I'm not writing. I try to carve out two mornings a week, plus some nights after the kids are in bed. My favorite thing to do at the end of a busy, noisy, often dirty day is to sit down in the peace and quiet of my living room with my husband, a glass of wine, and a pad of paper.
Aaron and I are also the cofounders of a nonprofit organization that works alongside a church and orphanage in Monrovia, Liberia, called One Body One Hope. Our board recently returned from a trip to West Africa with what we believe is a God-given mandate to expand our ministry fivefold! We're thrilled and scared and eager all at once. Our home overflows with pictures of our Liberian brothers and sisters, and our telephone rings weekly with news and updates about the kids we love as dearly as our own. It's all incredibly humbling and exciting.
When you're not writing, what kinds of books do you like to read?
I was blessed to have some of my favorite authors endorse Far from Here! I feel like all you have to do is read my blurbs to get a feel for the kind of books I love. I'm a huge fan of Joshilyn Jackson, Sandra Dallas, Jacquelyn Mitchard, and Ann Patchett. Some other authors I admire are Marisa de los Santos, Kate Morton, Tana French, and Sarah Addison Allen. I tend to enjoy character-based dramas with a literary slant. And I'm also a sucker for anything set in the Midwest. Leif Enger and Kent Meyers write some of my favorite modern-day Westerns.
How can readers benefit from sharing the books they love?
I believe with all of my heart that although writing may seem like a solitary endeavor, it is actually a multilayered, multifaceted conversation with a huge community of diverse people. And reading a book is just the beginning of that dialogue. It's a way for us to engage the world around us, walk a few steps in another person's shoes, or experience something from a different perspective. Sharing books is a way to reach out and say, "I loved this. It touched me and changed me somehow, and I hope it stirs something inside of you, too."
I'm a huge fan of book clubs because I believe they allow readers to take the conversation to an even deeper level. Book clubs should be where people find points of connection with one another and with the book. Allowing ourselves to interact with the characters and the emotions they produce is just one small way we can try to make sense of our lives and experiences.
---

---