Kelly Klepfer came on board Novel Reviews several years ago as the Senior Editor through her connections with Gina Holmes, Ane Mulligan and Jessica Dotta of Novel Journey fame. Novel Reviews is the baby sister of the popular Novel Journey. At Novel Reviews we offer honest reviews of Christian and secular fiction titles and love to promote exceptional fiction. We began to do so after we met the authors via their interviews at Novel Journey. Disclaimer: Our reviewers are not paid for their reviews. Some may consider the receiving of a complimentary book or loosley bound manuscript (by publisher or author), as a form of compensation, so, be forewarned that our reviewers RECEIVE BOOKS. In our defense, it would be difficult to review without them. (Also, we are not affiliated or paid for any links to online bookstores.)


NOVEL REVIEWS CORNER
---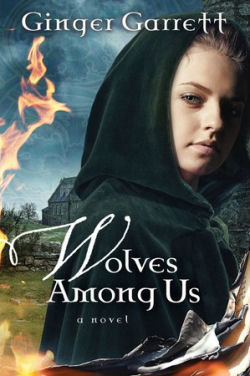 Wolves Among Us: A Novel (Chronicles of the Scribe)
by Ginger Garrett
Paperback: 304 pages
Publisher: David C. Cook; New edition (April 1, 2011)
Language: English
ISBN-10: 0781448859

Description
This richly imagined tale takes readers to a tiny German town in the time of "the burnings," when pious and heretic alike became victims of witch-hunting zealots. When a double murder stirs up festering fears, the village priest sends for help. But the charismatic Inquisitor who answers the call brings a deadly mix of spiritual fervor and self-deceptive evil. Under his influence, village fear, guilt, and suspicion of women take a deadly turn. In the midst of this nightmare, a doubting priest and an unloved wife—a secret friend of the recently martyred William Tyndale—somehow manage to hear another Voice…and discover the power of love over fear.
Dinfoil, Germany, 1538. In a little town on the edge of the Black Forest, a double murder stirs up festering fears. A lonely woman despairs of pleasing her husband and wonders why other women shun her. An overworked sheriff struggles to hold the town—and himself—together. A priest begins to doubt the power of the words he shares daily with his flock. And the charismatic Inquisitor who arrives to help—with a filthy witch in a cage as an object lesson—brings his own mix of lofty ideals and treacherous evil. Under his influence, ordinary village fears and resentments take a deadly turn. Terror mounts. Dark deeds come to light. And men and women alike discover not only what they are capable of, but who they are…and what it means to grapple for grace.
Review:
In a medieval German village, a double murder stirs up festering fears. The overworked sheriff is baffled, so the village priest sends for help to solve the mystery. But the charismatic Inquisitor who answers the call brings with him a deadly mix of spiritual fervor and self-deceptive evil. Under his influence, ordinary village fears and resentments take a deadly turn, and soon women are the targets of his crusade. Terror mounts. Dark secrets come to light. But in the midst of it all, a man and woman—the priest and the sheriff's unloved wife—somehow dare to listen to another Voice…and discover what it means to love instead of fear.
Author Ginger Garrett pounds out another breathtaking, heart-pounding story that'll leave you on the edge of your seat until the last page. And I won't even mention the full range of emotions her writing invokes. Oops. Did I mention that?
Wolves Among Us is a historical piece of fiction…or is it? The setting and the culture is definitely middle ages but the characters, well, let's just say even in contemporary times the average reader will relate to the wolfish spiritual predator she depicts. In fact, if her villain, the Inquisitor Bastion, were to pop through a time-machine door, I have no doubt he'd be a TV evangelist.
While at times I was a little angry with heroine Mia for being such a doormat, I think the true source of my rage was that I saw a lot of myself in her. She was a very real kind of gal with lots of 'how come' questions and 'I must' attitudes.
Wolves Among Us is a simultaneous peek into a bygone era and present-day Anytown—a tough feat to accomplish but skillfully pulled-off by Garrett.
Can't wait to see what she does next.
Reviewed by: Michelle Griep at: Michelle Griep
---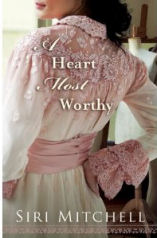 A Heart Most Worthy
by Siri Mitchell (Author)
Paperback: 379 pages
Publisher: Bethany House (March 1, 2011)
Language: English
ISBN-10: 0764207954
Description:

The elegance of Madame Forza's gown shop is a far cry from the downtrodden North End of Boston. Yet each day Julietta, Annamaria, and Luciana enter the world of the upper class, working on finery for the elite in society. The three beauties each long to break free of their obligations and embrace the American dream--and their chance for love. But the ways of the heart are difficult to discern at times. Julietta is drawn to the swarthy, mysterious Angelo. Annamaria has a star-crossed encounter with the grocer's son, a man from the entirely wrong family. And through no intent of her own, Luciana catches the eye of Billy Quinn, the son of Madame Forza's most important client. Their destinies intertwined, each harboring a secret from their families and each other, will they be found worthy of the love they seek?
Review:

Siri Mitchell tells a good story. I've found myself immersed in her novels, picturing and smelling just what she is describing. I've also found myself connecting with her characters. I'm not sure that Siri has a fiction-writing weakness.
In another historical, which have all been intriguing, Siri takes us to Boston during a time of unrest and upheaval. Italian immigrants have come to America, Spanish influenza is on the horizon, and war overshadows. Three young women take jobs in a dress designer's shop and live in the nearby tenements. Their unique and sometimes similar struggles play out on the pages.
Siri has chosen an omniscient point of view which is not my favorite. However, this novel reads almost like a fairy tale or morality tale. And I found it worked very well. The number of characters might seem overwhelming at first but the reader does get to know each of them and the story flows. The Italian spice and Catholic faith demonstrated through the life of the characters and their interactions add elements that enrich the story, too. As things were tied up it felt a tiny bit hurried but that's minor. One plot element didn't quite feel satisfyingly resolved, but again, that is minor. Read it, if nothing else, for pure escapism. Read it if you are a writer because Siri excels. Read it if you like a good fairy tale.
Reviewed by: Kelly Klepfer at: Scrambled Dregs
---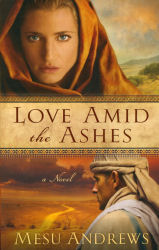 Love Amid The Ashes
by Mesu Andrews
Published by Revell
ISBN# 978-0-8007-3407-7
407 Pages
Summary:

Readers often think of Job sitting on the ash heap, his life in shambles. But how did he get there? What was Job's life like before tragedy struck? What did he think as his world came crashing down around him? And what was life like after God restored his wealth, health, and family?
Through painstaking research and a writer's creative mind, Mesu Andrews weaves an emotional and stirring account of this well-known story told through the eyes of the women who loved him. Drawing together the account of Job with those of Esau's tribe and Jacob's daughter Dinah, Love Amid the Ashes breathes life, romance, and passion into the classic biblical story of suffering and steadfast faith.
Review:

I was thankful to receive a review copy of a story many people quote from the bible and look to when they are suffering. The story of Job is a powerful one. Meus Andrews states in the author notes how she came up for the premise of her book Love Amid the Ashes! She says, "I hope you can see (through my extensive research) that biblical fiction is so much more than a fanciful imagining of how things might have been. It is truly my heart cry to know how biblical characters experienced the God I know today!"
Having read this gripping, heart wrenching book I can say Mesu has accomplished her goal. Not only did she show how biblical characters experienced God in their lives but she got up-close and very personal in showing the inner turmoil every character had endured watching Job suffer. No matter what came Job's way he stood faithful to not curse God like his friends and family wanted him to but was a witness to the love he had for God no matter what happened in his life.
Love Amid the Ashes is not only about Job, and the impact he had on his community, family, friends and the world around him. But it's also about Dinah, the only daughter of Jacob, who was violated by King Shechem. Her brothers avenged this act by killing the king and did some horrible things to the people that lived in the kingdom before they murdered them.
Dinah isn't mentioned in the Old Testament much so the author had to dig deep to uncover facts she could use to make her story work. Through extensive research Mesu found a way for Dinah to cross paths with Job, a wise man and respected man in his community, who was highly favored by God, and who showed the love of God to everyone he came in contact with.
Soon after Dinah and Job's paths cross calamity befalls Job. One messenger after the other reports horrific news to Job, first the report that his children are dead, then a report that all his live stock are slain and then to hear that his grandchildren are killed. Soon after that Job's house burns down to the ground. Job is left homeless and penniless. His wife is used to living the good life and agonizes over their new situation even more so when Job gets deathly sick. She is willing to do almost anything to get money in the house and live the life she is accustomed to.
We read in scripture of how everything was taken away from Job and then later given back more than he had in the first place without all the drama associated with this horrendous situation. The author reveals the heartache and struggle of a man losing his children (the loves of his life), everything he owned and his status in his community.
This author not only shows Job's terrible situation but on the flip side she discloses Job's hope and faith in God. Mesu brings scripture alive as she gives the reader a peek into what life might have been for Job back then. This Mesu Andrews pens an amazing story of Job's authenticity, his passion, love for God and family and how he suffered well. He stayed faithful even when his body was in horrific pain. This story brings this story to life in a real way. You'll never think of the book of Job in the same way.
Reviewed by: Nora St.Laurent at: The Book Club Network
---

---