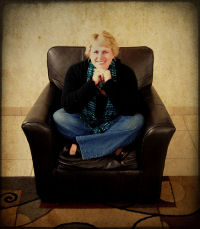 "Every job is important, by the mere fact that GOD has called us to do it." Isn't that a wonderful truth? Susan May Warren not only exercises this in her own life by writing stories that glorify God, she also encourages family, friends, and fellow writers with her willingness to teach others, while remaining willing to learn and grow within her own life journey. Susan has been blessed to experience myriad life circumstances, ranging from full-time missionary to homeschool mom of four children. Along the way, she has pursued and honed her writing craft. With more than thirty titles in print and multiple awards to her credit, she still remains excited to share her love for a well-crafted story!
Susan knows first-hand the surprises God shares with her as she remains a faithful steward of the gifts God has blessed her with. She writes within multiple genres, and her readers enjoy fresh new stories from her pen on a regular basis. Susan loves sharing new things with everyone God brings into her life, and her writing reflects the wonder and goodness that only faith in Christ can bring to her life.
"I wrote in the backside of Siberia for four years before I submitted my first novella to Tyndale (I had about six books written by that time, sitting in files on my computer)."
You made this statement in a 2006 review, and it seems very telling about your passion to write. Can you elaborate on your love for the craft? How you discovered it in your own life? What has getting published meant in your life?
Let's start with your last question first. I firmly believe that if you are not happy with the person you are before you get published, being published will only cause more struggles. I love being an author, but it has stretched me in ways I couldn't have imagined—making my life more public, letting new voices into my life (reviewers, critics, editors!), and even bringing into my life more accountability and scrutiny than when I was a missionary! There is always the pressure of writing a better book each time, meeting the needs of my audience and editor while always keeping my focus upward. For me it means constantly clinging to the robe of Christ.
It also pushes me to be a good steward of the gifts God has given me, which means striving to improve my understanding of story to deliver the most powerful story possible. Hence, I love studying writing craft, story structure, emotional layering, and everything that goes into writing a strong book. And I've discovered as I've struggled to unlock story, God has been there, delighting me as He teaches me how to rightly handle the gift of writing.
You have written in many genres, from historical to contemporary to suspense to romance. Not many authors have that opportunity nor the ability. Which is your favorite genre and why?
Oh, that's like asking me who my favorite child is! I love them all! Historical is definitely more difficult to write because of the research involved, but I love historicals because they bring me into a different world and I learn so much. But I'm a contemporary romance girl, too, and it's probably the most fun for me to write. By far, my "mom" novel (The Great Christmas Bowl) was my favorite to write. I admit that I laughed at my own humor the entire way through the story. My children rolled their eyes.
You have experienced life from many perspectives: a missionary's wife, a homeschool mom, and a full-time writer. How has God used these season's of life to enhance your writing? Which experiences have had the most meaningful impact on your stories?
Every season of life is meant to draw us closer to God and prepare us for the next. I loved being a missionary—God built my faith during those days and gifted me with a plethora of excellent material. Homeschooling sparked my interest in research and understanding culture, as well as trying to understand people (namely, my children!). And this season causes me to hold on to God as He brings me on this journey, and continually surprises me.
As a writer you have been developed a teaching platform as well as a public-speaking platform from which you share your craft. Why is this important to you, and how is your skill impacted by the people with whom you interact?
I love teaching. Watching "the light" suddenly go on in a student's eyes brings me such joy. Likewise, when I'm brainstorming with a client, to hear them get excited about their story and suddenly take the concept and blossom makes me want to cheer. Likewise, my "students" teach me. When they stump me with a question, I love trying to discover the answer. And as I figure out how I can break down information and make it accessible, I too learn the components of craft and how to master it. Teaching teaches the teacher, first!
As the mother of four children, life is incredibly busy. Your blog asks that your fans excuse you for football season! How has your writing career meshed with such a busy household? Do any of your children share your gift of writing?
I believe that my writing career has allowed my children to see that when you try to be a good steward of whatever God has gifted you with, He surprises you. It's given them the courage to reach out with their own gifts. Two of my children share a desire to write. My eldest son is a gifted storycrafter. He understands story in a way that is rare and helped me plot Sons of Thunder. He wants to be an acquisitions editor someday. My only daughter is a wordsmith; she understands the poetry of words and knows how to make them work. She is not only a novelist but a lyricist (and one of her songs appears in Nightingale).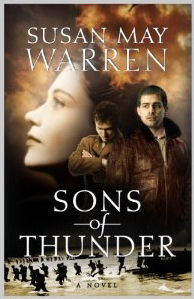 Of all of your published work, does one story in particular reflect your personality more than any other? Can you tell us about that?
The Great Christmas Bowl is my story. It is our family on the pages, right down to the dog. Only . . . I've never been a fish.
"We're all in this together. I'm so aware of the fact that God uses all of us for His great purposes, and no one is more important than another. I have great respect for those women who quietly and faithfully nurture their husbands and families; and I admire men and women who, in obedience, simply do what God asks, whether it be wait tables, crunch numbers, or travel overseas to share the gospel. If God told us to do it, it's important. And we can trust Him to bear the fruit for eternity."
You made this statement in an interview with Focus on Fiction when you had only seven books published, yet it seems to reflect your true heart about your call to write God's stories. With many more books now published, would you alter this statement in any way? If so, how?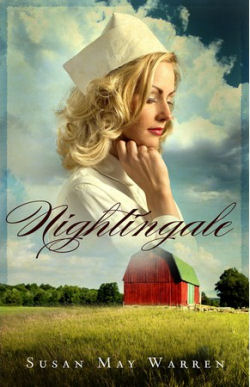 I wouldn't alter it. God has gifted everyone uniquely for what He wants them to do, and every job is important by the mere fact that GOD has called us to do it. Be a good steward with those things and I believe God will surprise you with more!
Can you tell us a little bit about your current project and what exciting things God is doing in your life now?
I am thrilled that Nightingale is hitting the stands! I stumbled across the article that mentioned the existence in 1945 of 140 POW camps in Wisconsin. In fact, America housed over 200,000 POWs during World War II. Add to that the large number of immigrants who moved to America after World War 1 and it was feasible that German families might find themselves on two sides of the same war. Indeed, there are stories of German Americans searching for loved ones in the POW camps down the road from their farms.
Many Germans weren't Nazis but were just following the call of their government into war, trying to be patriotic. Could it be that the enemy wasn't so different from us? At the same time, I longed to write a book that included the power of correspondence. I tracked down Since You Went Away, a novel created from letters written during World War II, and it sparked my desire to create a story that was in part epistolary. I'd never written such a novel before, and the challenge stirred me. I'm anxious to hear what readers think of this novel. It's probably my most ambitious, creatively, to date.
Meanwhile, I am currently working on a four-part family saga for Summerside Press starting in the Gilded Age (1890s) that journeys through the Roaring Twenties, the Great Depression, and finally World War II. I love stories of family and seeing God work through generations. It's similar to my Heirs of Anton series about a Russian family, only much more epic, and while each story stands alone, there is a thread that binds them together. History allows us to understand our present, and it gives us opportunity to see God's plan. The first one is called Heiress and comes out in July 2011.
What parting advice would you like to share with your readers?
Advice? I don't know. Maybe the three secrets to life? Seriously, it's what I tell my kids and how I try and live my life: Pursue peace with God, do what you were created to do, and learn contentment with what God has given you.
Thank you for allowing me to share with you!
####
Susan May Warren is the RITA award-winning, best-selling novelist of over thirty novels, many of which have won the ACFW Carol, the Inspirational Readers Choice Award, and been Christy and Rita finalists. Her compelling plots and unforgettable characters have won her acclaim with readers and reviewers alike. She loves to write and help other writers find their voice through www.mybooktherapy.com a writing craft and coaching community. She and her husband of over 20 years, and four children live on Minnesota's beautiful Lake Superior shore where they are active in their local church. Find her online at: www.susanmaywarren.com.
---

---
Kim Ford has been a resident of Alabama for more than ten years. Originally from Georgia, she holds a Bachelor's degree in English from Brenau Women's College. She has spent the past 9 years in sales and marketing and has been an avid reader of Christian Fiction for more than 20 years. A mother of two teen sons and married to a technical writer and Army veteran, Kim's life is full and blessed. She and her husband also volunteer as teachers for a resident rehab program for women with life-controlling issues. She uses her fiction to encourage the ladies she teaches. She blogs at: Window To My World