Kelly Klepfer came on board Novel Reviews several years ago as the Senior Editor through her connections with Gina Holmes, Ane Mulligan and Jessica Dotta of Novel Journey fame. Novel Reviews is the baby sister of the popular Novel Journey. At Novel Reviews we offer honest reviews of Christian and secular fiction titles and love to promote exceptional fiction. We began to do so after we met the authors via their interviews at Novel Journey. Disclaimer: Our reviewers are not paid for their reviews. Some may consider the receiving of a complimentary book or loosley bound manuscript (by publisher or author), as a form of compensation, so, be forewarned that our reviewers RECEIVE BOOKS. In our defense, it would be difficult to review without them. (Also, we are not affiliated or paid for any links to online bookstores.)


NOVEL REVIEWS CORNER
---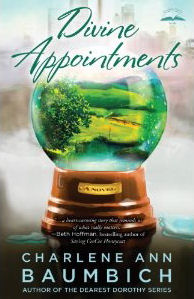 Divine Appointments
by Charlene Ann Baumbich
Published by WaterBrook Press, Sept 21, 2010
ISBN-10: 0-307-44472-4
Description:
Josie Brooks, at the age of 47, thought she was leading an enviable single life. A successful consultant, she calls her own shots, goes where the money is, and never needs to compromise. But her precisely managed world begins to falter during a Chicago contract when an economic downturn, a bleeding heart boss, and the loyalty and kindness between endangered employees ding her coat of armor.
Throw in hot flashes, a dose of loneliness, a peculiar longing for intimacy and unquenchable thirst—not to mention a mysterious snowglobe with a serene landscape, complete with a flowing river and lush greenery that seems to be beckoning her in—and Josie's buttoned-up sense of status quo is on the verge of coming completely apart.
It will take friends, a mystical encounter, and an unexpected journey to set Josie on her own path to "right-sizing" and making the life changes that really matter.
Review:
In a delightful coming-of-age story at 47, I found Josie to be a feisty character with a tough shell in need of cracking. The mystical snowglobe is an added speculative twist that tickles the imagination. With characters including a melodramatic wannabe writer, one cheerful encourager, and a "bleeding-heart" hero, I thoroughly enjoyed Divine Appointments. Snuggled up with a warm throw and a cup of hot tea, Novel Journey and I recommend it for a great Fall read.
Reviewed by: Ane Mulligan, editor at: "Novel Journey"
---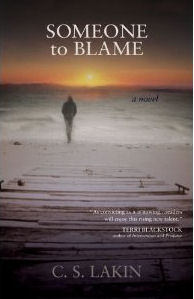 Someone to Blame: A Novel [Paperback]
by C. S. Lakin
Paperback: 368 pages
Publisher: Zondervan (September 21, 2010)
Language: English
ISBN-10: 0310327393

Description:
In the wake of heartrending family tragedies, Matt and Irene Moore move with their fourteen-year-old daughter, Casey, to a small town. Their goal is to get far away from the daily reminders that leave each of them raw and guilt-ridden. Their hope is to find redemption, repair, and renewal. Instead, the threads that hold them together unravel even more. Breakers, a small community perched on the rocky coast of the Pacific Northwest, is draped with cold isolation that seems to mirror the hearts. As they settle into their new life, old grief settles with them. Matt is always on edge and easily angered, Irene is sad and pensive, and Casey is confused and defiant. They've once more set the stage for calamity. Into this mix comes Billy Thurber, a young drifter with his own conflicts, whose life unexpectedly entangles with the Moores'. His arrival in Breakers parallels a rash of hateful and senseless crimes, and soon the whole town -- eager for someone to blame -- goes after Thurber with murderous intent. Out of this dangerous chaos, however, the Moores find unexpected grace and healing in a most unlikely way. Author C. S. Lakin explores our need to assign reason and fix blame for the pain and grief in our lives. Though the circumstances are fictional, the emotions are real and universal, making Someone to Blame a great and inspiring read.
Review:

Don't judge a book by its cover or title, truly, I've learned this about Someone to Blame which is bland on both counts. The plot line also seems overwhelmingly depressing. But since the book arrived at my house for a potential review, and when people send me books I at least crack the cover and read the first page, I felt I had to give it a chance. Within a few paragraphs I was hooked. What a fascinating study of characters, impressions, interpretations and the art of judging. Lakin writes compellingly. The characters are raw and realistic, descriptions are sense-rich, and the story is one that should make the reader stop and consider that there are indeed multiple sides to every story and every event, and even more motivations. The subject matter is heavy. This is not your escapist beach read. But it is a very well written, thought challenging story. This will not be my last Lakin novel.
Reviewed by: Kelly Klepfer at: Scrambled Dreggs
---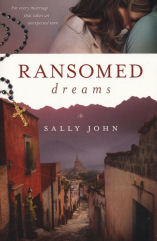 Ransomed Dreams (Side Roads)
by Sally John
Paperback: 416 pages
Publisher: Tyndale House Publishers, Inc. (June 7, 2010)
Language: English
ISBN-10: 1414327854
Book Description:
Sheridan Montgomery leads a charmed life as the wife of Eliot, U.S. ambassador to Venezuela. But an attack on their lives cripples Eliot, and they retreat to a remote Mexican village. As Sheridan quietly cares for her husband, she sees her dreams slipping away. Luke Traynor shatters their reverie when he arrives to tell Sheridan of her father's heart attack and the evidence implicating him in a conspiracy. Sheridan returns to Chicago to untangle the web of her father's past and is forced to confront her feelings for Luke, a trail of deceit, and the truth about her marriage.
Review:
Ransomed Dreams is a moving story of a life shattered by a sniper's bullet and the slow disintegration of a marriage between two people who no longer recognize each other. Consumed by chronic pain, Eliot no longer desires his wife nor is he able to comprehend her emotional needs while Sheridan is fearful, angry and reclusive. Sally John's writing is emotive and thought provoking as she lays bear the heartache of destroyed hopes and unmet needs. At times, the pacing slows but I did not mind the gentle unfolding of this couple's thoughts, the complications of Sheridan's dysfunctional family and the palpable tension as Sheridan wrestles with her commitment to her disengaged and physically altered husband and the magnetic pull of the man who saved her life on that fateful day in Caracas. For anyone who has had their life change in an instant or find themselves in a marriage they didn't sign up for, Ransomed Dreams is a powerful story of love, commitment and forgiveness.
Reviewed by: Rel Mollet at: Relz Reviewz
---

---