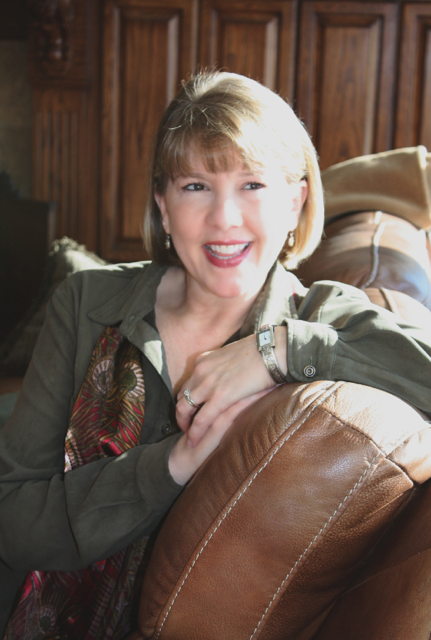 Award-winning author Deb Raney has enjoyed a lifelong love of words and the power of a good story. Life was full of many blessings, including four children, when she wrote her first novel. The Lord blessed this effort abundantly, and now, some nineteen novels and fourteen years later, Deb continues to praise the Lord for all that He has done through her writing career.
Deb's many life experiences have contributed to her wellspring of story ideas, and she has also enjoyed the faithful support of a loving family along the way. Her stories resonate with the truths God has taught her, and she is faithful to explore His mercy and grace through realistic life circumstances. Deb's readers also play an important role in her writing, and she is often encouraged by their responses to her stories. Faithful to recognize God's hand in all of her circumstances, Deb will have fresh stories to entertain readers for years to come!
A Vow to Cherish was a successful first novel/publication for you. What was the significance of this story in your life, and how did it affect your writing career?
My story of a family dealing with early onset Alzheimer's disease was inspired by my work with Alzheimer's patients in a nursing home. Early in my marriage, I worked as a nurse aide, and later my husband and I worked as occupational therapy assistants in a large nursing home in New York. There we saw the overwhelming ways Alzheimer's disease shaped both the victim and his or her family. It was amazing to see how a family's love could transform a person who couldn't even remember his or her own name. I wanted to explore what "for better or worse, in sickness and in health" looked like on the "worse/sickness" side. And I wanted to write a novel that showed the profound value of commitment in marriage.
As for how that first novel affected my writing career? Quite honestly, I doubt I'd be where I am in my career if not for the success of A Vow to Cherish––especially the film deal. It afforded me attention that a debut novelist rarely receives. I'm very grateful for that.
This successful first novel led to a successful movie deal as well. Did the movie capture the essence of your novel? What did you learn during that process?
I was very pleased with the way World Wide Pictures and director John Schmidt (who was also a cowriter of the screenplay) interpreted my novel. While they changed many of the plot elements––as I knew they would––they retained the parts of the story that were important to me, and I feel they made the story's emotional impact even stronger. It was surreal for this Kansas farmer's daughter to sit at the movie premiere in Hollywood, surrounded by the actors from the movie, and watch my story come to life on the big screen!
Writing has been a lifelong passion. What is the most significant change you have noticed in your writing as time has passed? How do you feel about this change?
I've become a much more spare writer than when I first began. I was enamored with the poetry of words, and greatly influenced by older, classic books when I first started writing. I've since realized that my stories are better suited to a simpler, more sparse style. While I'm grateful when a poetic metaphor jumps onto my page, I think I'm a better writer when I don't grasp too desperately at what doesn't come naturally.
Many of your stories deal with heart-tender moments: losing someone you love; finding love again; dealing with a shattered dream; and learning to take life in a new direction. Where do you find inspiration for your stories? Are they ever hard on you emotionally? Why or why not?
You know, I've had such a happy life––an idyllic childhood, a happy marriage, precious children who've given us very little trouble––that I think I've had to stir up some angst in my life through my novels. And, yes, those heart-wrenching stories are hard on me! My novels always make me cry. In fact, I don't consider a book finished until I've evoked tears in the author. (Granted, sometimes my tears are because what I've written is so bad! Or they're tears of gratitude because I made a seemingly impossible deadline!)
Of all of your novels, do you have a favorite?
When I'd written only half a dozen novels, I wouldn't have dared to name a favorite, but now that I have twenty under my belt, a few have risen to the top as my personal Top Five. In order of publication, they are: A Vow to Cherish (there's just something about one's first novel); Beneath a Southern Sky; Playing by Heart; A Nest of Sparrows; and Remember to Forget. I may have to amend that list to a Top Six, since my newest release, Almost Forever (from Howard/Simon & Schuster), has really taken hold of my heart, especially as reader mail comes in. I must admit that most of my favorites have earned their place on my list because they are also readers' favorites.
Through all of your years of writing, has a story ever ministered to you in a surprising or powerful way? Can you share that experience with us?
The second book in the Hanover Falls Novels series, Forever After, set to release next spring, turned out to be therapy for me. Almost two years ago, my husband was laid off from his job after twenty-five loyal years with the company. We went through a long period of uncertainty and fear that shook us both––and frankly, shook our marriage––to the core. It's a coincidence that my heroine, Jenna, ends up homeless. But God certainly used her circumstances to teach me the same lessons Jenna needed to learn: God always provides just what we need, just when we need it, and usually not a moment before. As difficult as these past months have been, I've grown so much as a woman, as a wife, and as a child of God that I wouldn't go back to the way things were before for anything!
RITA, Holt Medallion, Inspirational Readers Choice Award: These are only some of the awards bestowed upon your writing. What significance do these awards hold for you? Does any one hold a special place in your heart? If so, why?
I wish I could say that awards mean nothing to me, but that wouldn't be true at all. I think writers are generally very unsure about our writing until we begin to hear positive feedback from readers and professionals. (That's why a negative review stings so much!) The awards I've won have reassured me that even if my books aren't everyone's cup of tea, several significant someones have declared my work worthy. That means the world to me.
I think I'm a little odd in one sense, concerning awards. I can't even analyze why, but I've always been thrilled to the gills about finaling in a contest; however, winning simply isn't that important to me. Sure, it's nice to win an award, but I'm every bit as pleased about my Christy finalist medallions as I am about any first-place trophies and pins I've won.
When you meet someone who has a passion for books and writing, what advice do you give them?
My first advice is not to rush the process. It takes time––and much practice––to learn the craft of writing. I recommend attending at least one writer's conference a year, finishing at least one full-length novel before seeking an agent or publisher, and finding a great writing critique partner or mentor, or a writing group, to give honest feedback on your work. ACFW (American Christian Fiction Writers) is a wonderful organization that encourages and grows new writers––and old ones, too!
I also encourage writers not to lose the joy they first found in the act of writing. Yes, once you're contracted, writing becomes a job––and not always an easy one––but it has the potential to bring great joy if you don't treat lightly that a talent for writing is a gift from God.
You have raised four children and now have grandchildren. Does your family read your stories? How do they feel about Mom/Mimi [the name Deb's little grandsons call her] being a successful writer? Do any of your children share your love of writing?
My wonderful husband has read everything I've ever written. Ken has always been my biggest supporter and cheerleader. Because I began writing when our kids were seventeen, thirteen, eleven, and three, they very much took what I did for granted. Our oldest daughter served as a talented proofreader for me, but after she went out of state to college, she called me one day after seeing my books in a Missouri library. Apparently the librarian had been impressed to learn I was her mom. Tobi called with awe in her voice. "Mom, you're kind of famous!" Tobi is an elementary teacher now and a wonderful writer herself. She and I wrote a "Marriage Perspectives" column together for several years.
Our oldest son read my books in college while donating plasma twice a week (because the blood center didn't allow donors to play video games). And our youngest son read one of my books only because his sweet fiancée––now his wife––guilted him into it. But he, too, called to tell me how much he enjoyed the book––and how much of our family he saw in my stories. Our youngest daughter had no choice. I read one of my books aloud to her when she was ten or eleven. I feel incredibly blessed to be surrounded by supportive family, parents, in-laws, and friends!
After more that twenty published novels, what still surprises you about writing/publishing?
That I still have so much to learn! Yes, after seventeen years in this industry, there are things about being a writer that I feel quite confident in. But it's still thrilling to discover a new writing technique, or to sit in a workshop and soak up new information about the industry. And it's always gratifying to know that I continue to grow as a writer. Just today, I received a letter from a reader who said, "I just finished Almost Forever and wanted to let you know how touched I was. I sensed a new depth to your writing . . ."
What is your current project? What excites you about it?
I'm working on the third book in the Hanover Falls Novels series for Howard/Simon & Schuster. I'm excited because the story has taken a very different direction than I expected it to. A minor character from the first two novels has stepped forward and let me know she wants a larger role in this book. And I'm thoroughly enjoying letting her tell me her story!
Do you have any closing words you'd like to share with your readers?
As a twelve-year-old, discovering Laura Ingalls Wilder's Little House books, if I could have had a glimpse into the life God would give me as a writer, I don't think I could have contained my joy! Being a stay-at-home mom for over twenty years was the job of my dreams, but I always knew that if I did my job well, I'd put myself out of a job! I'm so grateful that God has given me this next thing to do. And I feel very blessed with the community of writers He's allowed me to be part of. I feel even more blessed with the readers He's allowed to be part of my life. I love hearing from my readers. They can contact me through my Website at www.deborahraney.com.
---

---
Kim Ford has been a resident of Alabama for more than ten years. Originally from Georgia, she holds a Bachelor's degree in English from Brenau Women's College. She has spent the past 9 years in sales and marketing and has been an avid reader of Christian Fiction for more than 20 years. A mother of two teen sons and married to a technical writer and Army veteran, Kim's life is full and blessed. She and her husband also volunteer as teachers for a resident rehab program for women with life-controlling issues. She uses her fiction to encourage the ladies she teaches. She blogs at: Window To My World