Kelly Klepfer came on board Novel Reviews several years ago as the Senior Editor through her connections with Gina Holmes, Ane Mulligan and Jessica Dotta of Novel Journey fame. Novel Reviews is the baby sister of the popular Novel Journey. At Novel Reviews we offer honest reviews of Christian and secular fiction titles and love to promote exceptional fiction. We began to do so after we met the authors via their interviews at Novel Journey. Disclaimer: Our reviewers are not paid for their reviews. Some may consider the receiving of a complimentary book or loosley bound manuscript (by publisher or author), as a form of compensation, so, be forewarned that our reviewers RECEIVE BOOKS. In our defense, it would be difficult to review without them. (Also, we are not affiliated or paid for any links to online bookstores.)


NOVEL REVIEWS CORNER
---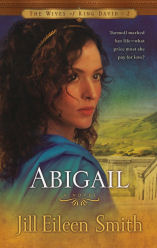 ABIGAIL
By Jill Eileen Smith
Published by: Revell
ISBN# 978-0-8007-3321-6
375 Pages
Back Cover:
Her days marked by turmoil and faded dreams; Abigail has resigned herself to a life with a man she does not love. But when circumstances offer her a second chance at happiness with the handsome David, she takes a leap of faith to join his wandering tribe. Still, her struggles are far from over. How can she share his love with the other women he insists on marrying?
Review:
Once again Jill Eileen Smith whisked me into bible times while introducing us to a tender, young Abigail who loves the Lord and anxiously awaits her arranged marriage with Nabal. This author's illustration of Abigail's loss of innocence, heartbreak, agony and struggle, is so powerful I could feel her pain, her sorrow. Nabal is a brash, deceitful, selfish man who will do whatever it takes to satisfy his flesh.
Abigail would not let Nabal break her spirit nor turn her back on God. Instead, she sought Adonai (God) for comfort. Abigail lets God mold her and give her strength. Adonai gives Abigail the courage to seek out David in order to avoid blood shed in her household because of Nabal's foolish behavior.
David seeks to marry Abigail when he learns of her husband's death. I was intrigued by this union and how it might have taken place. Jill paints an exciting picture of how these two beautiful people get together. She also describes their inner turmoil and the desire David and Abigail had to do God's will in the middle of uncertain times. I hadn't realized how long David lived in the forest as a fugitive, and how many men, women and children were with him; it made it hard to hide, especially since David had crazy King Saul trying to kill him most of that time. I found it amazing how David refused to kill God's anointed Saul, no matter how frustrating things got.
I liked how Jill broke the book into five parts, and before each part, she had the complete verse and reference for you to read before she described the new part. I found it most helpful and handy for me to go back to the bible and read the complete account later.
This author has a keen insight into the hearts and minds of two strong, passionate people. David and Abigail, continue to show their love for Adonai, each other, and shared a struggle they had to do the right thing in the eyes of God, not people. It was an eye opener to read what demands there were for a King and the life Abigail might have had as his wife. It was quite different than living with him as a fugitive. I now have a deeper appreciation and understanding of the culture, times back then and why they called David, a man after God's own heart. I think Abigail felt the same way about Adonai. I could see how they received comfort, wisdom and strength from each other. There was a unity they had that David didn't share with his other wives. I was encourage as I read about David and Abigail and their life's struggle, how they sought peace in the middle of their trials and a love so pure. I enjoyed how they humbled themselves before Adonai (God) and sought him with all their heart, soul and strength. It's a love story you'll want to read and experience for yourself.
Reviewed by: Nora St. Laurent at: "The Book Club Network"
---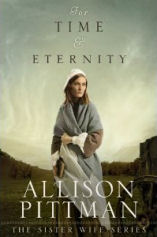 For Time and Eternity (Sister Wife)
by Allison Pittman
Paperback: 384 pages
Publisher: Tyndale House Publishers (August 4, 2010)
Language: English
ISBN-10: 1414335962
Description:
All Camilla Deardon knows of the Mormons camping nearby is the songs she hears floating on the breeze. Then she meets one of them—a young man named Nathan Fox. Never did she imagine he would be so handsome, so charming, especially after Mama and Papa's warnings to stay away. Though she knows she should obey her parents, Camilla can't refuse her heart. But even Nathan's promises cannot prepare her for what she will face in Utah.
Review:

I read Allison Pittman's novels with a bias. I expect her novels to make me think, and to transport me into a story that makes me completely unaware of my actual surroundings. She has ably met those expectations in For Time and Eternity.
The story begins in Iowa, my hometown, actually, which was kind of fun. But it was a very different Iowa, set during the Mormon exodus toward Utah. The story doesn't cover the journey and the hardships of the trail that one might expect. Instead it is the story of a young Christian girl, who, against her parents wishes, runs away with the young Mormon man whose eyes speak of promise and passion.
Pittman handles some controversial issues with grace. The history of the Mormon church is one that is tarnished, as is the history of Christianity, and let me just put it out there...all of humanity. Power, greed, lust, fervor, passion, pride; all things that seem to drive, divide and destroy even the best of intentions and situations. And beneath that not-so-subtle mix, is the underlying story of For Time and Eternity; man vs. God and the attempt to define Him, understand Him and become like Him.
In the midst of that epic struggle of man and God is the age old struggle of man and woman with a twist....a woman who is asked, expected and encouraged to share the husband she loves with all her heart, with another. Pittman delivers there as well. I read much of For Time and Eternity with my heart in my throat and tears in my eyes.
Reviewed by: Kelly Klepfer at: Scrambled Dreggs
---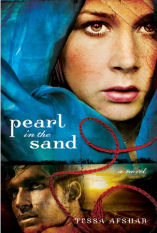 Pearl in the Sand
By Tessa Afshar
Published by Moody Publishers, Sept 1, 2010
ISBN-13: 978-0-8024-5881-0

Book Description:
Can a Canaanite harlot make a fitting wife for one of the leaders of Israel? Shockingly, the Bible says yes. Pearl in the Sand tells Rahab's untold story. Rahab's house is built into the defensive walls of the City of Jericho. Other walls surround her heart as well—fear, rejection, unworthiness. A woman with a wrecked past; a man of success, of faith ... of pride; a marriage only God would conceive! Through the heartaches of a stormy relationship, Rahab and Salmone learn the true source of one another's worth ad find healing in God.
Review:
Pearl in the Sand, the story of Rahab the harlot who became an ancestor of Christ, delivers a very powerful truth within its pages: forgiveness, redemption, and the changing power of God. An unforgettable read, Novel Journey and I give a high recommendation.
Reviewed by: Ane Mulligan, editor at: Novel Journey
Bonus Review
Writing a book is daunting enough, choosing to write about a Biblical character ups the stakes even more. Debut novelist Tessa Afshar is more than up to the challenge in her beautifully rendered story of Rahab, the Canaanite prostitute named in the lineage of Jesus. Tessa acknowledges there is little known about Rahab and Salome, highlighting the Biblical references and encouraging readers to examine them, acknowledging her story is extrapolation.
Her vivid storytelling brings the fall of Jericho into sharp focus, the fear of the Canaanites palpable as God's unusual plan unfolds as the Israelites march around the impenetrable walls. Rahab and Salome's love story is evocative and compelling while Rahab's journey from an idolatrous harlot to a believer in the one true God, is heartrending and inspiring.
The spiritual threads are woven effortlessly throughout, from the consequences of Rahab's past and Salome's pride to the healing power of God's forgiveness and the hard reality of His justice. Pearl in the Sand is reminiscent of Tosca Lee's Havah and Francine River's Redeeming Love and I don't make such comparisons lightly. I trust this is just the beginning of many more books from such a talented author.
Reviewed by: Rel Mollet at: Relz Reviewz
---

---