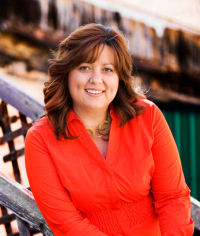 Tricia Goyer's Website makes a bold statement: "Tricia believes ordinary women can accomplish extraordinary things with God's help." After reading many of Tricia's books, and talking with her, I've discovered that the Lord has indeed impassioned Tricia with a message that saturates every aspect of her life.
Tricia's experiences that have solidified her faith so that she effectively reaches out to others with God's hope-filled promises. She encourages everyone to find out what God means for them to do with the opportunities, both positive and negative, they have been given.
As the mom of four, a home school teacher, and the author of more than twenty-five books and hundreds of articles, Tricia's life is rich in blessings, which she shares through speaking engagements, radio interviews, and writing.
Choices you made in your early teen years ended your high school career rather abruptly. How did you discover your love and talent for writing in spite of all that was taking place in your life?
I grew up a reader, and even though I made many, many mistakes in high school (especially in relationships with boys), I was a good student. When I got pregnant at seventeen, I dropped out of high school. Thankfully, I was able to finish my high school credits a home. I even took a year's worth of college classes the next year, but my education ended as I got married and had more kids right away.
Spiritually and emotionally, my lowest point was when I was pregnant at seventeen. I was depressed and thought my life was over. Thankfully, God got a hold of me during that time and I dedicated my life to Him. Slowly, as I grew closer to God, I felt Him healing me from the pain and shame of my past. When I was twenty-two years old, I was pregnant with my third baby, and my friend from church told me she was working on a novel. When she said that an excited feeling bubbled up in me. In that instant, I knew it was something I wanted to do, even though I hadn't written a word.
How have your early life experiences impacted your writing?
Good question! There are many things in my growing up years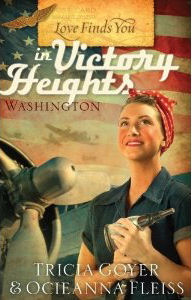 that weren't picture-perfect. I didn't know my biological dad, so I had a lot of questions and feelings of loss. I felt disconnected from my stepdad, and then I experienced the pain of dating relationships and teen pregnancy. On the flip side of that, I had a very godly and loving example in my mom and grandparents. All of this, of course, comes out in my novels. In From Dust and Ashes Helene was an abandoned and pregnant Nazi officer's wife. In Arms of Deliverance Mary is trying to gain the approval of her father that she didn't know while growing up, and she gets herself into dangerous situations. I also talked about how the growing up years of Gen Xers impacted our relationships in Generation NeXt Parenting and Generation NeXt Marriage. So really, all these things come out in my writing. Sometimes not intentionally, and sometimes intentionally. There are times when I tap into those emotions, pull them back out, and use them in my characters. Also, since I had a dark time in my past, I feel I can connect with readers who may not have the picture-perfect life.
Do you encourage other women who are struggling through difficult situations to use writing/journaling as a tool? Why or why not?
Oh, definitely! My writing as been therapy for me. I keep a journal that I write in many times a week. All my thoughts and emotions go in there. I'm actually sort of scared what my kids are going to think when they read them someday!
Writing for publication isn't any different. As I work on a piece I have to really think through my emotions and what I want to say. Sometimes I don't know what I'm feeling until I get the words on the page. I've had my husband read my work and say, "So that's how you feel?" I smile and say, "Yeah."
Have you always had a passion for historical research? Where do you get your ideas for your historical fiction stories?
My first ideas for historical fiction came from an unexpected meeting with a historian near Mauthausen concentration camp in Austria. She told me amazing stories about the liberation of the camp by twenty-three recon soldiers from the 11th Armored Division. In writing From Dust and Ashes, I interviewed many of those men and their fellow soldiers. This launched my love of interviewing people who lived through the events.
In researching Songbird under a German Moon, I interviewed a veteran who was part of the occupation forces in Germany at the end of WWII and other veterans who were in Bayreuth near the end of the war. For Love Finds You in Victory Heights, Washington, my newest novel cowritten with Ocieanna Fleiss, Ocieanna and I interviewed former "Rosies" who worked in the B-17 bomber plants in WWII. The women gave us an insight of what it was like to work in the plant. They were amazing! We even got "close" when we were researching for Love Finds You in Lonesome Prairie, Montana, set in 1889. Ocieanna and I interviewed a ninety-three-year-old man whose parents were some of the first settlers in Lonesome Prairie. He grew up there. How cool is that?
Do you have a favorite era that you like to visit fictionally? What is it? Why is it your favorite?
My favorite era is WWII, perhaps because I've interviewed so many WWII veterans. Their heroism and stories transport me back to that time. Also, my favorite place in the world is Prague, Czech Republic. There are many places there where I go that I can "feel" like I'm back in the 1940s. Sometimes I feel I've lived in that time … maybe because I have through the pages of my novel.
You have chosen to homeschool your children. How does that work out with your writing schedule and speaking engagements?
When I first started speaking. I was getting a lot of requests, and I was gone two to four times a month. We discovered very quickly that wasn't going to work for our family, and I've cut back on my speaking. I speak no more than once a month. This has worked better with our family and this season of life—especially since we adopted a new baby girl in March!
As for my writing schedule, I have to be flexible. When the kids were young I homeschooled in the morning and wrote in the afternoon. When my kids got older, I worked on my writing as the kids did their homeschool work. We were all in the same room, and I was there to teach and help as needed. When my kids got to their junior year, I enrolled them in Junior college. My two oldest have graduated from that. Now I'm just homeschooling my sixteen-year-old. Poor kid, I'm trying to fill in his homeschooling schedule with everything I wanted to do with the other two kids but never got around to.
Do your children share your love for writing? Have you been able to use writing as a teaching tool?
All three of my children are great writers, but only my boys enjoy it. Both of them have novels they are working on. I keep encouraging them to finish! In our homeschooling, I was a strong teacher in language arts and … well, weaker in science and math. Poor kids! But they can give a good critique on a novel or movie!
With more than twenty-five books in print, and with numerous awards credited to your writing skills, do you have a story that is your favorite? If so, why?
My favorite novel I've written is Night Song. It's set in Czechoslovakia, need I say more?
Were your speaking engagements/workshops born out of your writing career? Or was that something that developed separately? Do the two compliment each other?
I'm a writer who speaks. I never thought of speaking until I started getting asked. It's been a learning curve for sure. It's a different art form that has its own skill set. I do think writing and speaking compliment each other because both are about story and about meeting the needs of an audience.
You really seem to have a heart for women and the problems/stresses that are unique to our gender. Is there a "most frequent" stumbling block in women's lives that you have observed? Have you ever addressed that in fiction?
I think the most frequent stumbling block is that women fill their lives with so many things and we don't take time to dream, to develop our talents and passions. We are too busy to experience God daily … and follow His lead in amazing ways. I've talked about this in my nonfiction books, but I haven't explored it in fiction yet. Hmmm … something to consider!
You recently wrote a nonfiction book about a young girl named Kristen Anderson. How did you come to know this young lady? What did you learn from writing her story?
I was at a publisher's breakfast when I sat next to this wonderful woman named Margaret McSweeny. I was telling Margaret by my passions and writing when she stopped me. "I think you need to write a book about a young woman named Kristen Anderson." I get that often—people telling me books I should write—so I didn't think much about it. Then Margaret set up a time for Kristen and me to talk. When I talked to Kristen and heard her story the first time, I knew I did have to write it. It's a story about miracles and God's transformation of lives.
As for writing the story, it was one of the hardest I've ever written. I worked hard to make it as true-to-life as possible. It was like peeling away layers as I wrote. Kristen did an amazing job, allowing me into her life and heart. And I discovered that some stories take time, but are worth it.
What current project are you working on? Can you share a sneak peek?
I'm currently working on a three book Amish series for B&H. This series is about a young Amish woman whose family moves from Indiana to Montana. Like all of my novels, it was inspired by true events. The first novel will be out in April.
Here's a link:http://bit.ly/aaVAcV
What exciting things is God doing you your life right now?
There are three exciting things. First, I'm enjoying our new baby girl. She's four months old and a great joy! Second, I'm getting settled into Little Rock, Arkansas. We moved here in April when my husband got a job for Family Life. It's an amazing organization. I've started blogging for them, on their MomLife Today blog (http://www.momlifetoday.com), and more things are in the works. Finally, I've launched into radio. I've enjoyed interviewing amazing guests on my show Living Inspired. I invite you to listen. Past guests include Robin Jones Gunn, Liz Curtis Higgs, Kim Woodhouse and more! (Visit http://www.toginet.com/shows/livinginspired.)
Any closing words you'd like to share with your readers?
Remember that God has good plans for you. I'm so thrilled that God has connected my passions and talents with work that can glorify Him. Ask God to show you what His plans are for you … and be willing to follow!
---

---
Kim Ford has been a resident of Alabama for more than ten years. Originally from Georgia, she holds a Bachelor's degree in English from Brenau Women's College. She has spent the past 9 years in sales and marketing and has been an avid reader of Christian Fiction for more than 20 years. A mother of two teen sons and married to a technical writer and Army veteran, Kim's life is full and blessed. She and her husband also volunteer as teachers for a resident rehab program for women with life-controlling issues. She uses her fiction to encourage the ladies she teaches. She blogs at: Window To My World