Every TTTS VIDEO is designed and produced by Award Winning (US Film Festival, USA Film Festival), Hollywood, WGA Screenwriter, Misty Taggart and her handpicked professional TTTS production staff and voice over talent. With her 20 years of experience actively working in animation and live action she is the driving force behind TRAILER TO THE STARS! PRODUCTIONS. Visit their website at http://www.TrailertotheStars.com or their Youtube site: http://www.youtube.com/booksinmotion . Among Misty's credits: ANOTHER WORLD (NBC), KNOTS LANDING, THE INCREDIBLE HULK, ROMANCE THEATER, FANTASY ISLAND, SCOOBY DOO, JEM, FAT ALBERT, TEENAGED MUTANT NINJA TURTLES ... and much more.

The most significant multi-media marketing tool you will ever invest in! For Information on TTTSers™ & available production dates...Email Misty at TrailertotheStars@gmail.com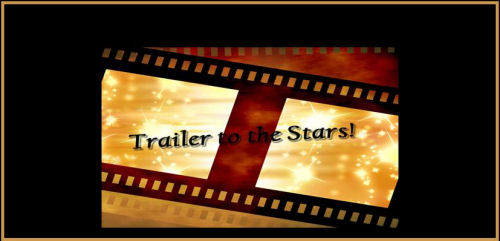 AUTHORS MUST THINK WITH THE EYES AND HEARTS OF THEIR READERS
It's only been since 2003 that book trailers made their appearance on the internet. Now, in 2010 they have zoomed to the top of most author and publisher marketing plans. Why? Because they work. If you want to sell your books, you will want to run, not walk, as fast as you can, away from antiquated marketing techniques such as; post cards (yes, some writers are still going this money wasting route), bookmarks (there is no place to stick them into my Kindle) and crossing your fingers (which is has been a time-tested marketing failure) .




Renowned book marketing authority John Kremer, who wrote a great book titled, 1001 Ways To Market Your Book says, "If there's one thing you should do, it's build an Internet audience through social networking sites, one key tool to doing it being a book trailer."




When you say, but I can't afford a trailer, then you haven't really checked out what is available to you. Yes, if you do a Google search for Book Trailers you will find many producers more than willing to do a trailer for you for $1500 - $4000. WOW! Even I would think twice about that. Unless they are shooting a fully casted video just for you … then you are really being lead down the garden path.




At TRAILER TO THE STARS we want to see an author succeed. We produce our TTTSer trailers starting at $485. That gives you a 30 – 45 sec. professional video fully royalty free. It is yours to use for the life of your book. This is less than a post card mailing and printed color bookmarks! Authors have done that for years without blinking an eye. If the words Video Trailer frighten you, then let's talk.




It's time to move into the world of video where your readers are hanging out. Let the Internet know about your book. Grab your readers and take them into the heartbeat of your novel. Lead them into the story …. then send them rushing to the BUY BUTTON! This is an opportunity you cannot pass up, if you seriously want to sell books.




Contact Misty at TRAILER TO THE STARS and talk about how a video will help your book sales. Find out what is available to you. We are really not scary … but ultra helpful. We love questions, because we have answers. Just drop an email to TRAILERTOTHESTARS@GMAIL.COM Don't wonder if a book video trailer is for you …. Find out the facts. Then make your decision.




MY SON JOHN by Kathi Macias

WHAT GOD REALLY THINKS ABOUT WOMEN
by Sharon Jaynes






VOICE OF MANY WATERS by Alan Youngblood






I CAN FORGIVE IF I WANT TO by Kitty Chappell

---

---




Are you ready to take your book's promotion and kick it up a notch? Then take a look at the latest releases from TRAILER TO THE STARS. Quality all the way. Then let's talk about your book and together let's create a powerful Book Video.

Contact me at: TrailerToTheStars@gmail.com

Visit our website: http://www.trailertothestars.com

Have you seen the new TTTSer Videos? Quality and budget friendly. Take a look:

Can you afford not to have a Trailer to the Stars Book Video? Let's talk!