REVIEWERS CORNER
Featured Reviewer of the Month:

Kelly Klepfer is a reader and a writer who lives in the heartland of America. Iowa born and bred, Kelly is a wife and mother of three. Her house explodes with activity, and currently animals who wear black fur. She manages Novel Reviews, the popular book review site, her own blog Scrambled Dregs, which offers up slices of insanity along with unique author interviews and book reviews. She also manages Fridays at Novel Journey, one of Writers Digest 101 Best Websites for Writers.
As a day job, Kelly works in internal medicine and has the opportunity to study all sorts of interesting illnesses. She also spends much time in the dark, the dark room, while developing X-Rays. In addition, Kelly has six incomplete books on her hard drive and is focusing on co-writing a cozy mystery with a friend.
Reviewing is a good fit for Kelly's life. Her love for books is not at all satisfied though she manages to read an average of two per week. Actually, her appetite for good writing continues to grow. Since beginning reviewing she has found authors that have amazed and inspired her.
Reviewing also helps her in her own writing. The need to focus on the main threads, the what works and what doesn't in a novel mindset shows her her own weak areas and hopefully, helps strengthen the adequate areas. If reviewing does not do the above for Kelly's writing, she can at least fool herself into thinking that she is getting better at stringing words together.
Kelly doesn't read just Christian fiction but she finds she's drawn to it. So many authors have studied craft and write stories that take her breath away, that she would find it challenging to pick her top five favorite Christian authors. She suggests you click through the archives at Christian Fiction Online Magazine, find the link to the Christy nominated authors, load up your credit card and sit by the mailbox waiting for some awesome books to head your way. If you live in the colder climates, she suggests you bundle up while waiting.
---
Her Unlikely Family by Missy Tippens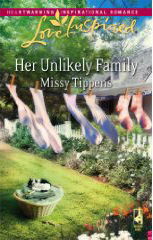 Book Description:
Add One Rebellious Teenager
Try To Mix
Take responsibility for his orphaned niece, yes. Raise her himself, no. A good boarding school was what the girl needed, not an uncle who was never home. But then Michael Throckmorton's niece ran away. And the big-hearted, beautiful diner waitress who'd taken her in wasn't letting her go so easily. Josie Miller had a few conditions for Michael. Oddly enough, he was willing to listen. Yet days later, why wasn't he hauling the teen back to school and himself back to the city? Could it be that an unlikely family was forming?
My Review:
Missy Tippens' debut novel "Her Unlikely Family" should appeal to romance lovers of all ages. Michael, the tall, dark and handsome "hero" is well-written as a sensitive guy under his buttoned up banker image. An occasional dark look, the classic foot-in-mouth awkward moments make him endearing and believable as a guy in conflict. Josie, the heroine, is all softness and yearning in a self-imposed protective shell, one with all sorts of twisty tangles for Michael to get tripped up in. The challenges between them are plenty to keep the pages turning. But enter Lisa, the teenage niece and rebel with a reason. I'm not even going to get into extended familes and the gauntlet of friends.
Tippens has studied the craft and has married a tight story with the classic romance formula and small town charm. Moments of humor ease the tension of this novel. Themes of teen drama should appeal to anyone living through the teen years, or parents of one. Secondary plots of judging people on appearances and living a life based on others' expectations may just help readers who may struggle with looking or acting a certain way to please everyone but themselves or God.
A solid novel, one that packs a powerful lot of story into a quick read.
Reviewed by Kelly Klepfer at Scrambled Dregs
---
A Suspicion of Strawberries by Lynette Sowell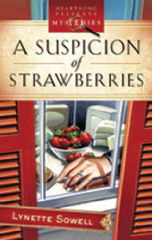 This little book is just one more reason why I'm glad I joined Heartsong Presents Mysteries! But be warned...it may just keep you from diving in to summer's favorite fruit!
Andromeda Clark is a small business owner with a dream of success. Her shop, Tennessee River Soaps, is doing well, and she's hosting a bridal party facial. Too bad no one likes the bride to be!
But who dislikes her enough to kill her? Someone slipped strawberries into the Cherries Jubilee facial soap, and now Charla Rae Thacker is dead from anaphylactic shock. Turns out she's deathly allergic to strawberries, and lots of people knew it.
Was it her cheating fiance? Or could have been her former boyfriend, since he not only has access to the fruit, but grows it himself? Maybe it was one of the wedding party, jealous of Charla's happiness?
Either way, committment phobic Andi has to prove it had nothing to do with her or her soap shop. Long time boyfriend Ben and his brother, Officer Jerry (ha!) will do all they can to help, but it's up to Andi and her sleuthing wiles to solve this 'berry' wrong case.
Lynette's writing is fun and her characters are lively. I'm looking forward to the next two novels in this 'fruitful' series! I'm giving "A Suspicion of Strawberries" four out of five bookmarks with a tiny spatula as a charm.
Happy Reading!
Reviewed by Deena Peterson at A Peek At My Bookshelf Book Reviews
---
The Bride Wore Coveralls By Debra Ullrick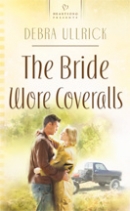 Romeo and Juliet head south and take up . . . mud bog racing? In Debra Ullrick's The Bride Wore Coveralls, two sworn enemies meet up at Swamper Speedway and prepare to go tire to tire. Camara Cole has to prove to the world that being a girl doesn't make her any less a racer, any less a driver, any less anything. And Chase Lamar is out to prove to Camara that he's a changed man. He may have sabotaged her in the past just to win a race, but now he's starting to see what an amazing woman the feisty little Chevy mechanic is.
Camara knows that Chase has accepted the Lord, but the changes he claims are too unbelievable, especially when someone keeps messing with her mud-bogging truck. Sure, he seems different, and he's been paying a lot of attention to her—but what if it's just to get her guard down? It's hard enough to convince everyone she belongs in the "man's world" she so loves, she sure doesn't need to be duped by a handsome face and some smooth words. She'd be a fool to trust Chase Lamar given the way his father hates her family . . . wouldn't she?
The Bride Wore Coveralls moved fast, made me smile, and refused to budge from my thoughts until they'd roared through those mud pits one last time. I enjoyed the glimpse into a world I have only a passing acquaintance with, and the author explains the fun of these races in such a way that I had no trouble putting myself in Camara's mud-soaked boots.
I really love these two characters, from their Ford vs. Chevy rivalry to their desires to be accepted for who they each are. And it has a far happier ending than Shakespeare's version, so don't give up on star-crossed lovers just yet!
I can't wait to read more from Debra Ullrick and recommend this light, fun read to anyone with a few hours to spare. You'll get a good dose of country, a glimpse into the lives of two great characters, and a story that might just inspire you to go play in the mud.
Reviewed by Roseanna White at Christian Review of Books
---