Kelly Klepfer came on board Novel Reviews several years ago as the Senior Editor through her connections with Gina Holmes, Ane Mulligan and Jessica Dotta of Novel Journey fame. Novel Reviews is the baby sister of the popular Novel Journey. At Novel Reviews we offer honest reviews of Christian and secular fiction titles and love to promote exceptional fiction. We began to do so after we met the authors via their interviews at Novel Journey. Disclaimer: Our reviewers are not paid for their reviews. Some may consider the receiving of a complimentary book or loosley bound manuscript (by publisher or author), as a form of compensation, so, be forewarned that our reviewers RECEIVE BOOKS. In our defense, it would be difficult to review without them. (Also, we are not affiliated or paid for any links to online bookstores.)


NOVEL REVIEWS CORNER
---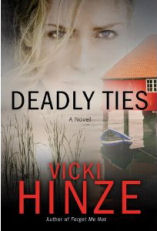 Deadly Ties
by Vicki Hinze
Published by Multnomah
ISBN# 978-1601422064
336 Pages
Back Cover:
Her enemy will stop at nothing for control … and everything is not enough
A horrific crime shatters Lisa Harper's idyllic childhood. Her father is dead and her desperate mother, Annie, quickly marries Dutch Hauk, an abusive monster who soon reveals his hatred for Lisa. To protect her, Annie defies her ruthless husband and forfeits custody to a trusted friend. Enraged, Dutch vows to keep Annie and Lisa apart—and he does. Years later, though keenly aware of Dutch's evil intent, Lisa and her mother seize a chance to be a family, safe in a home where love dwells. But they fail to fathom how far Dutch will go to keep his vow.
Determined to control his women, Dutch proves resourceful. His associates in crime are feared at the highest levels across the globe—and for Lisa they plan a fate worse than death. Yet she too has formidable connections: ones like former Special Operations officer Mark Taylor. Burdened by his own traumatic past, Mark has loved Lisa from afar. Now, for Lisa and her mother to survive, Mark must risk his life—and even more difficult for him, he must trust God—as one question haunts them all: Can Mark and Lisa untangle these deadly ties before it's too late?
Review:
I liked Forget Me Not, the first book in this series and looked forward to receiving a review copy of Deadly Ties. Vicki pens a very powerful, suspenseful and nail biting tale I couldn't stop reading. A few characters from Forget Me Not returned in this book in a minor way, which I enjoyed.
This book reminded me of a 007 movie. Nina – Nihilists in Anarchy is a bad international organization whose members were dedicated to making money any way they saw fit. Nina did whatever to whomever for the right price!
Taylor was a member of The Shadow Watchers, an elite highly specialized unit; meant to protect the innocent. He and his men were very aware of the Nina organization and were working on bringing it down. Taylor was a family friend of Annie and Lisa, but hoped to be more than that to Lisa some day. "Taylor, Dutch (my stepfather) will do anything to avoid losing. If that means killing me, he'll kill me." Lisa says and prays, "Help me Lord; I can't save mom or myself on my own. Please help"
Taylor and his team try to protect Lisa as she does what it takes to help bring the Nina down from the inside out! Along the way, memories of times past come flooding into Lisa's mind. Memories that were best left buried. Lisa starts to battle demons from the past and the present. Only by the grace of God, prayers and the unconditional love of a man, could Lisa make it through such horrific times.
Annie is a mom doing what she can to protect her 20 something daughter Lisa, from her abusive husband. Annie's whole world was forever changed in a flash and is angry at God, why didn't He send her a sign, a warning? Annie says this, "Why, God? Why didn't you send me at least one bad feeling? Couldn't you spare me even one piddling stomach flutter? I've been loyal, obedient. Why didn't I get something?"
Lisa, Annie's daughter, hated her mom's situation, but when she graduated from medical school, things would change. She promised her mom that. She couldn't stand to see her mom live the way she did. Meanwhile, she would help Taylor take down Nina anyway she could.
Deadly Ties is a riveting, suspenseful, action adventure novel with a believable faith-challenging message not only for Vicki's characters, but for the reader as well. Vicki Hinze quickly captured my attention, heart and emotions in this fascinating tale of pain, healing, forgiveness and second chances. I enjoyed the colorful characters and the sweet, tender and playful love story woven in the middle of this compelling, powerful drama. I couldn't put it down. I'm anxiously awaiting the next book in this series.
Reviewed by: Nora St.Laurent at: The Book Club Network
---
Almost Forever (Hanover Falls Series #1)
by Deb Raney
Paperback: 352 pages
Publisher: Howard Books; Original edition (May 11, 2010)
Language: English
ISBN-10: 1416599916
Description:

Unearthing a lost memory may cause her to lose everything she holds dear. but could it also set her free?
Volunteer Bryn Hennesey was there at the Grove Street Homeless Shelter the night five heroic firefighters died at the scene. Among them was her husband, Adam.
Now a terrifying absence of memory has her wondering if she might, in some way, be responsible. Garrett Edmonds' wife, Molly, was the only female firefighter to perish in the blaze. He was supposed to protect the woman he loved.now she's the one who's died a hero. How can he go on in the face of such unbearable loss? And what started the fire that destroyed the dreams and futures of so many? Investigators are stumped. But someone knows the answer..
Review:

In this thought provoking and evocative novel, Deborah Raney displays her innate talent for authentic storytelling and in depth characterization. Exploring themes of loss, grief, rage and guilt, Almost Forever is a gripping read that takes you on an emotional journey as the characters react to a community tragedy. Deborah does not shy away from the harsh realities of people altered by grief or unforgiveness and the impact it has on how they view God or the person they feel is responsible for their suffering. As in her previous books, Deborah allows her characters to explore life when it is untenable and when a small choice can lead to a devastating result. Yet it is Almost Forever's underlying message of hope and healing that culminates in a satisfying and refreshing ending. I am eagerly awaiting Lucas' story in the the next Hanover Falls novel, Forever After.
Reviewed by: Rel Mollet at: Relz Reviews
---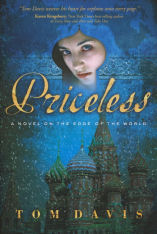 Priceless
by Tom Davis
Published: David C Cook
ISBN#978-1-5891-9103-7
278 Pages
Back Cover:
Photojournalist Stuart Daniels has found purpose in life. After suffering the fallout of a tragic assignment, Daniels rediscovered his faith while helping a young African orphan. Now his photo work carries a greater mission: To educate people about social injustice happening around the world.
Daniels' next assignment carries him back overseas and into the heart of Russia. Once there, Daniels is persuaded by an old friend to help save two girls from a desperate situation. Soon he becomes a key player in a dangerous campaign to rescue helpless women trapped in the sex-slave trade. What Daniels encounters during his journey will shake his faith, test his courage, and even threaten his life. Yet as Daniels gets deeper and the stakes get higher, he will discover that hope can be found in the darkest of places.
Review:
I'm thankful to have received a review copy of this captivating, surreal, suspenseful book that could have been ripped out of today's headlines. It was horrific to think the topic of this book is real and happening in current time. Although the story concentrates on the sex-trafficking business in Russia, this unthinkable industry is thriving world wide. Tom Davis states in his book Russian girls are taken and sent out of their country with promises of going to America, to enjoy the good life. Only one catch, they do go to American but end up in some of the booming sex-trafficking places such as Atlanta, Dallas and Seattle.
You might be tempted not to read this book because of the subject matter and the fact that it might make you feel uncomfortable. It's not easy to read about little girls being promised one thing and forced into another. My heart ached for these dear ones as these evil doers promised them the moon, only to get sold into a lifestyle of no return. The only way out was death.
Stuart Daniels returns in this book and is sent on another job. Stuart agrees to go to Russia because he feels this assignment is not as life threatening as the one he went to in Africa (in the last book Scared). After meeting his contacts in Russia, he's whisked into an unthinkable mission - one he can't turn down - not after having his world turned upside down in Africa, after meeting Adanna.
"Adanna may not have meant much to many in this world. But meeting her was the beginning of life for me. It changed the way I saw God. It changed the direction of my life. She taught me that the small things I do matter. My decisions today can save a life tomorrow."
I believe I've been disturbed to the core of my being while reading this book and I hope that you are gloriously disturbed too. Just as bothered as Stuart was when he met Adanna. Troubled in such a way it moves you into action and keeps you from turning your eyes and pretending this isn't happening to innocent children every day. Stuart Daniel's describes Adanna (above), a child he met in Africa who rocked his world, I pray your world is rocked as mine was and you begin to tell others about this novel and its message in hopes of bringing awareness to this global disturbance - a disturbance of epic proportions. Author Tom Davis lists ways we can get involved here in the states and overseas in the back of Priceless. He gives practical ways for us to love our neighbor as ourselves and shine the hope these children desperately need. Be Jesus' hands and feet! I believe Priceless is a must read novel for everyone.
Reviewed by: Nora St.Laurent at: The Book Club Network
---

---