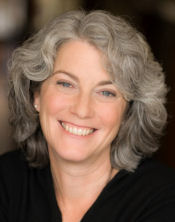 Our February selection at She Reads is Joy for Beginners by Erica Bauermeister. Part novel, part collection of related short stories, this book is one to pick up if you want to see a writer flex her craft muscles. Erica Bauermeister is a gifted writer who is a joy (pun intended) to read. Joy for Beginners is about Kate, a cancer survivor who at a celebration dinner challenges the group of friends who supported her through her illness, giving each one an assignment to do something they might find difficult. And as the title of the book suggests, they find joy in the process. Read on to hear how this book came to be.
What was the impetus for the story of Joy for Beginners?
Two things, really. Almost seven years ago, my family was invited to go white-water rafting down the Grand Canyon—my children and husband were excited to go but I was scared. There was no way I was going to let my children go without me, however, so I went. It was an amazing experience—terrifying, soul opening, exhilarating. I knew then I'd have to write about it someday. The second was my sister-in-law, who is fairly shy and a singer in a band for some twenty years. For her fiftieth birthday she decided to do her first solo concert. I was so proud of her, and I loved that idea of celebrating by taking on something that scares you.
I have this part of my mind I call the mental hopper—it's where I put all sorts of ideas until I know what to do with them. Those two things simmered in the mental hopper, along with ideas about friendship and breast cancer and marriage and traveling and tattoos, until one day it all came together and became the story of seven women facing challenges and supporting one another.
How was this, your second novel, different to write from your first, The School of Essential Ingredients?
When I was writing The School of Essential Ingredient s, I had two children at home and a full-time job. That book took six years. Joy for Beginners was completely different. I had a contract and a deadline, I had been able to quit my job to write full-time, and both my children were in college. It's astonishing how much you can get done when you have time and a room of your own. It felt luxurious, honestly.
Your writing is truly beautiful. Is this an ability you just came with, or something you had to develop?
I knew in college that this was the kind of writing I wanted to do—books that looked at the "small" things in life and gave them beauty. I also knew that I didn't have the emotional maturity or the mastery of the craft to do it back when I was twenty. So I spent years (decades, actually) studying literature and writing. I got a PhD in literature and coauthored a guide called 500 Great Books by Women: A Reader's Guide. We read thousands of books to find the 500 we wanted to include. I learned so much in the process. On the personal side, I got married, had children, lived in Italy . . . finally, when I was about forty-five, all that came together and I wrote my first novel.
Food figures prominently in both your novels. Does it figure prominently in your life?
Oh, yes. I am smiling as I write this because last night we had a big ravioli-making party at our house and I get to eat leftovers for lunch. I think that interest in food comes from living in Italy—heaven knows I wasn't much of a cook before then. But there was something about living in that country and watching the way the Italians treat food as this celebration of love and health and family. It's quite addictive.
What would you say to that reader who is prompted to do her own "impossible thing" (like Kate challenged each of her friends to do)?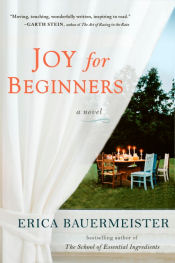 Just say yes! I almost let fear stop me from going down the Grand Canyon, but in the end it was one of the greatest things I've done in my life. And you know what? I think we're all more brave than we believe.
What is an impossible thing you've tackled in your own life?
I always thought that getting a novel published was an impossible thing for me. I remember the day I learned that my first novel had been sold. Honestly, if you had told me I was next in line for the throne of England, I couldn't have been more dumbstruck. And yet, I've always written, mostly because I wouldn't know how not to.
What would you say is the secret to joy?
I come from a family full of brilliant, critically minded people who are always able to see where something might go wrong. That way of thinking can avert problems, but it also holds joy at arm's length. I remember one time hearing a story about how we all have two wolves inside of us, a good wolf and a bad wolf. Which one wins depends on which one you feed. More and more, I've been trying to feed the former. Interestingly enough, the more you do that, the more joy you see in the world. So I say feed the good wolf.
What's next for you?
I'm currently in revisions on my third novel. This one revisits some of the characters from The School of Essential Ingredients and brings in some new ones as well. It's about serendipity and ritual and how completely we can misunderstand those who are closest to us.
---

---