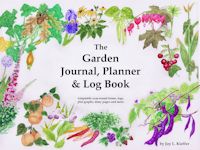 Thank you, Bonnie for choosing me for "Special Spotlight" this month. I feel honored knowing my latest book isn't fiction—but that's where it gets interesting. I have a YA novel completed and a second in the works. I've had articles, devos and shorter works published, and my God Glimpses blog, but this book isn't any of those, not even close.
Who knew a year ago I'd be the author of the only garden journal purchased by the Pennsylvania Horticultural Society for their store at the 2016 Philadelphia Flower Show? God knew.
About this time last year it seemed like nothing I did was working out. I stopped striving and prayed instead, asking God where I should focus my efforts. I had enough art supplies for the first time in many years to actually do something, but what? I kept getting the answer, day after day. "What's in your hand?" So I did an inventory of what I had to work with.
I knew God gave me these talents and interests because he wanted me to enjoy them as a gift without strings attached—to feel his love and pleasure.
I knew my artwork was on his refrigerator.
But I also needed money! Any project I worked on needed to pay for itself, and more, because I knew that our family would lose most of our income at the end of the year.
What project could I do that would combine my interests and talents, that would also have the potential for income?
That's when I remembered the garden journal I'd started years before. The most important aspects of the journal could be included in a paperback book. I knew I had a winner. I had a peaceful confidence unlike my experience with so many projects in the past. God impressed on me that he would use this in ways that would surprise me. "See what I will do" was the phrase that kept me going for the nine months it took to put the book together.
While preparing the forms, I researched the competition. If I was going to spend that much time on a garden journal, I wanted it to be the most practical, useful garden journal out there. However, listening to my husband repeat, "commercially acceptable – it just has to sell" helped. Left to myself, I would have perfected for years and never published.
Then my book wouldn't be the only garden journal sold at the 2016 Philadelphia Flower Show, known as the number one trade show event in the world.
Here's the thing—all my life experience came together in this one book. That Aha moment came when I realized God had been preparing me for most of my adult life to produce this one book—this not-a-novel, not-an-earth-shattering piece of fine art—garden journal, of all things.
I had worked for the most important plant supplier for the Philadelphia Flower Show, J. Franklin Styer Nurseries. I was not a landscaper, or horticulturalist, but the lowly receptionist in the office who directed phone calls and answered plant questions. That meant I was in constant contact with the landscape designers and nursery people regarding the care and selection of plants, plus I was encouraged to study the vast library between calls.
Having that connection fifteen plus years ago, and peace that God was in this gave me the confidence to contact the merchandizing manager for the flower show to ask if she might carry my book. She invited me to meet with her in person, where she told me they have been looking for a garden journal for years, but none had met their requirements. She especially liked the individual plant pages, with their check-off circles for the fifty or more things possible to record about each plant.
I did my best to make each form meet the needs of the most avid gardeners, and act as a learning tool for novices. Here's a brief summary of the contents of The Garden Journal, Planner & Log Book.

• Individual plant pages with over fifty possible check boxes for each plant, plus space for additional info, photos, drawings, seed packets or tags.
• Logs for annuals, biennials and perennials, with code, location and date planted.
• Logs for weather, formulas & recipes, pests and diseases, cultivation and propagation, bloom and harvest times, flowers, bulbs, fruit, vegetables, herbs, vines, shrubs, trees, wildlife sightings and hardscaping.
• Prune, trim and tidy logs with guidelines.
• Planning pages for up to four years.
• Garden plot graph pages for twenty beds with lined note pages opposite.
• Purchase record logs.
• Supplier contact list.
• A diary for all the things you simply must write out using sentences or drawings, because as much as gardening is a science, it is an art above all.
• Information pages for many of the logs to guide the novice or remind those with experience
I'm donating a portion of the proceeds of this book to our nonprofit food pantry, the Lifewerks Giving Garden. In addition, I've priced it so that churches, schools, garden clubs or other groups can use the journal as a fundraiser for their cause. My goal is to be able to contribute to our Giving Garden, and other causes as well. That's why I worked so hard to make this the most comprehensive garden journal out there.
I'm excited to share my story, because, like me, you may be getting frustrated with where you are in your creative journey. Before this my goals were about making a statement in the kingdom with Christian novels, or through artwork done in church on stage, or depicting Christian themes. This garden journal has nothing to point to God other than one little line in the credits. Since its release Nov. 28th, I've had more conversations about God with complete strangers as a result of this garden book than I've had in years as a pastor's wife! God knew all along what would happen.
---

Bio:Joy is a pastor's wife and mother of two young adult daughters, living near Philadelphia, PA. Joy edited J.A.M. Magazine, which required that she and her husband start a nonprofit, Lifewerks, Inc. They began by mentoring student writers and artists, soon offered classes and seminars, and now run a food pantry, the Giving Garden, so that hungry young writers (as well as the rest of the community) have the fuel to create. Joy's artwork was used by the White House as Christmas gifts, but that's another story. For more on Joy there's joykieffer.com, and for the garden journal, GardenKitch.com. To help directly with the Giving Garden and Lifewerk's programming for young people, Lifewerks.org.
---
---