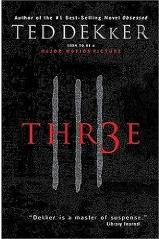 Not long after I started elementary school, my mom took me to the Columbus County Library to get my first library card. I loved going to the library. It was quiet and orderly. And I could feel the potential brilliance seeping out of the books that surrounded me while I was there. The only thing I disliked about the library was the sign on the librarian's desk: LIMIT 5 BOOKS PER VISIT. Oh, how could they expect me to survive on five books at a time?
The first section I tackled was Nancy Drew. Then, the Hardy Boys and the Bobbsey Twins. By the time I finished those, I was ready for Erle Stanley Gardner and Sir Arthur Conan Doyle. Needless to say, I have always loved a good mystery. Eventually, my taste broadened enough to also accept suspense and an occasional thriller.
The first Christian author I enjoyed was Frank Peretti. Followed by Ted Dekker. Yet somehow I never read Thr3e.
Several weeks ago, when I was asking my friends about which books and movies they would like me to write about, my friend's fourteen-year-old son suggested Thr3e. He had enjoyed it and felt that I would, too.
In Dekker's story, Kevin Parson is an average guy. Normal. At least, he's as normal as any other twenty-eight-year-old seminary student. He's living his normal life just like everybody else. That is, until the phone call.
While driving home from seminary one afternoon, in the most hectic of rush hour traffic, Kevin gets a call on his cell phone from a stranger who calls himself Slater.
We're going to play a little game, Kevin. You have exactly three minutes to confess your sin to the world. Refuse, and the car you're driving will blow sky high.
Without warning, Kevin is plunged into the middle of a dramatic game with deadly consequences. He has three minutes to figure out how to survive his unknown opponent.
Not surprisingly, the book is excellent. Dekker is an incredibly talented writer. As in his other books, the characters in Thr3e are complex and real, not cliché. His story is enthralling and suspenseful, unpredictable and fresh. The total package is a tight, enjoyable novel that isn't superficial. Where many novels simply entertain you, Dekker's novel turns over the soil of your mind and waters the seeds of truth buried there. The reader almost inevitably examines himself and learns lessons along with the characters.
If you aren't familiar with Ted Dekker's books, you should be aware that they aren't for everybody. His books are intense suspense and thrillers. If you like light-hearted fare, chick lit, or a major focus on romance, you won't find it in Thr3e.
I was anxious about watching this movie. I have such a desire for Christian movies to be seen and enjoyed by the public that when a Christian movie is bad, it almost hurts my feelings. But I had heard nothing about this movie in the media or online (until I intentionally searched for it). And when I had talked to two people who had viewed it, one liked it and the other was pretty vocal about not liking it. When I pressed the PLAY button, I was somewhere between fearful and skeptical.
I thought Thr3e was a good effort. From a noncritical standpoint, as a plain old movie-watcher, I really enjoyed it. Screenwriter Alan McElroy stayed true to the theme of the book and crafted a suspenseful, dramatic screenplay. I was most impressed with the way McElroy incorporated the evangelistic message at the end of the movie by having Kevin Parson's seminary advisor, Dr. John Francis, share the truth that "we need the power of God." The gospel message is always a welcome part of a Christian movie, as far as I'm concerned.
From a more critical standpoint, it had some great strengths in the direction, cinematography, and editing. The locations, the darkness of the lighting, and the sparseness of the settings created the perfect amount of drama and suspense. The acting was good. Marc Blucas was a convincing Kevin Parson, and I was particularly impressed with the way Laura Jordan portrayed his childhood best friend, Sam.
However, some weaknesses cropped up in the movie. As always, significant changes from the page to the screen were made. The only one I found unforgivable was the screenwriter's addition of a completely new character and story thread. The screenwriter took valuable time that he could have spent developing the existing characters and plot and distracted the viewer with a new character, Henry Jameson. This new character jarred me, although it probably would have been much less so if I hadn't read the book. The bottom line for me is that I would just rather have seen more of our main characters: Kevin, Jennifer, and Sam.
Overall, Thr3e has become my favorite Dekker book (at least until I read the next one). And the movie was another impressive flick for Christian viewers. If I had to choose between the book and the movie, this time I would definitely choose the book. But if you are looking for a good Christian suspense movie for date night, this is definitely one you should try.