Kelly Klepfer came on board Novel Reviews several years ago as the Senior Editor through her connections with Gina Holmes, Ane Mulligan and Jessica Dotta of Novel Journey fame. Novel Reviews is the baby sister of the popular Novel Journey. At Novel Reviews we offer honest reviews of Christian and secular fiction titles and love to promote exceptional fiction. We began to do so after we met the authors via their interviews at Novel Journey. Disclaimer: Our reviewers are not paid for their reviews. Some may consider the receiving of a complimentary book or loosley bound manuscript (by publisher or author), as a form of compensation, so, be forewarned that our reviewers RECEIVE BOOKS. In our defense, it would be difficult to review without them. (Also, we are not affiliated or paid for any links to online bookstores.)


NOVEL REVIEWS CORNER
---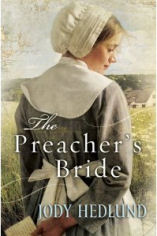 The Preacher's Bride
by Jody Hedlund
2010
Bethany House Publishers
ISBN# 978-0-7642-0832-4
Description:
In 1650s England, a young Puritan maiden is on a mission to save the baby of her newly widowed preacher--whether her assistance is wanted or not. Always ready to help those in need, Elizabeth ignores John's protests of her aid. She's even willing to risk her lone marriage prospect to help the little family. Yet Elizabeth's new role as nanny takes a dangerous turn when John's boldness from the pulpit makes him a target of political and religious leaders. As the preacher's enemies become desperate to silence him, they draw Elizabeth into a deadly web of deception. Finding herself in more danger than she ever bargained for, she's more determined than ever to save the child--and man--she's come to love.
Review:
No matter the sacrifice, Elizabeth Whitbread would serve a wounded family. No matter the danger, John Costin was determined to speak God's word. Neither expected to fall in love. As enemies threaten to silence Costin—and those close to him—will following their hearts cost John and Elizabeth everything?
Read this debut novel by Jody Hedlund and you'll find out. And a smashing debut it is. Heart wrenching at times, anger provoking at others, this is one read that connects with readers on many different levels.
I especially liked how Hedlund portrayed the harsh realities of seventeenth century life in rural England. She didn't glam over but met head on tough topics such as infant mortality, death in childbearing and the very real threat of starvation. Furthermore, she didn't squirm from tackling difficult theological questions. Does suffering mean God's not blessing you? What should take priority: ministry or family? There are no easy answers in real life nor in this story.
The complexity of the hero and heroine's relationship was great. Not just a simple boy meets girl and instantly falls in love, winning said girl. In fact, sometimes I wondered if they'd actually get together.
All in all, this book is a thumbs up, especially for historical lovers.
Reviewed by: Michelle Griep at: Michelle Griep
---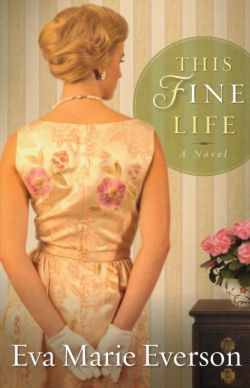 This Fine Life
by Eva Marie Everson
Revell 2010
ISBN# 080073274X
Description:

It's the summer of 1959 and Mariette Puttnam has just graduated from boarding school. Returning to her privileged life at home in a small Georgia town, she isn't sure what lies ahead. Is the answer waiting for her on the narrow stairwell of her father's apparel factory? A tender story of an unlikely romance!
Review:

Easily with a voice over like a woman reading from her diary, I could see this story as being a very touching and life changing film. With a romance similar to Nicholas Sparks'The Notebook as a reader there is a passion to shake open the minds of people shut off by social class and diversity. Following page by page in the mind and life of a simple woman, always on the outside of whatever group and situation she was in the lines of thought are interesting and for me easy to relate to.
This is the first whole book from author Eva Marie Everson that I have read, and it was not a sit down and get through it book. This was a deeper story that made you think and really understand the characters. There are a lot of meanings to the title and I believe that this is a learning and growing story for any reader. I do recommend it and look forward to going back to other books on my shelf from Eva as well as others to come.
Reviewed by: Margaret Chind at: Creative Madness
---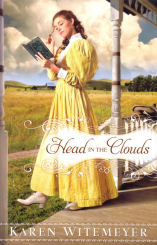 Head In The Clouds
by Karen Witemeyer
Published: Bethany House
ISBN# 978-0-7642-0756-3
366 Pages
Description:
Adelaide Proctor is a young woman with her head in the clouds, longing for a real-life storybook hero to claim as her own. But when a husband-hunting debacle leaves her humiliated, she interviews for a staid governess position on a central Texas sheep ranch and vows to leave her romantic yearnings behind. When Gideon Westcott left his privileged life in England to make a name for himself in America's wool industry, he never expected to become a father overnight. And five-year-old Isabella hasn't uttered a word since she lost her mother. The unconventionality of the new governess concerns Gideon--and intrigues him at the same time. But he can't afford distractions. He has a ranch to run, a shearing to oversee, and a suspicious fence-cutting to investigate. When Isabella's uncle comes to claim the child--and her inheritance--Gideon and Adelaide must work together to protect Isabella from the man's evil schemes. And soon neither can deny their growing attraction. But after so many heartbreaks, will Adelaide be willing to get her head out of the clouds and put her heart on the line?
Review:
I was drawn to this book by the cover; it looked fun. It's of a gal from Texas reading a book and twirling her hair. I anticipated the review copy because I wanted to know who this woman in yellow was on the front.. I also hadn't read anything by Karen Witemeyer. I had heard good things about her. I couldn't wait to read Head in the Clouds and find out for myself.
I was pleasantly surprised by what I found inside the pages of this novel. From the cover, I imagined this to be about a girl who was an avid reader and day-dreamed so much she kept her Head in the Clouds. You can tell she is not paying attention as she takes the next step, because she's about to fall of the front porch. WOW, was I wrong about this book!! Adelaide Proctor was a dreamer of sorts, she's a smart girl, someone who could hold her own, I was right about being an avid reader. Adelaide wasn't afraid to speak what was on her mind. She had dreamed of having a family someday, but she wouldn't waste her life waiting for a knight in shining armor to arrive and sweep her away. She had talents and thoughts of her own. No man was going to push her around.
Gideon Westcott was making a new life in America after leaving his privileged up bringing in England. He was thankful for his fresh start and the young girl that made the little things in life so valuable. Isabella was five-years-old and had captured his heart. He was in search of a governess to help educate his little one. He ran an ad for so long time and still hadn't met a single suitable governess.
I was captivated by Adelaide's spunk, determination and willingness to earnestly seek God's will for her life. She was a strong woman who could be tender and sensitive. I immediately adored Gideon Westcott and his determination to do the right thing, the zest he had for life and the tenderness he had towards Bella. He wanted the best for her and the people that worked for him, too.
Karen Witmeyer's debut book was Tailor-Made Bride. I'll have to check that one out for sure, since I enjoyed Head in the Clouds so much. I'm thrilled to find another author that is witty, interesting, funny and creates characters I instantly care about. This is an author to watch. I know that I will be!
Reviewed by: Nora St.Laurent at: The Book Club Network
---

---