Kelly Klepfer came on board Novel Reviews several years ago as the Senior Editor through her connections with Gina Holmes, Ane Mulligan and Jessica Dotta of Novel Journey fame. Novel Reviews is the baby sister of the popular Novel Journey. At Novel Reviews we offer honest reviews of Christian and secular fiction titles and love to promote exceptional fiction. We began to do so after we met the authors via their interviews at Novel Journey. Disclaimer: Our reviewers are not paid for their reviews. Some may consider the receiving of a complimentary book or loosley bound manuscript (by publisher or author), as a form of compensation, so, be forewarned that our reviewers RECEIVE BOOKS. In our defense, it would be difficult to review without them. (Also, we are not affiliated or paid for any links to online bookstores.)


NOVEL REVIEWS CORNER
Novel Reviews reviewers all found some books to love in 2011.
January and February will be the months we reveal those favorites at CFOM.
This month. Margaret Chind, Michelle Griep and Ane Mulligan sound out. Next month Nora, Kim and Jennifer give a shout.
Ane's favorite: "Susan May Warrens' Baby it's Cold Outside is a fantastic one!! The Christmas Belles of GA is an anthology and good. All 4 stories tie in because the protagonists are sisters."
---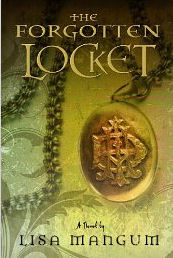 Book 3 in The Hourglass Door series
by Lisa Mangum
Published by Shadow Mountain
978-1-60908-049-5

Description
The future is uncertain. The battle to control the past has begun. The final book in the riveting Hourglass Door trilogy begins when Abby steps through the black door, and she doesn't dare look back. Though it means leaving Dante wounded, bleeding, and possibly blind she knows it is the only way to save her family and stop Zo from manipulating the river of time and throwing the future into chaos. In the end, Abby must face a final confrontation that will take her to the very origins of the hourglass door.
Review:
When Abby stepped through the hourglass door, leaving her beloved Dante blind and bleeding on the other side, it was in full faith that she could find a way to repair the damage to the river of time and restore him—as well as her family. It was a desperate chance that seemed worth taking.
But Zo had other plans.
Now Abby is trapped in a full-fledged battle for her own mind and life and heart. Even worse, Zo's evil intent reaches beyond simple revenge against her and Dante. The whole world is in danger of collapsing unless Abby can summon her courage and undertake a journey that will led her beyond the origins of the hourglass door.
Oh. My. Goodness. After waiting for an entire year for this final installment to hit the presses, after suffering extreme Dante withdrawal symptoms during that eternity, and after finally clutching this book in my hot little hands, savoring each word like mouthfuls of dark chocolate, I think I can distill my experience into one simple comment…
Aaaahhhhh.
The Forgotten Locket is that satisfying. I took my time marveling over every nuance, every turn of phrase, feeling saturated, content—and flipping angry. THIS IS THE LAST BOOK! Dang. I miss Abby and Dante already and I just finished the thing late last night.
Now then, on to reviewing instead of ranting.
If you're looking to reconnect with hero Dante, you have to wait until a good hundred pages into the story. There are pros and cons to that. Zo—the evil villain—is developed more than ever during this time. Orlando is also fleshed out quite nicely. And Valerie is back, weirder than ever.
Heroine Abby is at her best in this story. She develops her 'gift' and uses it to save the day several times over. Without any spoilers, even though there are some really dark moments, the ending is not just happy, but will leave you smiling for days on end.
Every chance I get, I spread the word about The Hourglass Door trilogy. It's a rare handful of books that I rave about so militantly. Two words for you: buy it. You won't be sorry.
Reviewed by: Michelle Griep at: Michelle Griep
---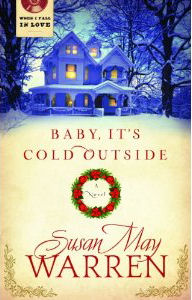 by Susan May Warren
Published by Summerside Press
ISBN-13: 978-60936-215-7
Description:

Dottie Morgan has no desire to share her home or her heart over the Christmas holidays. After all, her Christmas spirit froze over when Dottie lost her son in World War II. But when a blizzard of the decade traps Dottie in her home with four near strangers, she just might discover that opening her door might also open her heart to a Christmas miracle and a new reason to celebrate Christmas.
Review:

Baby, It's Cold Outside has an eclectic cast of characters from Dottie the curmudgeon, Jake the pretender, Gordy the neighbor, to Violet the WAAC. Warren's characters take you into their hearts and don't let go. I laughed and cried and turned pages all night long. Baby, It's Cold Outside is a must read this Christmas! Novel Rocket and I give it our highest recommendation: a 5-star read.
Reviewed by: Ane Mulligan at: Novel Rocket
Bonus Review
I truly enjoy the writing of Susan May Warren. As a matter of fact, I started my Christmas reading off last year with her contemporary shorter novel The Great Christmas Bowl and enjoyed it immensely, so I was looking forward to her writing being the fall introduction to the Christmas season again for me this year with a war time historical. When I Fall In Love is an awesome series from Summerside Press and just like their Love Finds You series, I have enjoyed every single book I've read so far on various levels.
Baby, It's Cold Outside is a war time, or immediately after war time novel and thus it does have sad undertones. I have to admit that it was hard for me to get into until about halfway through because of the various lives coming together with all of their sadness, depression and regrets. But once things started to work in the way that they were meant to I was very eager to continue to turn the page and find out what would happen next.
This is an absolutely gorgeous cover for a very meaningful read full of hope and second chances.
Reviewed by: Margaret Chind at: Creative Madness Mama
---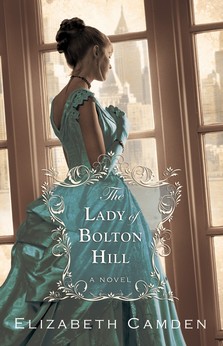 by Elizabeth Camden
Paperback: 334 pages
Publisher: Bethany House (June 1, 2011)
Language: English
ISBN-10: 0764208942

Description:

Female journalists are rare in 1879, but American-born Clara Endicott has finally made a name for herself with her provocative articles championing London's poor. When the backlash from her work forces a return home to Baltimore, Clara finds herself face-to-face with a childhood sweetheart who is no longer the impoverished factory worker she once knew. In her absence, Daniel Tremain has become a powerful industry giant and Clara finds him as enigmatic as ever. However, Daniel's success is fueled by resentment from past wounds and Clara's deeply-held beliefs about God's grace force Daniel to confront his own motives. When Clara's very life is endangered by one of Daniel's adversaries, they must face a reckoning neither of them ever could have foreseen.
Review:

Now this is a book that I completely loved beginning to end. Page one had me captivated. I'm always nervous about new authors, but Elizabeth Camden with this one novel has made it to the favorite's keeper shelf and I will desperately await more stories to come! What is so extraordinary about this novel is that it was a perfect setting, but for once (something I do not often find with historicals) I could easily translate this and see it in my head as an everyday occurrence in the current time. It's a sad story, and a real story, but it's a beautiful story and so romantic and perfect. It's a romance of two humans and it's a romance of new beginnings with our Lord Christ. Elizabeth Camden has put so much into this book that it is just plain fabulous. I'm delighted to have read it and truly highly recommend it!
Reviewed by: Margaret Chind at: Creative Madness Mama
---

---