Every TTTS VIDEO is designed and produced by Award Winning (US Film Festival, USA Film Festival), Hollywood, WGA Screenwriter, Misty Taggart and her handpicked professional TTTS production staff and voice over talent. With her 20 years of experience actively working in animation and live action she is the driving force behind TRAILER TO THE STARS! PRODUCTIONS. Visit their website at http://www.TrailertotheStars.com or their Youtube site: http://www.youtube.com/booksinmotion . Among Misty's credits: ANOTHER WORLD (NBC), KNOTS LANDING, THE INCREDIBLE HULK, ROMANCE THEATER, FANTASY ISLAND, SCOOBY DOO, JEM, FAT ALBERT, TEENAGED MUTANT NINJA TURTLES ... and much more.

The most significant multi-media marketing tool you will ever invest in! For Information on TTTSers™ & available production dates...Email Misty at TrailertotheStars@gmail.com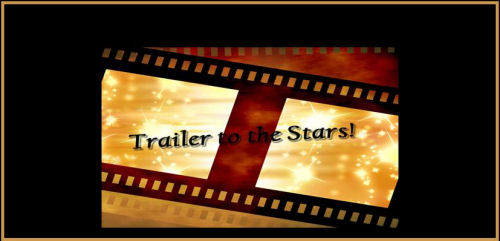 AUTHORS MUST THINK WITH THE EYES AND HEARTS OF THEIR READERS
It begins with the written word … and ends in the hands of the reader. Authors are not usually just writing for themselves and their adoring friends and relatives. They and their publishers want a critical and financial success. A writer's involvement in their book doesn't end with the handing over of a completed manuscript. It simply enters a new phase. It's like raising children, you're never truly finished.




This new phase involves the promotion and marketing of the completed book. The author who leaves it all up to the publisher is in for a rude awakening … unless they happen to be Steven King or Patricia Cornwell. They have only a limited amount of dollars to promote their authors and who gets what is the big question.




Authors must invest more than their time in a book sale. If a writer's career is more than a passing fancy, then they must get involved in the marketing. One of the most important and cost effective ways to grab attention in an already crowded marketplace is making the leap into book video trailers. Yes, it's true that some publishers are providing those to some authors … but if you are not the recipient of that key promotion tool, then …. You need to search out a way to add that to your marketing arsenal.




Many of my clients are bestselling, award winning authors who won't accept just the bookmarks, magazine ads, mailings and blog tours. They want to step it up a notch. They also know that they must be where their readers hang out … on the Internet.




2010 Christy Award Winner DiAnn Mills, doesn't just rely on her name and past successes. She backs each book promotion with a book video. TRAILER TO THE STARS PRODUCTIONS has been her choice. I'm so excited each time I begin a new video with DiAnn. She's clear on how important a video trailer is to each new release.





"Misty Taggart and her Trailer to the Stars Productions exceeded my expectations with her dynamic video for A Woman Called Sage. I was so pleased that I promptly contracted with her for my next three novels."




PURSUIT OF JUSTICE by DiAnn Mills

A WOMAN CALLED SAGE - DiAnn Mills




Jane Kirkpatrick, another 2010 Christy Award Winner, is a TRAILER TO THE STARS client. Having written and produced several videos for Jane, I can tell you that not only is she an amazing author, but she understands promotion.




A FLICKERING LIGHT by Jane Kirkpatrick




AN ABSENCE SO GREAT by Jane Kirkpatrick

---

---




Are you ready to take your book's promotion and kick it up a notch? Then take a look at the latest releases from TRAILER TO THE STARS. Quality all the way. Then let's talk about your book and together let's create a powerful Book Video.

Contact me at: TrailerToTheStars@gmail.com

Visit our website: http://www.trailertothestars.com

Have you seen the new TTTSer Videos? Quality and budget friendly. Take a look:

Can you afford not to have a Trailer to the Stars Book Video? Let's talk!