John Aubrey Anderson grew up in Mississippi cotton country. After graduating from Mississippi State, he received an Air Force commission and spent five years in the Strategic Air Command. In SAC, when he was not in Southeast Asia, he spent seven out of every twenty-one days in a concrete alert facility...and he became a reader. He recently retired after flying twenty-eight years for a major airline. And now he get to write...
The Black or White Chronicles are stories that so powerfully merge the physical and spiritual realms that the reader cannot ignore the truth of the spiritual warfare that rages around us. What was your inspiration for these stories? Were you always drawn to suspenseful tales, or was this something that came to you over time?
Before I answer that let me thank you for having me here. It's a pleasure.
Now . . .
Twenty years ago, I read The Language of Love by Smalley and Trent and came away with this: We can be more effective when making a point if we illustrate it with a memorable story. Shortly after that I read a best-selling suspense novel wherein the author used his writing to make a case for evolution. That book made me think I could do the same thing—only in the opposite direction—by wrapping truth in compelling fiction. My plan was to weave a defense for Christianity into a story so riveting the reader would be afraid to skip a single word.
Of my being drawn to suspense: All fiction, from Disney-type tales to Koontz novels, contains an element of suspense. I lean toward chilling suspense because I like a story that won't turn me loose.
Your publication journey with The Black or White Chronicles has been filled with many twists and turns. Can you share with your readers what
Every day of this writing journey is a refresher course about the sovereignty of God.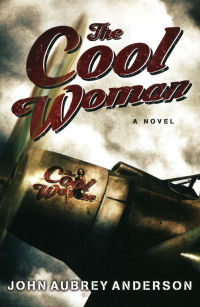 God says His Word is ". . . a lamp to my feet and a light to my path." Twists and turns, high barriers and sheer cliffs do not constitute serious obstacles for me if I align myself with Him. If I'm wise, my confidence regarding His sovereignty will be the grid through which I view the daily occurrences in my life. On those too-often occasions when I'm foolish enough to "turn aside to the right or to the left," any consequences I reap from my putting my feet in errant places are duly earned.
I came to writing from a career (airline pilot) where I spent decades strapped in a comfortable seat, watching breathtaking scenes come and go on the other side of a wrap-around windscreen.
The differences between flying planes and writing fiction are incalculable. Flying airplanes is rooted in hard sciences, and back then I prayed for skill as a pilot. Writing fiction is all about imagination; now I pray for more skill as a writer . . . a thinker. I'm no longer using my hands to handle 200-ton machines; I'm using my words to influence 10-ounce hearts.
What I've learned is: In the final analysis, whether in the sky or in front of a computer monitor, God is ultimately in charge of my journey. It's always gonna be about Him. Never me. Always Him.
Set in the '50s, much of the action in Abiding Darkness takes place in and around a rural lake called Cat Lake. Is this location inspired by a real place in your life? If not, where was the idea of such a rural setting born?
Cat Lake sits right where the story puts it, but it goes by another name. (The reason behind my changing the name to Cat Lake is too long to go into here . . . and immaterial.) That lake and a half-dozen others are within a bike ride of Moorhead, M'sippi, my hometown.
When I wrote the lake scenes in Abiding Darkness, I was writing about places I'll never forget. From childhood through college, my friends and I, both boys and girls, practically wore those lakes out: fishing, swimming, catching turtles, and shooting snakes. If the mood for a picnic struck us, we could buy bologna sandwiches and Cokes at the Stowers' Commissary that sat near the west end of the "Cat Lake" bridge.
Racism is also a strong and consistent element throughout the series. How real was the element of racism in your own life experience? Why did it prove to be an effective tool to use in the war that plays out around Cat Lake?
I was born and raised in M'sippi cotton country during the mid-twentieth century; my early life was steeped in racism.
I wish I had planned it, but it just kind of happened that the "spiritual wells" in the books turned out to be some of my black characters. Forgive me if it's racist to say this, but many of the older black men and women I knew back then possessed a quality of genuineness— a humility and godliness—that made me want to draw close and listen carefully.
As far as being an effective tool . . . in a war, most heroes are people who step in and do what needs to be done, not because they're brave, but because they see the need and answer the call. God help us, we fail to see some of the quieter people—the Sergeant Yorks, the Audie Murphys, and the Junior Washingtons—for what they are until they step into harm's way and do what needs to be done. The black characters who get the most attention in my books are unassuming . . . and effective.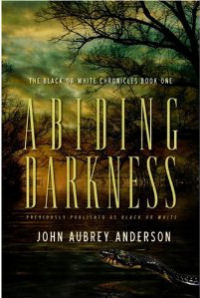 Which of The Black or White Chronicles is your favorite? Why?
I'm partial to Abiding Darkness for a few reasons. It's the first. I grew up with most of the characters. I lived my formative years where it happened. It taught me that I could write a novel capable of immersing its reader in the story while stabbing him in the heart with the truth.
There are very real messages delivered to the spirits of believers to prepare them for service in the lives of others. Mose Washington, A.J. Mason, Missy all receive some type of knowledge that proves critical to their lives. Has this ever occurred in your own life? With what results?
God sends very real messages—crucial ones—to me every time I read my Bible. That I don't always heed what He tells me is my fault. As for audible words . . . not yet.
"Knowing God and Making Him Known" is a message that rings out loud and clear throughout your stories. What inspired this passionate message, and how has it impacted the lives of your readers?
A dozen years ago I was trying to settle on one concise message to take to the readers of The Black or White Chronicles. While I was mulling over my options, I asked a man whom I admire—a Bible scholar—what the most important thing in the world was. Without skipping a beat, he encapsulated the answer in seven words: "To know God and make Him known." He was right! God's command to know and understand Him (Jer. 9:23–24), coupled with our commission from Christ in the book of Matthew (Matt. 28:19–20), tells us all we need to know about what we should be emphasizing in our lives.
Easily a third of the e-mails I get regarding The Black or White Chronicles are from people who quote those words back to me . . . telling me they resonate in their lives. A treasured friend of ours who credits Abiding Darkness with her decision to return to church after a twenty-five-year absence wept when she showed me what she brought home from her first Sunday visit. Printed across the cover of that day's church bulletin were the words "To Know Him and Make Him Known." Moments like that are special.
Spiritual warfare is a topic that makes a lot of people nervous. Alternately, some take it quite literally and are ready to go to arms at a moment's notice. How aware should believers be about the spiritual realm, and what do you perceive our role to be as ambassadors for Christ within that context?
Regarding those who seem somewhat rash because they're ready to take up arms, let's go to And If I Die and listen in on an exchange between seven-year-old Mose Washington and Mr R. D. Parker.
Young Mose is reading Ephesians 6:12 to Mr. Parker . . .
"'For we wrestle not against flesh an' blood, but against principalities, against powers, against the rulers of the darkness of the world, against spiritual wickedness in high places.'"
The white man responded by saying, "Well, Mose, it sounds like you might be plannin' on goin' to war against those rulers of darkness."
Mose didn't know the man was kidding him. He said, "We already in the war, boss. The Book says it real clear."
Parker smiled down at the boy. "An' you're plannin' on fightin'?" "Already am, boss—every day—everybody is."
As far as being at war with the forces of darkness, the words of Ephesians 6:11–17 back up Mose's stance, going into great detail regarding how we should equip ourselves for the battle. So, because I believe the Bible is inerrant—and Mose hasn't been wrong yet—I think it wise to take my stand with Mose and the Book.
The war is on. Immediately. Continually.
We're in it.
Can you give us a sneak peek into your soon-to-be-released novel, The Cool Woman? Will there be supernatural elements in this story as well?
Ah, yes . . . today's favorite subject . . .
The Cool Woman is what pilots call a war story . . . and for the majority of my pre-readers, including my editor and my wife, it's their favorite of my books.
The peek . . .
It's June 1970. Bill Mann, the orphaned son of a Tuskegee Airman, is staid, single, and sober when he reports to Air Force Pilot Training. After he earns his wings, Mann plans to make a name for himself in the air war over Viet Nam.
May 1972 finds Mann in a hotel in Bangkok, passed out on the floor of his bathroom. The gifted young fighter pilot is fighting wars within a war—he's a borderline alcoholic, his new wife is divorcing him, and he's hours away from learning that there are worse things than dying.
Supernatural elements? The spirit beings are close by, but the overt spiritual warfare of The Black or White Chronicles isn't presented. The suspense is there, the battles are savage, and it has a romantic element, but ultimately, it's about a young man at war.
How does your family feel about your stories?
My family and close friends were astounded by the first book. They're still shaking their heads because the books come from someone they know well, and the author (who is essentially colorless) doesn't fit their perception of one who would conceive the stories. They're ecstatic about having the words "out there," and they're eager for the books to be made into movies.
The most prevalent reaction—from strangers as well as family—is well-captured in the words of a TV show cohost who greeted me with, "John Aubrey Anderson, I was up all night because of you!"
What exciting things has God been doing in your life throughout the writing process?
He's transforming me.
I'm more sensitive. I listen more closely. I watch more carefully. I stop and stare at things I would've ignored ten years ago. I'm quieter.
I used to be a man who would spend hours of his time riding around and drinking coffee. Today, I'm happiest when banging on a keyboard, watching words flow by on a color monitor, sometimes forgetting to eat, sleeping only when I can't keep my eyes open.
Thanks for having me here, Kim. The questions were great . . . the visit was fun.
---

---
Kim Ford has been a resident of Alabama for more than ten years. Originally from Georgia, she holds a Bachelor's degree in English from Brenau Women's College. She has spent the past 9 years in sales and marketing and has been an avid reader of Christian Fiction for more than 20 years. A mother of two teen sons and married to a technical writer and Army veteran, Kim's life is full and blessed. She and her husband also volunteer as teachers for a resident rehab program for women with life-controlling issues. She uses her fiction to encourage the ladies she teaches. She blogs at: Window To My World