Kelly Klepfer came on board Novel Reviews several years ago as the Senior Editor through her connections with Gina Holmes, Ane Mulligan and Jessica Dotta of Novel Journey fame. Novel Reviews is the baby sister of the popular Novel Journey. At Novel Reviews we offer honest reviews of Christian and secular fiction titles and love to promote exceptional fiction. We began to do so after we met the authors via their interviews at Novel Journey. Disclaimer: Our reviewers are not paid for their reviews. Some may consider the receiving of a complimentary book or loosley bound manuscript (by publisher or author), as a form of compensation, so, be forewarned that our reviewers RECEIVE BOOKS. In our defense, it would be difficult to review without them. (Also, we are not affiliated or paid for any links to online bookstores.)


NOVEL REVIEWS CORNER
---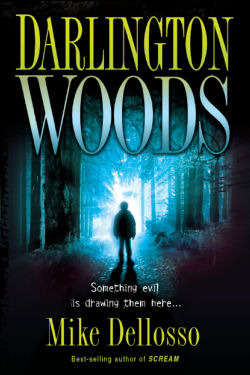 Darlington Woods
Mike Dellosso
Paperback: 281 pages
Publisher: Realms; 1 edition (May 4, 2010)
Language: English
ISBN-10: 1599799189
Product Description:
After losing his wife and son, Jimmy, Rob Shields heads to Mayfield, Maryland, to live in a house he inherited. Eerie things begin to happen, including a dream where he sees Jimmy in a place called Darlington. Is his son alive? Can he possibly find him---in a town that doesn't appear on any map?
Review:
"There was no light in Darlington. Maybe there was at one time, but that time had long passed. Darkness ruled here now. All kinds of darkness." p 63
Rob Shields is a man who has suffered great loss. His wife and child were ripped from his life, and now, hope against hope, it seems his son has found a way to call to him from that dark place to which he has vanished. Desperate to find and rescue his son, Rob sets out upon a journey – a journey to leave this life and join his wife and child. What Rob could never have imagined is that he would find himself amid a town and a people that were ruled by a horror and loss far greater than his own. When he meets a dark-eyed stranger in the local restaurant, Rob finds his spirit called to a place he's never heard of before - Darlington.
Providence introduces Rob to someone else in the local diner, someone who knows about Darlington and someone who has been directed by God to intercede for Rob. Juli is a young waitress at the diner, and she exudes a peace and grace that immediately appeals to Rob. She also harbors an unnatural dislike for the stranger with the dark eyes. When Rob decides to go to Darlington, no matter the cost, no matter the danger, Juli is right there by his side. Neither of them are certain why they must face the coming battle together, but as they journey into the ever darkening woods of Darlington, it becomes abundantly clear that they are searching for the Light that dispels all darkness. As Juli intercedes, Rob must fight for his life as never before. Will either of them survive?
Approaching this book, knowing it was written during Mike Delloso's battle with cancer, set my mind upon an analogous journey. Each sentence seemed to take on a double meaning, and the more I read, the more I felt like I was living inside the author's heart and mind as he battled for his life throughout cancer surgery and treatment. Perhaps that was intended. Perhaps it was simply the outcome of his emotional and physical trauma that year. Whatever the reason…Darlington Woods was an unforgettable, terrifying ride into the darkest places of the human heart and mind…the place where fear lives.
The twists and turns of this story take the reader on a heart-pounding ride through the dark woods of Darlington. It feels kind of like a cross between walking through a house of horror during the Fall Festival and watching a very scary movie. I'm just very glad I didn't read it at night or at bedtime! I wouldn't suggest doing so either! Mike Delloso delivers a powerful message though a fast-paced, very scary story, and it will resonate in the hearts of everyone who has faced their darkest fears and lived to tell the tale.
Reviewed by: Kim Ford
at: "
Window To My World
"
---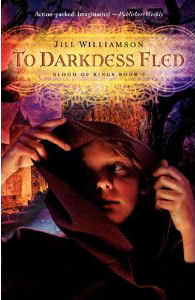 To Darkness Fled
By Jill Williamson
Marcher Lord Press 2010
ISBN: 9780982598702
Review:

Enter Darkness…they have no choice. Chased by an evil prince, Achan, Vrell, and the Kingsguard knights flee into Darkness. They head north, for Tsaftown and Ice Island, where they must free an army that can help them fight for Er'Rets.
Darkness sickens Vrell. How long can she keep her secret without being caught? Achan already suspects her of lying. If she is not careful, he will suspect her of treason as well. She hopes he will let his suspicions go until they reach her home.
Achan wanted freedom, but this new journey has bound him more than ever. Sir Gavin's claims are so far fetched. First, that there might only be one God, and second, that this God chose Achan to push back Darkness, the magnificent curse of Er'Rets. Him. Achan. Barely a man himself.
Each setback Darkness brings seems minor compared to the one choice only Achan can make. What will he choose?
Yee-haw! What a ride. Author Jill Williamson serves up a non-stop, action-packed adventure in this second installment of The Blood of Kings trilogy. To Darkness Fled is a snappy Narnia/Tolkien mix with a bit of a contemporary flair. Intrigue and danger combined with humorous dialogue and sassy wit make for a satisfying fantasy read…way satisfying.
Many of the same characters I grew to love in the first book, To Darkness Hid, are alive and well in this story. The bonus is that new secondary characters are introduced. I especially loved Kurtz. What a hoot! He's a playful frat boy/puppy dog type of fella, obnoxious yet endearing.
The plot is intense, so much so that yes—I'll admit it—half-way through I skipped to the end just to make sure everything turns out all right. Without giving away too much, let me just say that when I finished, I was none too happy with heroine Vrell. Hero Achan often says pig snout, but she's just plain pig-headed—which makes me all the more eager to get my hands on the final novel, From Darkness Won, as soon as it's available.
Do yourself a favor and escape this summer to the fantasy world Jill Williamson has created. To Darkness Fled is a fun read for all ages, imparting Biblical truths through imaginative story weaving. In fact, if that's what you're looking for, check out any of Marcher Lord Press's titles. You'll be delightfully surprised.
Reviewed by: Michelle Griep
at: "
Michelle Griep.com
"
---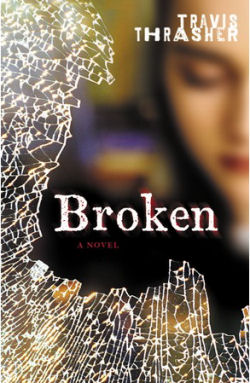 Broken
Travis Thrasher
Paperback: 288 pages
Publisher: FaithWords (May 25, 2010)
Language: English
ISBN-10: 0446505552
Back Cover Copy:
Laila had it all--love, family, wealth, and faith. But when her faith crumbles, her world falls apart and Laila finds herself living an empty, dangerous life as a call girl in Chicago.
When she is threatened, Laila shoots and kills a client in self-defense, sending herself into a spiral of guilt and emptiness. Six months later, she is trying to move on, but she's haunted by the past. She hasn't told anyone about the man she killed, and she's still estranged from her family.
When she is approached by a stranger who says he knows what she did, Laila has no choice but to run. But the stranger stays close behind, and Laila begins having visions of the man she killed. Little does she know she's being hounded by something not of this world, something that knows her deepest, darkest secret.
Scared and wandering, will Laila regain her trust in God to protect her from these demons? Or will her plea for salvation come too late?
If you would like to read the first chapter of Broken, go HERE.
Review:
Broken is one of the few novels I've read in a horror genre so read my comments in that light whether you are a horror fan or not.
Travis Thrasher writes complicated characters with page-turning tension. Broken is written in the 3rd-person-present-tense point-of-view that is at times difficult to read but one that amps up the tension. As with the other horror books I've read, there are several moments within Broken that had me looking over my shoulder or responding to hair-raising shudders.
I was intrigued with Thrasher's creative twists and turns and feel the need to check out more of his novels. The themes of ghosts, redemption, demons and hope in Christ are a blend that works, especially for folks who don't mind feeling creeped-out a few times. There is low key language and there are some difficult adult themes so I don't recommend it for children or young teens.
I did struggle with some confusion as the story played out. Each chapter opens with a page or two of the main character's journal. These were my favorite sections of the book because I felt they fully fleshed Laila out and made me feel involved in her story. In between the journal pages were scenes that either played off the journal section, added more details or twisted/contradicted it. Some of the secondary characters crossed over into stereotypical or cheesy a few times and I don't know that they really added the element of fear because of it.
I can't say I loved this novel. It was an interesting read, definitely, and a page-turner most of the time. But.
Reviewed by: Kelly Klepfer
at:
"Scrambled Dregs"
---

---