Kelly Klepfer came on board Novel Reviews several years ago as the Senior Editor through her connections with Gina Holmes, Ane Mulligan and Jessica Dotta of Novel Journey fame. Novel Reviews is the baby sister of the popular Novel Journey. At Novel Reviews we offer honest reviews of Christian and secular fiction titles and love to promote exceptional fiction. We began to do so after we met the authors via their interviews at Novel Journey. Disclaimer: Our reviewers are not paid for their reviews. Some may consider the receiving of a complimentary book or loosley bound manuscript (by publisher or author), as a form of compensation, so, be forewarned that our reviewers RECEIVE BOOKS. In our defense, it would be difficult to review without them. (Also, we are not affiliated or paid for any links to online bookstores.)


NOVEL REVIEWS CORNER
---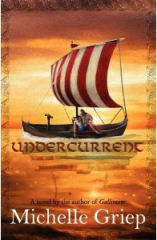 Undercurrent
by Michelle Griep
Published by Risen Books
ISBN-13: 978-1936835027
Description
Professor Cassie Larson leads a life her undergrad students hope to attain, until she tumbles into the North Sea and is sucked down into a swirling vortex...and a different century.
Alarik, son of a Viking chieftain, is blamed for a murder he didn't commit-or did he? He can't remember. On the run, saving a half-drowned foreign woman wasn't in his plan.
Ragnar is a converted pagan shunned by many but determined to prove his Cousin Alarik's innocence. He didn't count on falling in love with Cassie or the deadly presence of evil that threatens his village in Alarik's absence.
Review:
Undercurrent rates up with the top 10 books I've ever read. I fell in love with the characters, quirky Cassie, heroic Ragnar, loyal Magnus, and host of others. It's the most creative time travel story, romantic and completely mesmerizing. Griep is such a descriptive writer, you easily suspend disbelief, diving head first into the story and traveling through time with Cassie. I didn't want it to end and can't wait for the sequel. Novel Journey and I give it our highest recommendation: a MUST read.
Reviewed by: Ane Mulligan at: Novel Journey
Bonus Review:
Michelle pens a unique, historical time-travel story filled with suspense, and a splash of romance. I loved her well-timed humor and her main character Cassie. This author takes the reader back into the 10th century Norway, where life was simpler, no distractions or conveniences of the modern world Cassie came from but with all the hazards of everyday Viking existence.
I enjoyed this novel's drama and the thrill ride it took me on through the Viking Era and the uproar they were having because Alarik, son of a Viking chieftain, is blamed for the murder of his brother, Einar. I liked how Cassie thought and enjoyed (she enjoyed it?) the processes she went through to figure out her situation. It was fun to read about how she reacted to the men she traveled with like a modern day strong headed women. Alarik just shook his head at her and laughed at her stubbornness.

Michelle weaves a riveting story that will grip your heart as she takes you through some unexpected twists, a special romance, and huge battle between the wicked and the noble. She has a wide range of lively characters I enjoyed from the head strong Cassie, faithful Ragnar, valiant Alarik, and innocent, loving Magnus; just to name a few. As I read this story I was also reminded of what is really important in life as Cassie was. When we strip away the toys and the creature comforts of the 20th century the most important thing any of us can have is love! Love of God, family and others. This is a fun read with memorable characters and a good message. I learned so much about the Vikings in this book.

I highly recommend it!
Reviewed by: Nora St.Laurent at: The Book Club Network
Bonus Review:
Looking for an escapist read? This one might be the complete ticket.
A unique, well-written time-travel that is full of heart-pounding action/adventure and romance. Add to that humor , both dark, and laugh out loud. Characters that you either want to pat on the head and put in your pocket, if only they'd fit, and ones you'd like to strangle populate this read. Finally, descriptive elements that will make your eyes water for various assorted reasons and a whip-snap plot-line that zings with intensity. Those who love a great story need to consider adding Undercurrent to their must read list. However, if you don't like your fiction populated with an occasional bag of guts or peppered with a little bit of Jesus, you'll maybe want to pass.
Reviewed by: Kelly Klepfer at: Scrambled Dregs
---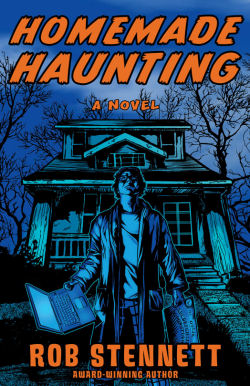 Homemade Haunting: A Novel [Paperback]
by Rob Stennett
Paperback: 304 pages
Publisher: Zondervan (March 15, 2011)
Language: English
ISBN-10: 0310321921
Description:

Charlie Walker doesn't believe in God or the supernatural. But Charlie's views change when he takes the biggest risk of his life---he quits his job to write the novel he's always wanted to write. The problem is that Charlie is a method writer. Since he's writing horror, he needs to experience horror. Charlie begins to dabble with the supernatural and experiences the paranormal around his house. Messages appear on mirrors, furniture moves, and his kids start seeing things. Charlie is so lost in his book that he can't see how it's affecting his family. He thinks if he just stops, it will all wash away. It doesn't. Friends convince Charlie that his only choice is to find God to save his family and home. Charlie becomes the unlikely hero in a supernatural battle. As he fights for his home and family, he meets his guardian angel and the demon assigned to him. Is Charlie going crazy? Is there really a supernatural war taking place around Charlie's home, the neighborhood mailbox, and local swimming pool? Homemade Haunting is a comedy, thriller, and allegory---just the type of story expected from Rob Stennett.
Review:

A driven author takes six months, with his long-suffering wife's blessing, to write THE novel. Their entire world and future hinges on this novel. If Charlie could just have six months to produce this sure-to-be-exquisite and best-selling novel all of their dreams will come true. They will be able to escape the cheap, wood-paneled, mildew-scented rental. Charlie might be able to get his job back -- or maybe, just maybe -- they could live off the book --
Okay. Anyone who's attempted to write for money is already thinking....AUGH!!!! SCARY!!!!. But hold on...there's more. Charlie discovers he's a method writer...i.e. he feels the need to really "feel" what the characters feel, that way he can truly write what he knows. That's great except he writes horror. His family's upheaval, new schools, moving down, financial pressures, loss of friends/neighborhood give him great "food" for writing killer first chapters. But then his writing falls flat, right when it should be getting very interesting. Charlies' research leads him to dig a little deeper into the thrills and chills that he is wanting to translate onto the page. This gives ample opportunity for the reader of this story to mentally scream. "No! Charlie. Don't go into the BASEMENT!"
To crank up the tension a little more, Charlie doesn't really believe in the supernatural...any of it, ever since his mom died of cancer while he and his dad were at church lighting candles for her healing. So no God would let a little boy down, would ignore a little boy bargain for the life of his mother, right? So no god, no satan, no little green men...and Charlie is certain of that.
This book is not going to appeal to many readers. However, I loved it. But I love quirky or deep and a combination is the perfect storm. And this is the perfect storm. If you hate chick or lad lit, quirky or sarcastic you will probably want to stay far away. Class A Chickens will either want to avoid Home-Made Haunting outright or buy extra lightbulbs and a few packages of adult diapers. If you can't deal with the idea of a Christian label putting out a book that includes instructions on using an Ouija Board, or have qualms about the lost acting lost, you should probably not put it on your to read list. However. Fans of Ray Blackston or Michael Snyder should find plenty to appreciate. And horror fans. If you like your horror with a lot of humor, then you might want to look into it, too. The Christian aspects are fairly light as in there's not a lot of preaching. But spiritual content is pretty hefty as in it gives the reader some things to think about.
Reviewed by: Kelly Klepfer at: Scrambled Dregs
---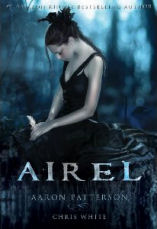 Airel
by Aaron Patterson, Chris White
Paperback: 425 pages
Publisher: StoneHouse Ink; 1 edition (August 31, 2011)
Language: English
ISBN-10: 0982607865
Description:

All Airel ever wanted was to be normal, to disappear into the crowd. But bloodlines can produce surprises, like an incredible ability to heal. Then there s Michael Alexander, the new guy in school, who is impossibly gorgeous...and captivated by her. Somewhere in the back of her mind, she can hear the sound of pages turning, and another, older story being written. It is the story of an ancient family, of great warriors, of the Sword of Light, and the struggle against an evil so terrible, so far-reaching, that it threatens everything. Airel knew change would be an inevitable part of life. But can she hold on when murder and darkness begin to close in and take away everything she loves? Will she have what it takes when the truth is finally revealed?
Review:

Ok I have read a lot of fallen angel stories, but....none like this. So where to start?
Well first I just have to say the cover is breathtaking, absolutely amazing! I know that you shouldn't judge a book by it's cover, and all that blah blah blah....but I mean come on!! You have to admit it calls to you.
But whats waiting behind that cover? Well lets continue on shall we?
Airel is just an average high school girl. Living an average life. Trying to stay out of the limelight of popularity at school. At times feeling awkward, and confused as most teenage girls do. Although I do have to say she is less naive than most girls her age. She knows that falling for a boy, and becoming hopelessly in love will only hurt her in the end. She's smart in that way, and I heart her for it. In the end though, no matter how hard you try, no matter how old you are, love knows no boundaries. Love conquers all. It makes you fall first, and ask questions later. She was supposed to just be a job for Micheal....is it possible Airel isn't the only one who is gonna feel the fall-out from loves wrath? When the battle wages, and loves sinks it's teeth into you, the question is are you willing to die for it?
We must all die, before we can live.....if only we really understood how true that is.
This book takes you through a journey. I love how you not only get the present day story of Airel, but you also get the story behind the story. The flashbacks, and different points of view make this all the more interesting. At first everything seems kinda detached. Like story A, doesn't quite line up with story B, but them BAM all the pieces fall into place, your heart starts to pull from your chest, and the ending....OMG the ending. There is the YA stories of young love, we've all read them. We've all even fallen for them. We've sat on the edge of of seat, white knuckle gripping the book, while the lovers fight side by side. We have cried for them. This book left me to stunned to cry. It went beyond that. What if I told you not only does love have no boundaries, but it was so strong it could cross the enemy line of a war that as been raging since the great fall? Can a love really be the tie that binds the side of GOD with the side of Evil?
Or will mortal enemies remain mortally damaged.....
Nope, nope I've already said to much. Now go run along a grab yourself a copy!
Reviewed by: Kaycee at: Paranormal Wastelands
---

---