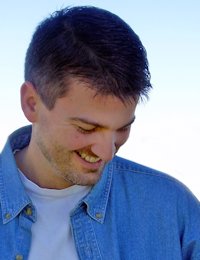 I am drawn to a writer who lives his life in the truth of God's promises. I also like a writer who lists coffee as a part of his life right up there with his friends and family! Dean Briggs created a fantasy series that will draw you in and captivate your heart, mind, and spirit. He writes with a humble strength that challenges readers to draw near to the only One who is able to guide them through the great adventure of life!
The Legends of Karac Tor series has a unique beginning and was born out of a desire to encourage your sons through a particularly trying time. Tell readers briefly about your journey to publication.
I began plotting LoKT before my late wife was diagnosed with cancer. At the time, it was simply the heroic journey of four brothers through a fantasy world in peril. But then the peril became an intensely personal crisis inside my own home, eventually claiming the life of my wife of sixteen years. I was a single father left with four boys under the age of eleven. In the midst of my grief, I realized that this story was no longer optional. It was more important than ever, for my boys and me, because now it wasn't just any story, it was our story. I'll never forget opening that first rough plot outline on my laptop and editing it to include the passing of their mother. When you're dealt a life-altering blow, how do you live courageously? That's the quest. When you live long enough, you realize that's not just my life or my story. At some level it's everybody's story.
Just after the second book in the series was released, your publisher gave you a twist in the plot of life. How difficult was that? What did you learn in the process? What was the outcome?
In the wake of the 2008 recession, my previous publisher (Navpress) cancelled their entire fiction line. The Book of Names had been out for only a few months when Corus the Champion was set to go to press. Then, boom, sorry, it's done, which made it hard not to think the whole series was also done. Would another publisher want to take on another's project? For my boys' sakes I wanted to finish this very personal tale. It was one more experience of loss. I had to learn to let go all over again, let my dreams fall to the ground, die to myself, all of it.
But through it all, I came to realize how invested God is in His children. Just like I had a story I passionately wanted to tell, God had a story of redemption for me—Dean Briggs, the father, the writer, the man—and He is an even more passionate storyteller. God goes all in. He is relentlessly committed to His own reality, which is life by way of death. Resurrection isn't a concept, it's a spiritual paradigm most of us avoid at all cost. But He knows the cost better than anyone. There is no new life without the ending of the old life, period. No new vision without the death of the old vision. It's His pattern. So for nearly two years I just shelved the series, let it die within me, and waited for God to provide any evidence that this one was going to live again. I moved on. Karac Tor was dead.
Eventually things rolled around again. When the time came, it happened in a matter of days and weeks. I'm with AMG, and they're committed to my full five-book series, whereas Navpress had committed to only three. It was a better moment, better timing, a better deal. And I was a different person to receive it back at that point.
You describe your characters on your Website, "[they] must live as Champions in spite of the odds against them. Together, they must find their courage, battle overwhelming enemies, face their pain and never quit searching for home." What other truths do you hope your readers will find in the lives of the Karac Tor's heroes?
Winston Churchill was called the Lion of Britain. Quoting his comments to the students of Harrow School in 1941, I'll just say, "Never, never, never, never give up." Note the date. World War II wasn't over yet. So while it's a nice sentiment when a modern celebrity says, "Hey, keep going, dude," it's totally different for a man like Churchill, with history, battle scars, and huge challenges—who literally helped turned the tide of history—to commend himself to young people with such advice.
What can readers find in the next saga of the Legends of Karac Tor?
The Ravaged Realm is the fourth title and represents a shift that may surprise readers. In a sense, it's the most thematically
"adult" of the series. In all the ways the first three books steadily built out the scope and scale of Karac Tor's growing conflict with darkness, this one, in a sense, gets small again. We follow a couple of key story lines. We spend time with the characters. We witness not only the outward ravaging of the land, but also of any inner sense of spiritual leadership. We discover more of the Nine Worlds and the interaction between them and Karac Tor. It all circles to setting the stage for the final book, The War of Swords.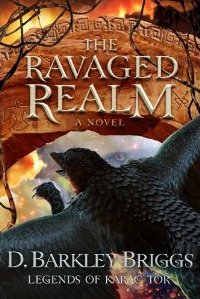 Which character do you most identify with in your stories?
Since my kids stand in as themselves, the obvious answer would include the autobiographical characters. But I identify with the struggles of Sorge and Corus most of all. Some days I'm Sorge, some days I'm Corus. And while I don't like to admit it, some days I'm most definitely Archibald.
Who is your favorite character? What about him surprised you?
I don't have one favorite. For readers, Cruedwyn Creed is consistently a favorite, but he stands in jeopardy now, which is actually kind of painful, since he's been this fun, larger-than-life guy. The larger arc of the story was leading Cruedwyn to a place I did not first envision or expect him to go when I started the first title, The Book of Names. Ahh, but I should be quiet, because now I'm unfairly hinting toward Book 5.
You've witnessed how God can work through fiction to reach young lives. Why do you think writing good fiction for a young adult audience is important?
Admittedly, serious events inspired the series but without diminishing the escape factor you want in a good novel. My goal has been to create a thrilling series in the Tolkien tradition of "High Fantasy" where everything is on the line and nothing less than the bravest acts of heroism will win the day. Young people need stories that invite them to that kind of life. They need the freedom to imagine their own lives as having that level of consequence. So the takeaway of how my own life experiences have shaped the story is a degree of "realness" that both adults and young adults appreciate. Yes, it's a fantasy world, but the struggles are real and people get banged up. Everything is not a cakewalk for the main characters.
Do you have any nonfiction projects waiting in the wings?
I pastored for eleven years. I'm a student of the Word and also a teacher. As God permits, I'd like to share some thoughts on various topics: keys involving prayer, suffering and perseverance, discipleship, and also a reexamination of the church's mission in the world. Some are finished manuscripts. Some are still in formation.
What is God doing in your life now?
Sometimes life feels like a whirlwind of chaos and never-ending "To Do" lists, but every now and then things come into focus. God is ever new to each of us, but my task is pretty much the same as it was yesterday and same as it will be tomorrow. Eugene Peterson called it "a long obedience in the same direction." God is teaching me to love my wife, strike a better balance of encouragement and firmness with my kids, wake my sleepy head up in the morning, and give of myself without thinking what I should receive in return. I have the Holy Spirit. I have the Word. I have family and friends and coffee. That's a pretty full day.
---

---
Kim Ford has been a resident of Alabama for more than ten years. Originally from Georgia, she holds a Bachelor's degree in English from Brenau Women's College. She has spent the past 9 years in sales and marketing and has been an avid reader of Christian Fiction for more than 20 years. A mother of two teen sons both nearing the end of high school, Kim's life is full and blessed. She enjoys singing, writing and spending time with her family. She blogs at: Window To My World