REVIEWERS CORNER
Featured Reviewer of the Month - GENERAL FICTION

Lena Nelson Dooley is a multi-published author who enjoys promoting other authors through blog interviews and posting reviews of their books on her site. She writes:
"As an author, my main purpose is two-fold--to write good fiction and to help my publishing companies continue to be successful. In order to do that, I aim at providing readers with options about Christian fiction. Not only do I feature authors and their books on my blog, but I also review the books I read each month.
By doing that, I aim to give readers a better understanding of the books, so they can choose where to spend their book budget wisely. I also hope the reviews encourage some readers to try a book they hadn't considered reading, thus increasing the exposure for the book. This helps author and publishing companies with their success."
A member of American Christian Fiction Writers, Lena has been a speaker on both the regional and national level. She also teaches writing seminars and speaks at writers' and women's groups, as well as at women's retreats both in the U.S. and internationally. Lena is president of the local chapter of DFW Ready Writers. In 2006, she received the prestigious Mentor of the Year Award at their national conference.
Before she started writing full time, she was on retainer from a publishing company where she headed a writing team that produced a two-year American History course for at-risk students. She has completed other major curricula.
Snowbound Colorado Christmas was her eighteenth book release, and five books will release in 2009: The Prairie Romance Collection, Wild Prairie Roses, Cranberry Hearts, Wild West Christmas, and Christmas Love at Lake Tahoe.
Mrs. Dooley and her husband of forty-four years, James, live in Hurst, Texas, and are involved in the lives of their children and grandchildren.
---
On Sparrow Hill by Maureen Lang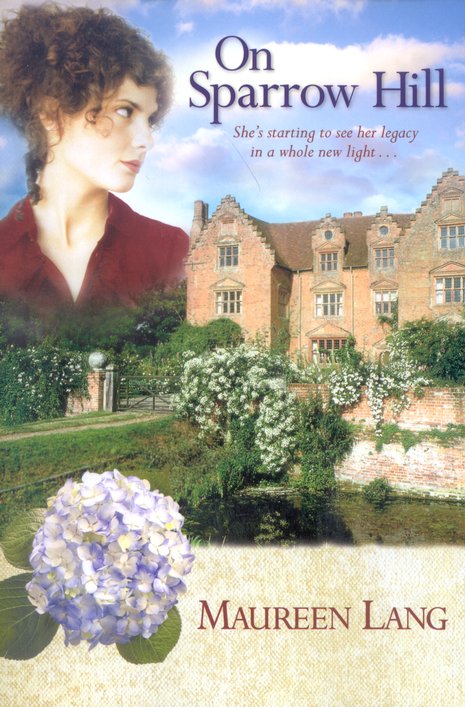 Back Cover Copy:
A legacy she never wanted. A love she'd only hoped for.
As the curator for Quentin Hollinworth's famly estate, Rebecca Seabrook is focused on just two things: making hers the most successful historic home in the country and forgetting the childhood crush she's had on Quentin since her father worked as his family's valet. After all, they don't exactly run in the same social circles.
But when she and Quentin uncover letters in the family vault written over 150 years ago by Berrie Hamilton—one of Quentin's ancestors—Rebecca discovers that Quentin isn't the only one with a legacy to appreciate. Only Berrie's words can prepare Rebecca for the dramatic turn her life is about to take.
Lena's Review:
On Sparrow Hill is the sequel to The Oak Leaves. I loved this novel just as much—maybe even more—as the first. Reading both of them will give readers two developing romances, taking place more than a century apart, with different outside influences.
I've always love the Cinderella story—commoner girl falls in love with a prince (or an aristocrat as in this case) or vice versa. But without the Christian inspiration, some books can disappoint and make me feel as though I've wasted time reading it.
Not so with this book. A strong spiritual thread plays out on the pages of this novel.
And I loved the characters with their hidden legacy that seemed to them not to be a blessing. Their journey to understanding how it could become one took many twists and turns. Maureen Lang developed the characters, making them real and believable.
The settings in the stories were wonderful, too. Like a journey to a faraway place, I felt as if I were there in beautiful England and Ireland.
Reviewed by Lena nelson Dooley
---
Healing Waters by Nancy Rue and Stephen Arterburn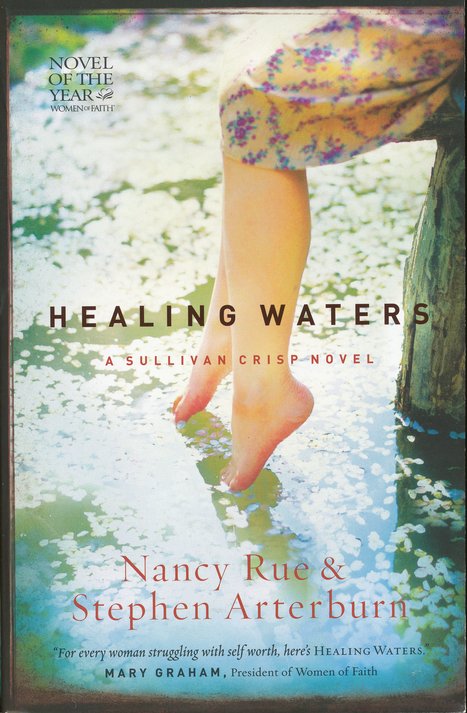 Lucia Coffey does not like herself. She's overweight, has a husband who's overcome a drug addiction and she's the sister of a famous televangelist who believes that belief in the healing power of God will solve everything. She's on task though to change her life to better herself. However that plan comes to a halt when a fiery accident badly injures her sister Sophia, and Lucia steps in to take care of her full time. Now is the time when Sophia is put to the test of her faith and the results are not what she had expected. Lucia is torn between being true to herself and helping out her sister. Enter psychologist Sullivan Crisp who arrives to help Lucia find out who she truly is and how she needs to reshape and heal her life.
Like the first book in the Sullivan Crisp series, reading this book was not like reading your normal Christian fiction book. If you're expecting safe, happy endings, everyone gets along in your fiction, keep moving. From the get go, this book has unhappy people who are frustrated with life and question their faith in God. Lucia is a character that you instantly feel sympathetic towards. As the story progresses and she tells her past to Sullivan, the reader will react the same way he does. It was heartbreaking to read about what type of a life she had to live due to her sister. Thus, there were times throughout the book when I felt like Sophia got what she deserved. I did not like her character at all. The way that she treated people was just uncalled for. Her faith did seem very fair-weathered and it was interesting to see her finally being tested to practice what she preached.
That whole storyline is something you don't normally see in Christian fiction. It's edgy because you wouldn't think to see Christians question the faith of those who believe in the power of healing. We also learn more about Sullivan's family throughout the story, as to what really happened to his wife. I will admit that sometimes these parts were a little show and interrupted the flow of the main story. However I am interested to know if he will ever confront the psychiatrist who gave his wife the faulty advice. That should make for a very interesting meeting. His insight throughout the whole story was a great way to see the plot from a different point of view. Like the first book, there is also a mystery storyline that runs throughout the book. It is very well played out and adds to the complexity of the story.
Overall I thoroughly enjoyed this book. It is not everyday that a Christian book questions the faith of a Christian in such a frank matter. I totally loved it and I am eagerly waiting the release of the next book in the series.
Reviewed by Deborah Khuanghlawn at Books, movies, and Chinese food blog
---
Rain Song by Alice J. Wisler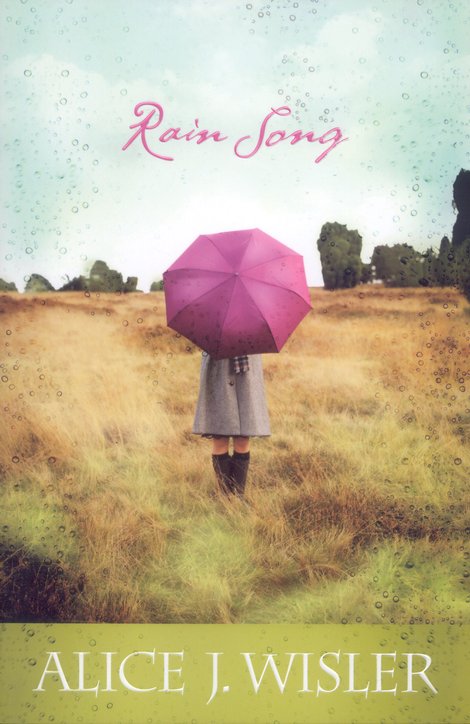 Many things about being a reviewer thrill me. Few thrill me as much as finding a new author to love. Alice J. Wisler has written herself into the pages of my memory, and she will forever be a treasured friend.
Rain Song chronicles the story of Nicole Michelin, a young woman filled with fear and held motionless by a hole in her heart that longs to be filled. Tragedy entered her life at the tender age of two, leaving blank spots that desperately need to be colored in.
Through what appeared to be chance, Nicole has found a friend in Harrison Michaels via email. He discovers her through her articles posted online at Pretty Fish, a website for lovers of aquatic beauty.
What Nicole soon discovers is that nothing about God's plan is random: from the moment she was taken in by her grandmother, to the quirky Southern family who helped raise her...even to the random email from Harrison...all tie together to heal Nicole of her fear and her questions about the past.
Her biggest fear involves her life of two years in Japan where her parents served as medical missionaries...where she lost her mother and all memories of her life in Japan. Harrison lives in Japan...and he remembers Nicole.
Can she release her fear long enough to ask the questions her heart yearns to have answered? Or will Nicole push Harrison away, leaving the past as a gaping heart hole that nothing but answers can fill?
Alice paints a vivid picture that slowly captivates the reader. That ache inside Nicole will awaken any ache you've had buried inside your heart. That sense of mystery that surrounds many of us--you'll find a kindred soul in Nicole.
And those fears that entangle us and hold us back? Alice's slow, Southern style, filled with Grandma Ducee's Southern Truths, will carefully unwind the burial clothes that enshroud us and set us free.
You simply have to be like Nicole and step out in faith and learn the Rain Song of Alice J. Wisler and her cast of beloved characters. I have a feeling we haven't seen the last of Nicole, Harrison, and the entire McCormick/Michelin clan...at least, I'm hoping so.
Alice is an author to watch, and to fall in love with. She writes my second favorite genre of all time--southern lit, and she does it with class, wit and style--and a unique voice sure to set her apart in the Christian fiction marketplace.
I'm giving Rain Song five out of five bookmarks, with a paper plate filled with hooot dooooo and ketchup--just WAIT until you meet Monet:-) See if you don't fall in love with this one!
Happy Reading!
Reviewed by Deena Peterson at A Peek at My Bookshelf
---