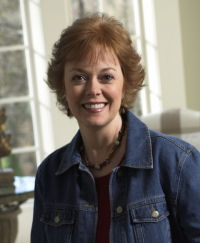 Terri Blackstock's Evidence of Mercy was my introduction to Christian fiction some twenty years ago, and her writing today is more powerful than ever! Known primarily for her suspense novels, Terri writes of trials and tribulations common to many, and she uses these extenuating circumstances to point others to the Savior. Her latest novel, Intervention, deals with a very timely issue in today's society and reflects Terri's very personal encounter with the enemy called addiction. God is still using Terri's gift of words to reach lives through unforgettable and suspenseful tales, and she humbly credits her career to His direction in her life.
You are active in church ministry, assist your husband as he teaches Sunday school, teach aspiring writers, minister to families facing a battle with addiction—such a full life! Does fact feed fiction? If so, in what fundamental way?
Fact definitely feeds fiction. I don't think I could be reclusive and lock myself in the house and write the books I write. Real life feeds my stories. I'm naturally very curious about people's lives and problems. So often, something someone tells me will spark my imagination, and before I know it, I've got a new story idea forming in my mind. I don't betray people's confidences by writing about them, but just listening to them gets the wheels turning in my mind.
My church friends are also a great resource. Since I'm part of a large church body, I can always find someone with expertise in the area I'm writing about. And ministry definitely feeds it. I did prison ministry for a few years, and still go to the jail with the ministry occasionally. Doing that has given me several ideas for novels, but it also ignites a passion in me to write books with messages that will reach people who are suffering.
I read an interview in which you state, "Don't get it right, get it written." How difficult is it to adhere to a disciplined writing schedule with so many demands on your time?
I started writing novels back in 1982, after my first child was born. I disciplined myself to write while she was napping. I had a goal of writing ten handwritten pages a day, and before long, I had a novel. As my family grew, I wrote during school hours. It was more challenging during the summer, but I managed to get it done.
Now that my children are grown, my time is more flexible. But after twenty-six years of writing professionally, I know my rhythm and how long it takes for me to write a book. Deadlines are great discipline. I know I can't just goof off and wait until the last minute. I have to write every day and continually move forward, or I won't meet that deadline. So I guard my writing time very carefully and don't schedule things that will interrupt my work.
The "Don't get it right, get it written" advice is really for that first draft, which is so hard for me. Before I was published, I used to rewrite the first three chapters over and over, and I'd get burned out and lose interest in the book. Once I took this advice, I was able to finish everything I started by plowing through that first draft without looking back, without fixing anything, without doing anything that would interrupt my momentum. In the second draft I can slow down and get creative. Then I go through about a dozen more drafts, until I have something that people will want to read. It's tempting sometimes just to turn in an early draft, but I force myself to go deeper with each rewrite. Then, of course, my editor will have ideas on how to make the book stronger, and I'll dig back in again. It's very hard work and takes a lot of discipline, but it's all worth it when the book is on the shelves.
By the way, I get credit for that "Don't get it right, get it written" advice a lot, but I originally heard it in a Michael Hauge workshop. He attributes it to a screenwriter named Art Arthur, but it may not have been original to him, either. Whoever said it first, it's been one of those break-through lines that have helped many writers grow.
Intervention has made its way to the New York Times Bestseller list. It is also one of your most personal novels to date. Can you tell us how you feel about this? Is this an answered prayer? A way to reach others struggling with this same problem? What is your view of this accomplishment?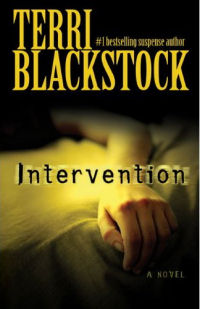 My novel Intervention was inspired by my struggles with my daughter's drug addictions. We had an intervention very much like the one in the opening scenes of the book. I hired an interventionist to come and convince her to go to treatment, then I put her on a plane with this total stranger. As we said our good-byes, I was overcome with fear at all the things that could go wrong. That's when I got the idea for Intervention. In the book, Barbara, the mother, sends her daughter off with the interventionist, but when they arrive at their destination, the interventionist is murdered and the daughter vanishes. The police think Emily committed the murder, but Barbara thinks she was kidnapped. She and her fourteen-year-old son go searching for Emily, desperate to rescue her before it's too late. But the more they learn about her, the more doubts creep in, and they wonder if she could have changed so much that she'd actually commit murder.
We've never had a kidnapping or murder, of course, but I did pour my real-life emotions into that character. It was therapeutic
for me, but I hope it also gave voice to all those parents out there who are struggling with prodigal children. My daughter is doing much better now, and she's closer to God than she's ever been. I've been changed, too, because I learned to pray as never before. The blessing of it all is that God is using our struggles to help and comfort others who may think that they're the only ones dealing with this problem. It's particularly difficult for Christian parents, because we feel like we're somehow letting God down if people know that our lives aren't perfect. But God doesn't need us to be PR agents for Him. He wants us to be honest about our struggles so we can get help and prayer, and so we can be there to comfort others going through the same things.
The book's success tells me that a lot of people are out there who needed this story. I can't tell you the number of people who came to my book signings and told me that they were experiencing the same thing. But really, it's about God's provision through great suffering of any kind, and about the power of a mother's love. And through Emily's story, I hope that young people will see the realities and fallout of drug abuse, and never want to follow that path.
I do have mixed feelings about promoting the book. At first I didn't want to talk about our personal struggles, but then my daughter encouraged me to, hoping I'd reach hurting families. I have to admit that I still get a hitch in my gut every time I read an article that talks about what we've been through. But if people don't know about it, they won't read the book. And if they don't read it, then I opened that vein for nothing. If God can use this awful era of our lives for good (and He always does), then it will all be worth it.
I've read several sources in which you state that you view conflict and difficult circumstances as a way to show God's ability to work in people's lives and how He uses trials to strengthen faith and change lives. You have done this effectively in both suspense and contemporary stories. Why do you feel this is important?
I think this is important because so many people are struggling with major trials. Jesus said, "In this life, you will have trouble." I want people to know that sometimes the crisis can be the blessing. It's an opportunity to grow and change and get closer to Christ. Until I suffered, I didn't really know how to pray, and I thought I had God all figured out. I'm a different person because of the trials God has allowed in my life. So I show that in the lives of my characters, and my goal is to show my readers that there's hope and purpose, even in the worst of life's trials.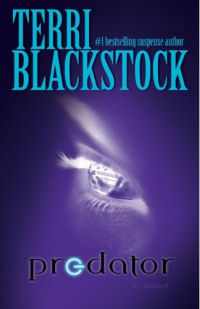 When Intervention came out, I took the opportunity to post a page on my Web site called "Hope for Families of Addicts," and it gives tips for choosing rehabs, for coping with a loved one who has addictions, and for stopping your enabling behavior so the addict can finally progress in recovery. I also offer a list of other books that were helpful to me through this. I felt like the book gave me a forum to help others, and I didn't want to waste the things I've learned. So if readers want to look at that, they can go to www.terriblackstock.com and click on "Hope For Families of Addicts" under the column that promotes Intervention.
What exciting things is God doing in your life right now?
I'm currently proofreading galleys for my next book, Predator, which will be out in May. It's a book about online predators, and I hope it will wake readers up to the dangers of sharing too many details of their lives in online communities. As I did the research for this book, I scared myself to death. It's frightening to see how much people post for anyone to see, and how many murders and disappearances are related to online posts.
Having that book almost ready for print is pretty exciting. It's such a huge relief when I get to that point. Meanwhile, I'm working on my second book in my Intervention series, and slogging through a first draft.
Closing words of encouragement you'd like to share with your readers?
I truly believe that God tailor-makes unique trials and tribulations for us in order to prepare us for some specific work. So, in that way, even our worst, most sorrowful trials can ultimately be blessings. That's how Romans 8:28 works when it seems like it can't. And 2 Corinthians 1:3–4 says, "Blessed be the God and Father of our Lord Jesus Christ, the Father of mercies and God of all comfort, who comforts us in all our affliction so that we will be able to comfort those who are in any affliction with the comfort with which we ourselves are comforted by God" (NASB).
So if it feels like you're suffering more than others, or that God is being particularly hard on you, just be patient. It may be that he has some important work ahead for you, and this is exactly what you need to endure in preparation for that. Someday, when we're in heaven, it'll all be clear to us.
---

---
Kim Ford has been a resident of Alabama for more than ten years. Originally from Georgia, she holds a Bachelor's degree in English from Brenau Women's College. She has spent the past 9 years in sales and marketing and has been an avid reader of Christian Fiction for more than 20 years. A mother of two teen sons and married to a technical writer and Army veteran, Kim's life is full and blessed. She and her husband also volunteer as teachers for a resident rehab program for women with life-controlling issues. She uses her fiction to encourage the ladies she teaches. She blogs at: Window To My World