Kelly Klepfer came on board Novel Reviews several years ago as the Senior Editor through her connections with Gina Holmes, Ane Mulligan and Jessica Dotta of Novel Journey fame. Novel Reviews is the baby sister of the popular Novel Journey. At Novel Reviews we offer honest reviews of Christian and secular fiction titles and love to promote exceptional fiction. We began to do so after we met the authors via their interviews at Novel Journey. Disclaimer: Our reviewers are not paid for their reviews. Some may consider the receiving of a complimentary book or loosley bound manuscript (by publisher or author), as a form of compensation, so, be forewarned that our reviewers RECEIVE BOOKS. In our defense, it would be difficult to review without them. (Also, we are not affiliated or paid for any links to online bookstores.)


NOVEL REVIEWS CORNER
---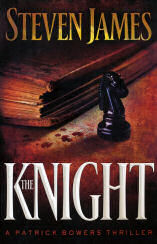 The Knight (The Patrick Bowers Files, Book 3) by Steven James
Paperback: 496 pages
Publisher: Revell; 1 Original edition (August 1, 2009)
Language: English
ISBN-10: 0800732707
Product Description:

In The Knight, the third installment in the bestselling series of thrillers featuring FBI criminologist Patrick Bowers, the stakes have never been higher. Agent Bowers is used to tracking the country's most dangerous killers, but now it looks like a killer is tracking him. When he realizes the murderer is using clues from an ancient manuscript as a blueprint for his crimes, Bowers faces a race against time to decipher who the next victim will be and to stop the final shocking murder--which he's beginning to believe might be his own. Gritty, chilling, and intense, this psychological thriller is guaranteed to keep readers up all night.
Review:
A wild ride. This is a police procedural that not only delivers the details, some of which makes it a novel the nightmare prone might not want to read right before bed, it delivers strong characters and great writing.
The idea, a serial killer with a tricky scenario/agenda, isn't unique, but the story is compelling and suspenseful and kept me wondering to the end. I had three or four folks picked out as the cold-blooded killer, but I didn't pick correctly. James creates fleshed out characters who pulled at my heartstrings. Some moments of introspection slowed the plot enough to add a different kind of tension, and surprising poignancy. The evil characters might rival some of worst-of-the-worst literary baddies.
Though a Christian publisher, this novel is very light in faith elements, so if you love cat and mouse games full of forensic and investigative detail but think that it may throw Bible verses at you, I'm pretty sure you won't even notice the subtle faith elements once the story starts rolling. This is a great read and it guarantees that I'll pick up any book with Steven James name on the cover.
Reviewed by Kelly Klepfer
---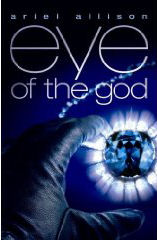 eye of the god By Ariel Allison
Published by: Abingdon Press
ISBN# 978-1-426-7000-682
350 Pages
Back Cover:
Is the curse of the Hope Diamond real, or just a legacy of greed?

When international jewel thieves attempt to steal the Hope Diamond from the Smithsonian Institute, only its curator Dr. Abigail Mitchell stands in their way. Abby soon realizes she alone holds the pieces to the complicated puzzle in this deadly game of illegal art collectors.
Review:
Don't you just love the cover of this book? It's the reason I signed up to receive a review copy of it. The Hope diamond is featured on the front cover. The author talks about the diamonds history, its allure, the suspense and drama in getting ownership of it, and the legacy attached to this one of a kind blue diamond. Who knew there was that much to talk about? Who knew of all the misfortune associated with this diamond and its owners?
Ariel Allison begins this story in 1653, Golconda, India, where the blue diamond is discovered. I enjoyed the way this author weaves history into the pages of this book. After you learn how the diamond was found the story rolls into current time at the Smithsonian Institute's where curator Dr. Abigail Mitchell to setting up a celebration—fund raiser featuring the Hope Diamond. The fun begins as Abigail prepares and triple checks security measures to make sure the diamond doesn't get stolen on her watch.
She is an expert on the Hope Diamond even did her masters thesis on the subject, who better to be the master of ceremonies for that nights big event. I also liked how Ariel Allison would have Dr. Mitchell tell an interviewer about an event or a tragedy associated with the diamond, giving details of the event in history. Then the next chapter would be that story brought to life by the very characters that Abby had just explained in the previous chapter. I thought it was a very nice touch. It wasn't confusing but it actually brought you really up-close and personal with the curses, and drama the former owners of the Hope Diamond went through. Starting with Louis XVI, Marie Antoinette all the way through to Jackie Kennedy! Wow! This diamond has quite a reputation!
This story reminds me of a Mission Impossible, the movie. Dr. Abigail Mitchell suspects that the Collectors, underground art thieves, might attempt to steal the diamond the night of the big celebration. She had to do everything in her power to prevent that from happening.
This story is full of twists and turns and I enjoyed every minute of them. I can't wait to read another suspense story by this author.
Reviewed by Nora St. Laurent at Finding Hope Through Fiction
---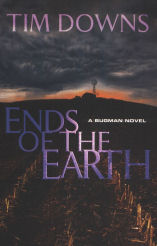 Ends of the Earth (Bug Man Series) by Tim Downs
Pub. Date: September 2009
Publisher: Thomas Nelson
Format: Paperback, 358pp
ISBN-13: 9781595543080
Description:
Nick must face the realities of lost opportunities and the passing of time as he struggles to protect a mother and her child from agro-terrorists in this latest novel from award-winning author Tim Downs.
Dr. Nick Polchak is called to a farm community in eastern North Carolina to investigate a murder. The victim is the owner of a failing organic farm who had developed a drug problem, and the police think his murder is drug-related.
Nick finds the remains of a bale of marijuana scattered in the tomato fields--but the South American marijuana seems to be strangely infested with a common North Carolina insect: the tobacco hornworm. To further confound the mystery, the bugs are infected with a fungus from Asia. Nick suspects the man wasn't killed because of the marijuana, but because of the insects it contained.
He then discovers that a vicious agricultural scheme is underway to cripple the U.S.'s corn and ethanol production. But just how far will these terrorists go in their quest?
Review:
I love Nick Polchak. And I love Tim Downs' writing.
Ends of the Earth mostly satisfied my need for more of the above. Mostly.
Nick was classic Nick; focused, clueless in the art of human interactions, sarcastic and brilliant. The story was full of freakishly icky things that hopefully are not likely to become reality. Fascinating plot points include: agroterrorism, dog heroism, bugs, organic farming, murder, bugs, forensic entomology, farming, and autism.
Add to that a love triangle unlike any I've ever encountered and you've got a great, entertaining and detailed read.
However, I struggled a bit with the triangle. I've read all the bug man series within the past couple of months so I have a pretty good feel for what's going on for Nick romantically. Or I thought I did anyway. But I didn't buy some of the dialogue between a couple of characters. There were a couple of conversations that bordered on annoying and unbelievable. I also struggled a bit with the interest in one particular woman. I didn't read sparks in the first story and didn't buy into the long-term emotional connection that seemed much stronger in Ends than it ever did in the original story. Also, there were times where Nick was too far offstage and I really missed his presence.
I feel picky for even stating my issues, but, if you are a fan of Downs/Polchak I want to warn you. The end is very open as well. As a matter of fact, Downs, wants the reader to pick the ending from two different possibilities on his website. I haven't done that yet but plan to. If you aren't a fan of Downs and you like forensic, fun science facts, sarcastic characters and descriptive writing, you really should become one. This series is great.
Reviewed by Kelly Klepfer
---

---