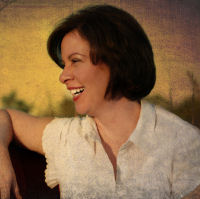 Oh boy! This month crept up on me; I've got to clean the house, get dressed, and run to the store. "Bill, can you give Jake his bath? I have to make a list and find my good jeans. Hum, hope they're clean."
Peeking over the newspaper, he answers, "I could do that. Jake!"
"Did I mention to you that Rachel Hauck is coming to our house?"
"Rachel Hauck?" Bill smirks and acts as though he didn't know. "Today?"
"Yes, today. Rachel Hauck. She lives in Florida. And I thought it would be a great idea to have her come to our home."
Bill unhooks Jake's collar. "You mean we're not taking our usual virtual tour? I don't have to pack the Jeep?"
"No, she's coming to our house. Why am I so nervous? Actually, I'm ecstatic. We can have lunch on the back porch. She's bringing her little dog, Lola. We'll have time to talk about books. This is going to be fun!"
"Sounds like fun. You'd better get moving."
"I think I'll make sandwiches: a variety of ham and cheese, egg salad, maybe some turkey. Do you think she likes chips? I'll get those good, crunchy ones, low fat. Soda? I'd better get diet and regular. I wonder if she likes coffee. Cookies? Um, how about pickles?"
"Sounds good, Val. C'mon, Jake. Let's get you all cleaned up. You know how 'Mom' gets when company's coming."
***
Rachel Hauck is a best-selling, award-winning author. She lives in central Florida with her husband, Tony, who is a pastor; a very cute little dog named Lola; and in her own words, a cranky cat named Red 17.

A graduate of Ohio State University, she left the corporate software marketplace in '04 to write full time. She's forty-something, quirky, and quick-witted. Rachel has traveled to Ireland, Spain, Venezuela, Mexico, Australia, and Canada, and has traversed the U.S. from California to Maine. Her latest book, Love Starts with Elle, was published in '08 and is a RITA finalist!

A fantastic must see: The book trailer "starring" Rachel and Elle is one she scripted, animated, and directed (with some help from friends).
***

"Ah, Jake-y, you smell so good! Thank you, Bill."
"No problem. You've been busy, too. You've got the porch all tidied up."
"Well, I want Ms. Hauck to see where I do most of my writing. We'll have some food at the glass-top table. I'm ready with our 'shabby chic' linens and tableware. Then later, we'll relax on the wicker settee and chairs. The pool looks so inviting." I wonder if she'll want to take a swim.
With all the windows open it wasn't long before I heard a car pull in the driveway. A beautiful young woman in jeans and flip flops got out of a little Cabrio convertible, holding a pup on her hip. Jake's excited to see Lola, yet with Labrador manners, he lies down to meet this little friend.
"Welcome to our home, Rachel. I'm so glad to meet you. My husband, Bill, built this house. I'll show you around later, but now you probably want to take a few minutes to relax after your drive. C'mon and set yourself down. We'll enjoy this wonderful weather out on my infamous back porch."
Valerie Is there an experience you've had being a minister's wife that has been particularly rewarding to you?
Rachel: I don't think there is anything inherent in being a minister's wife. I'm not a big fan of titles.
If you're saved by grace, then you as much a minister of the gospel as a full-time minister. But being married to a man in ministry does give opportunity to share and pray with people.
Working with youth for twenty years has impacted both of us. Being around teens, working with them, seeing the light in their eyes when they finally grasp the reality of Jesus' love for them and that God has a destiny for them has been a highlight of my life.
Valerie: Have you assisted your husband in writing his sermons?
Rachel: LOL. No.
Valerie: If you were advertising for Florida, what would you say is the best part about living in the Sunshine State?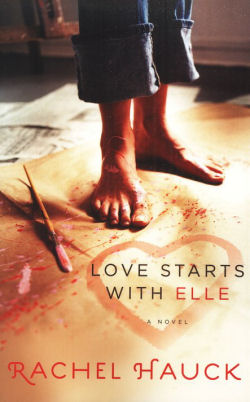 Rachel: The sun. Truly, you don't know how addicting the sun is until you visit another place long enough to notice the clouds.
I was in college at Ohio State after living in Florida for many years, and gradually began to wonder, "Where is the sun?" Columbus had a lot of rain and gray days that year, and I craved the sunshine.
Also, the Florida air has a lovely fragrance. I fell in love with the state when I traveled for my job. I'd be in some cold, snowy or rainy cities, working long days, then return home to breezy sunshine and a fragrant balm in the air. No place like it.
Valerie: And the worst?
Rachel: The humidity is suffocating in the middle part of the state. And the no-see-ums. Little bugs you can't see but bite like mosquitoes.
Valerie: Living on the east coast of the state, have you ever been to or seen the space shuttle launch?
Rachel: Many times. When I worked in the corporate world, we'd go outside to watch a day-time launch. I've also seen several night launches. One from my front yard. I'm about forty miles from the cape, but the sky was spectacular. The rocket lit up the night.
Valerie: I remember growing up with my sisters; you have a sister . . . any brothers?
Rachel: I have three brothers, and I appreciate them because they taught me to get along with men.
Valerie: How are you and your sister alike?
Rachel: My sister is ten years younger than I am, so while we grew up with the same parents and siblings, in many ways we grew up in a different household, certainly in a different era. I'm a '70s girl, she's an '80s. Our personalities are almost opposite. So, we get along great. We do have things in common. We're both easygoing, so we have a good time when we're together.
Valerie: In what ways are you different?
Rachel: Our life journey is completely different. I got married at thirty-one, after college and starting my career. She married at twenty-one and had two boys within a few years. Yet we understand each other and love the life the other lives. She shares in mine. I share in hers.
Valerie: Do you live close to all your siblings? How do you keep in touch?
Rachel: We are spread out, so we keep in touch on Facebook and e-mail. Between my grandma, mom, and siblings, there are seven families. So I set up a daily e-mail to pray for one of us and our families each day of the week. It keeps us connected. We are all fairly easygoing in one way or another. We let each other live their lives and appreciate our uniqueness.
Valerie: You said, 'I love a really good prayer/worship meeting where the Presence is there and no one can deny it.' I understand exactly what you mean. Would you describe the way you feel—physically and emotionally—when you experience God's spirit within?
Rachel: Usually by a tangible peace. I've felt a love for others that was beyond my human capacity. Occasionally, I will smell a fragrance that is not cologne or perfume. I sensed I've engaged Him in some way. My cold heart has warmed. There are no barriers between my spiritual eyes and His.
Valerie: Beautiful! You've won awards, have best-selling novels, and your Love Starts with Elle was published in '08. What's your next title about, and when can we expect to see it in bookstores?
Rachel: Okay, I've won one award, but it was an honor. The Maggie Award for Diva Nashvegas. Recently, Love Starts with Elle finaled in the Gayle Wilson Award of Excellence and the RITA. I'm very honored to be named among the finalists.
My next title is with country artist Sara Evans. Last year, Thomas Nelson partnered us for a fiction series and the first book releases soon.
Valerie: I read something about that. Tell us more.
Rachel: Here's a blurb from the official press release:
Fans of Evans's music will find much to enjoy in the inspirational fiction series. She calls it an "emotional, Southern-flavored, multi-generational tale, featuring a compelling love story." Evans drew inspiration for the characters from her own family life and experiences growing up.
"I believe there is power in great stories," said Evans. "This is the kind of book I love to read and share."
I'm thrilled and honored to work with Sara on this project, to create stories reflecting her heart and music. We hope they entertain as well as uplift and encourage readers to find hope through the journey of our characters.
Look for more information this summer!
Valerie: I love her song "Suds in the Bucket."
Rachel: I love that song too!
Valerie: You've traveled, studied, worked, and been married for almost twenty years. Have you ever considered a memoir?
Rachel: No. A memoir has to have purpose and focus, and an audience. I'm just a good ole American girl who loves Jesus and seeks His purposes. I'm not sure I've done anything memoir worthy.
Yet, the older I get, the more tenacious I am about people discovering their destiny and walking in it. It discourages me to see people merely "living" and not understanding God created them for a divine purpose.
Valerie: You're quick-witted and humorous. Would you ever have considered trying stand-up comedy or acting?
Rachel: No. I'm not quick enough to handle hecklers. And believe me, I'd have hecklers!
Valerie: What do you do to keep fit? Swim in the Atlantic Ocean, team sports, a particular workout or exercise program? Maybe you'd like to elaborate and help motivate the rest of us?
Rachel: I love spinning! My gym has several of these cycling classes, and I make it a priority to go several times a week. It's an amazing workout. I also like to lift weights. Writing is a sedentary job, so exercise is important. Plus, I get really great story ideas from the gym.
Valerie: I know you have been asked many questions during your career, but is there any one thing you would like to share with your fans? Something you haven't been asked but think they would enjoy hearing about?
Rachel: I have fans? Okay, seriously . . . I have fans? All right, no more kidding around.
I can't think of any question I wish I'd been asked, but if I were to share anything with readers, it would be to know God's love and destiny for you. Get into the Word, read it, believe it, pray it back to God. Use it for dialogue. It's amazing how God's Word then becomes living and active (Hebrews 4:12) in your hearts.
Valerie: You're a character and amazing. It's been fun, Rachel. And I think Lola and Jake are all tuckered out. Thank you for spending the day here. I feel spoiled. Should we go for a swim? The water temp's about 87 degrees! :)
---
Valerie Anne Faulkner, a New York native, moved to the Gulf Coast of Florida in 1973. Author of I Must Be in Heaven, a promise kept… she spends her days working side by side with her husband, Bill, as an electrician, then evenings, as a writer. The CFOM interviews have been a great way for her to meet other authors and hone her writing craft. This back-porch writer's family is very important to her, and she cherishes time spent with her three grown children and six grandchildren. A few hours with family or a day enjoying one of Florida's Gulf beaches are her favorite ways to relieve stress and refresh from her busy lifestyle. Valerie's motto is "A day with prayer . . . seldom unravels."
Recently her story was honored with First Place-Royal Palm Literary Award in the published/memoir category at the Florida Writer's Conference held in Lake Mary, Florida.

Visit her at www.imustbeinheaven.com