REVIEWERS CORNER
Featured Reviewing of the Month - HISTORICAL FICTION

Kim Ford has been a resident of Alabama for more than ten years. Originally from Georgia, she holds a Bachelor's degree in English from Brenau Women's College. She has spent the past 9 years in sales and marketing and has been an avid reader of Christian Fiction for more than 20 years.
A mother of two teen sons and married to a technical writer and Army veteran, Kim's life is full and blessed. She and her husband also volunteer as teachers for a resident rehab program for women with life-controlling issues. She uses her fiction to encourage the ladies she teaches.
Visit her blog at Window To My World


---
Journey To The Well by Diana Wallis Taylor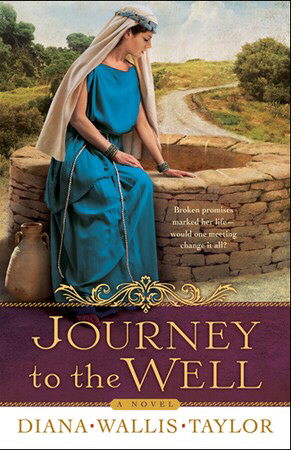 Kim's Review.
Biblical fiction is a genre that often makes me a bit wary. Will this story reflect the truth of Scripture? Will the author add so much drama and emotion to the story that it won't even resemble the Biblical story? Well my dear reading friends, Diana Wallis Taylor has taken the story of the woman at the well and created a beautiful picture of God's grace! I am eager to share it with you!
Journey to the Well looks at the Samaritan woman at the well in a totally different light than any I have ever considered. Marah is the name given to the story's main character, and the Biblical definition of this word is "bitter." I've always been taught that the Samaritan woman was some kind of harlot – having five husbands and the one she was with at the time of her journey to the well was not her husband. I suppose it is a logical assumption that she would be bitter…scorned by her town and shunned by the others in the small village. However, Diana Wallis Taylor skillfully applies historical research of the customs of the Samaritan people, and she creates an entirely different world for Marah.
What if she was an orphan? What if she was sold into marriage for an acceptable bride price by her near kinsman? What if bad health or tragic circumstances robbed her of not one husband but three? What would the laws of that time period determine to be the course for a woman who suffered such a series of unfortunate events? That is the beauty of fiction…and Diana Wallis Taylor has presented the story of Marah and her journey to the well as a beautiful offering of praise and worship to the Christ who has redeemed her!
Journey to the Well immerses the reader in the culture of a Samaritan village during the time of Christ. Marah becomes a woman who often reaches out beyond her circumstances and faces each day with a determined strength and grace that the reader can only admire. Her humility is real, and her dire circumstances are heart-breaking. By the time she takes that trip to Jacob's well that is recorded in the Bible, her heart is ready to receive the message that Jesus brings to her and the others who live in that small Samaritan village. You can almost feel the weight of sin fall from her shoulders, and you want to weep and shout with rejoicing as Christ performs His mighty work among the people of Samaria. It is truly a worshipful experience.
Once again, God has made me take a long hard look at the way I perceive the lives of those around me. What is God doing in their lives? What circumstance is He using to draw them to Himself? Am I offering encouragement, hope and the love of the Savior? If you only read one book of fiction this year, choose Journey to the Well. Experience the miracle of Jesus' love and forgiveness in an entirely new way! And be watching for more great Biblical fiction from the pen of this very talented author!
Reviewed by Kim Ford of Window To My World
---
City Of The Dead by T.L. Higley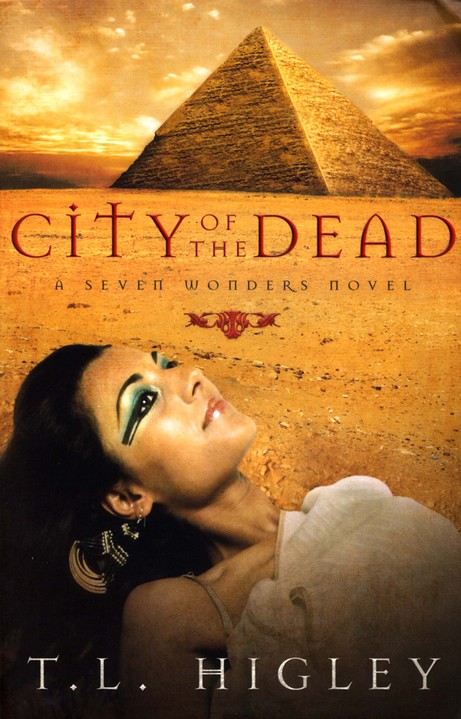 City of the Dead is a book that will sweep you back in time to ancient Egypt circa 2500 BC. Like T.L. Higley's first book in the seven wonders series I let the book linger on my TBR stack a bit. Even though the Shadow of Colossus (SP) swept me back in time and captivated me, I wondered if the author could pull it off again.
Let me tell you – she did – in an even more gripping tale. Basically, I read the book in one morning while traveling.
Hemi is the Grand Vizier to the Pharaoh of Egypt and determined to make a mark on eternity for both the Pharaoh and he through building the Pyramids at Giza. His life is all about tightly controlled order, until events conspire to turn that order on its head.
I was catapulted back in time and lived the experience with Hemi. I literally did not want to put it down. The secrets and the suspense kept the pages turning as I tried to figure out what would happen and if the truth would be revealed.
The author twisted the plot practically to the last page. Each time I thought we might be closer to the truth or I assumed the perpetrator had been discovered, I learned yet again that I was dead wrong.
The other element I love about this series is the way the author weaves a faith message into the books at a time there was only limited Old Testament understanding. She doesn't pretend that everyone understood about the Messiah. However, she weaves in enough to show the hope, grace, and love extended by the Father, all while maintaining accuracy for what the people of that time knew.
And for those of you who have to have romance in your books, you will love the romance that weaves throughout the pages. It is subtle, finely-tuned, and satisfying.
Reviewed by Cara Putnam at Cara's Musings
---
Love Finds You in Last Chance, CA by Miralee Ferrell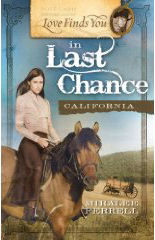 Alex Travers has to take care of the family ranch after her father dies. Justin Phillips has come to Last Chance, CA to find a job and someplace safe to take care of his son. After a few hit or miss encounters between the two, Alex hires Justin to help out on the ranch. Things start to improve between them and it even looks like there might be more than just friendship in the air. But then it looks like someone is trying to keep them apart, slandering Justin's name and causing mass havoc at the ranch. Will they be able to find out who's doing it and why?
I really enjoyed reading this story. I think Miralee Ferrell has found her niche in writing historical fiction. The story was fresh and didn't fall into the trap of the usual clichéd story. I always worry that I'm going to read the same storyline when it comes to young women living on the frontier and trying to get through life by themselves. Not so in the case of this book, as there were plenty of twists and turns to keep me guessing.
Alex is a great female lead as she has to take on her father's work after she died. She's not overly too into running the ranch to find love but neither is ready to give up this burden along to someone else as she wants to save it for the family.
I really liked the chemistry between Alex and Justin. I was afraid that he would be against her running the ranch and that by the end of the movie she'd give up everything "manly" for him. Luckily, that wasn't the case. I'm really glad that they found each other and enjoyed reading about the ups and downs in their relationship.
The characters were all very realistic and easy to understand. Really, this book could almost be placed in a modern setting and it would still work perfectly. I would have enjoyed visiting Alex's ranch and helping out with even the daily chores. I could picture the ranch and see the open space thanks to the descriptions in the book. The book was a fast read and it made for an enjoyable afternoon.
An excellent sophomore effort from Miralee and I'm looking forward to reading more historical fiction from her. BTW this book is part of the Love Finds You series, and if this book is any indication what the other books are like, I will be definitely having to go find some more of them!
Reviewed by Deborah Khuanghlawn at Books, Movies and Chinese Food
---