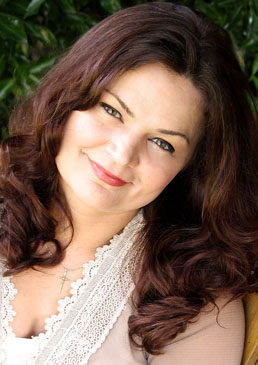 Gina Holmes is no stranger to the writing industry. For the past few years she has shared her enthusiasm about books and authors with thousands of readers on her Website, Novel Journey. This site recently earned the honor of the Top 101 Websites for writers by Writer's Digest.
Writing and all things related to the industry captured Gina's heart years ago, and she has been writing stories amid the busyness of life. The time has come to share the story of her heart with the world. Crossing Oceans is launching Gina into the writing industry, and she credits God's goodness and faithfulness in her life for bringing her to this moment. It is an honor to share her personal Novel Journey with you!
Full-time nursing doesn't require a lot of creative writing, so what does your medical career add to your writing?
Nursing adds depth to my writing. I've worked in many areas of nursing from babies coming into the world to holding patients' handd as they let out their last breath. I see people at their best and worst. When someone is sick, they're not wearing the masks they tend to do in other situations. I see people's fears and dreams as raw as they get. Nursing gives me a daily glimpse into the real world, one that isn't always pretty. I see how God uses difficult situations to reach people and to change them.
How integral was the development and growth of Novel Journey to your own debut as a novelist? What is your biggest takeaway value from this project?
Crossing Oceans would have been published without my Novel Journey success. It's a good story, and good stories make it even without the dreaded platform we all keep hearing about. I learned a lot from the interviews I did with writers and other industry professionals over the years; and I made many contacts, which help in other ways, such as endorsements. All that said, when Crossing Oceans went to publication board, Tyndale was impressed with my platform, so it did give me a leg up against the competition.
I know from personal experience that platform alone doesn't sell a book, at least not a platform the size of Novel Journey. The writing and story matters more. After all, I had four novels that didn't get contracts, despite my platform.
It is my understanding that you've completed several novels, but Crossing Oceans is the one that made it to print. What do you perceive as the difference in one versus the other? God's timing? Your maturity as a writer? Or a combination of both?
All of the above. My first four novels were suspense. I grew up reading it so naturally I thought I ought to be writing it . . . until I decided to start reading different genres. I realized that I wanted to write novels addressing tough issues in a fresh way.
My agent, Chip, and my critique partners, Ane Mulligan and Jessica Dotta, say I found my voice with Crossing Oceans and everything fell into place—my attention to detail, symbolism, foreshadowing, and all the layers that make a good story pop.
In a recent interview with Afictionado you stated: "Crossing Oceans was born out of the feeling that life as I knew it was over and the determination to put my children's needs ahead of my own." To me, this reflects God's willingness to sacrifice all for us. How has this experience affected your writing?
I'm a confident person, but at my core is a humbleness that has come about in the last few years. I went through one of the darkest periods of my life when I began Crossing Oceans. God was reaching down into the soil of my soul and yanking up the root of sin and pain so deep I didn't know it was there. With that upheaval my life looked like a pile of rubble, but God was just beginning.
After he ground me into what felt like talcum powder, he built me back up into a vessel far more beautiful than I started out as. One that could actually hold his living water and draw others to Him.
Though I wouldn't want to relive that time in my life, I also wouldn't trade the end result. I have a hunger to show others God's glory and His love, and my writing has developed maturity and authenticity through that pain and the joy that followed.
There has been a lot of debate over whether or not a need exists to differentiate or "label" books as Christian fiction. You seem to feel quite comfortable about combining your faith and fiction. What is your view on this debate? It is even necessary?
This is a tough question. I get annoyed with the label because when you say you write Christian fiction, you get the same look from ignorant people as if you'd self-published. They don't know our fiction today is incredibly well done and, in many cases, better than our secular counterparts.
The hang-up is mine and recently God has worked on me in this area. The label does need to be there for practical reasons and now I'm proud of that label: As a reviewer I get novels that are beautiful to look at and well written, but empty of hope.
Unless a secular book is highly recommended to me, I won't take a chance because I don't like the meaninglessness of them. I took my daughters to Barnes & Noble to spend their gift
certificates, and they kept coming over with books that had premarital sex and things that I didn't want them putting in their young minds. Without realizing, they wandered into the Christian section. I finally exhaled. One brought me a book she found and I didn't even have to read the back cover copy when I saw who was the publisher. It was then I realized that I couldn't be prouder of the genre I'm writing. Not only do we offer great stories and beautiful words, but a hope that can be found nowhere outside of God.
Nursing, writing, parenting, blogging . . . your life is overflowing. Now that your debut novel is about to be born, what kind of time will you have to devote to book promotion? Where on earth will it fit in your schedule?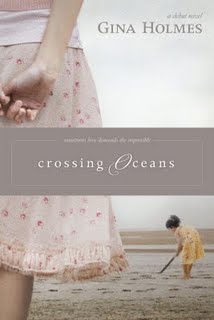 My children are a big help in keeping the house clean, as is my husband, Adam, but regardless, yeah, my cup flows way over. I have three months to finish my sophomore novel, and I've just reached the one-third mark. Plus I'm a perfectionist about writing, and promotion. I think I'm going to look back on this time in my life and wonder how I did it.
I spend a lot of time on promotion. My good friend Jessica Dotta is helping me, as are the fabulous people at Tyndale, but I'm doing quite a bit myself as well. Most promotion happens way ahead of the novel release. Promotion I'll do after release are things I set up months prior. The pressure is behind me at this point.
I get one chance to debut and Crossing Oceans is a story that's close to my heart, so I spend time every day querying magazines, newspapers, you name it. It seems to be paying off. If I stop and think about all the work involved, I might just realize it's impossible and give up, so let's move on.
I love the statement you made in a recent interview with Chip McGregor: "Craft-wise, Christian writers should hold themselves to a higher standard than secular authors. After all, we are working for God not man." Can you elaborate on the importance of this distinction and also draw some similarities between the work required to get the writing done?
Thanks. For the Christian, we should present our best at whatever we do, whether writers, launderers, or landscapers. We are to present our work as if it were to God. I work hard at whatever I do, which wasn't the case before I gave my life to Christ. Before that I skated by whenever possible. Now I remember that I'm an ambassador for Christ. I'm not always a good one, but I'm trying to do better.
As far as the writing, yeah, it's more pressure and work trying to write my best every time. It means I often sit at the computer for hours to get one thought right. It means I resubmit my chapter to my critique group repeatedly until they tell me it's right. It means editing for the perfect word, the exact right theme, the best description. I want to hear "Well done" someday.
Do you already have another project waiting in the wings? Could you tell us just a bit about it?
Yes, I'm knee-deep in my sophomore novel, Dry as Rain. It's written in third person from the points of view of an estranged husband and wife who find their marriage and lives unraveling due to the snowball effect of misunderstandings and sin. I expect it will probably release about a year after Crossing Oceans.
What exciting things is God doing in your life right now?
Right now, He's keeping my head above water. I'm newly married, and I have five children instead of two; that's very exciting. God is laying the groundwork in my heart for a very important mission that I don't even know yet. I just know He's burdening me for children around the world and I trust Him to reveal the details at the right time.
Being married to a man whom I'm still getting to know is exciting, too. Adam brings joy into my life; and between him, God, and our children there is so much joy that the book stuff gets overshadowed . . . and that's saying something, given how long it's taken me to finally get published and my passion for words!
Any closing words you'd like to share with your readers?
We all have dreams that God has put on our hearts. It's our job to water those seeds to see what blooms not to control the results. Some of us put pressure on ourselves God never meant for us to bear, and others of us refuse to fill our buckets with water when God wants to bless us and others through our efforts. I hope everyone evaluates the burdens of their hearts and asks God to help them with the next step. That's what I'm doing at the moment. Thanks for reading!
---

---
Kim Ford has been a resident of Alabama for more than ten years. Originally from Georgia, she holds a Bachelor's degree in English from Brenau Women's College. She has spent the past 9 years in sales and marketing and has been an avid reader of Christian Fiction for more than 20 years. A mother of two teen sons and married to a technical writer and Army veteran, Kim's life is full and blessed. She and her husband also volunteer as teachers for a resident rehab program for women with life-controlling issues. She uses her fiction to encourage the ladies she teaches. She blogs at: Window To My World