Kelly Klepfer came on board Novel Reviews several years ago as the Senior Editor through her connections with Gina Holmes, Ane Mulligan and Jessica Dotta of Novel Journey fame. Novel Reviews is the baby sister of the popular Novel Journey. At Novel Reviews we offer honest reviews of Christian and secular fiction titles and love to promote exceptional fiction. We began to do so after we met the authors via their interviews at Novel Journey. Disclaimer: Our reviewers are not paid for their reviews. Some may consider the receiving of a complimentary book or loosley bound manuscript (by publisher or author), as a form of compensation, so, be forewarned that our reviewers RECEIVE BOOKS. In our defense, it would be difficult to review without them. (Also, we are not affiliated or paid for any links to online bookstores.)


NOVEL REVIEWS CORNER
---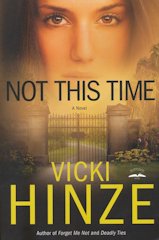 Not This Time
by Vicki Hinze
Published by Multnomah
ISBN#978-1-60142-207-1
328 Pages Back Cover:
Description
Small town scandal. International terrorist attack. Who among them is the traitor?
Sara and Beth have built a multi-million dollar business together, but their once solid friendship is now strained. Beth is leery of Sara's husband, and when he is kidnapped, authorities consider Beth their prime suspect.
Then, their small town of Seagrove Village is rocked by an act of terrorism, and Beth doesn't know who to trust. Someone she knows is linked to the attack, but who? Is there a connection to Crossroads Crisis Center? In the midst of the confusion and fear, Beth finds herself attracted to a man from her past. She knows she shouldn't fall in love with him, but she can't resist or even explain their bond. As her world unravels around her, she wonders, is it possible to be beyond redemption?
Review:
Vicki Hinze brings this Crossroads Crisis Center series to a powerful, compelling, suspenseful conclusion! I was thankful to have received a review copy of such a page turning novel.
This excerpt from the author's notes gives you a glimpse into Vicki's heart. It's also the pulse of the story, "At some point in our lives, many, if not most of us, have been betrayed. We've also experienced torn loyalties. Situations were we must act, and no matter what we do, someone is hurt. And many if not most of us have been falsely accused of saying and doing things we did not do.
These are the challenges raised in Not This Time that had to be addressed as well as the physical challenges of danger and deception. When we try to live seeing the good in others, it's often difficult for us to accept that there are those who just embrace the bad because they chose to embrace it. But those people do exist and in our denial of it is danger; not just physical, but emotional and most important, spiritual danger."
So, true, Vicki. Not only do I love the action filled story with a complex plot and layered characters I love how she naturally wove in the spiritual thread, addressing all the elements in the note to reader and then some. This is the third book in the Crossroads Crisis Center – Vicki pulls out all the stops and brings you a story that grabs you from the start with a wild bizarre wedding reception with the endearing characters you've enjoyed in all the books to wild and crazy action that has characters running for their lives. This book will keep you on the edge of our seat as the mystery unravels. You'll be staying up late because you just have to read how this all works out. I know I did.
That's what I love about Vicki's books; she makes me care about her characters and situations at the same time challenges me and my faith. Love her books and looking forward to the next series.
Reviewed by: Nora St.Laurent at: The Book Club Network
---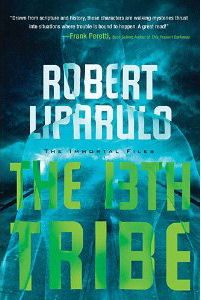 The 13th Tribe (An Immortal Files Novel)
by Robert Liparulo
Paperback: 416 pages
Publisher: Thomas Nelson (April 3, 2012)
Language: English
ISBN-10: 1595541691
Description:

Their story didn't start this year . . . or even this millennium.
It began when Moses was on Mt. Sinai. Tired of waiting on the One True God, the twelve tribes of Israel began worshipping a golden calf through pagan revelry. Many received immediate death for their idolatry, but 40 were handed a far worse punishment-endless life on earth with no chance to see the face of God.
This group of immortals became the 13th Tribe, and they've been trying to earn their way into heaven ever since-by killing sinners. Though their logic is twisted, their brilliance is undeniable. Their wrath is unstoppable. And the technology they possess is beyond anything mere humans have ever seen.
Jagger Baird knows nothing about the Tribe when he's hired as head of security for an archaeological dig on Mt. Sinai. The former Army Ranger is still reeling from an accident that claimed the life of his best friend, his arm, and his faith in God.
If you would like to read the first chapter of The 13th Tribe, go HERE.
Review:

Supernatural suspense done well. Sigh. Robert Liparulo is a terrific author. His writing is concise but visual, and suspenseful without going over the top into gore just because he can. I'm not saying his stuff is tame…oh no, it is not tame. And it Is not without violence. There are some intense bloody battles within. At some points this suspense read hit horror levels -- Chickens you have been warned. Liparulo's characters are imperfect and ones I want to cheer on. Many of Liparulo's novels have included children and he rachets the overall tension with them. There was one point in the 13th Tribe that I nearly lost it. Sensitive readers may want to take note of said tear-jerker scene so you've got tissue handy during your 2:00 a.m. can't-put-the-dang-book-down read-athon. Liparulo also excels at setting up seemingly impossible to escape plotlines.
With The 13th Tribe Liparulo ramps up his storytelling with supernatural elements based on religious history. Fascinating archeological and historic details pop up regularly making this book a page-turner from page one. Every time I opened the book I ended up playing the "just one more chapter" game over and over again. If you love suspense with dusty, ancient details or supernatural good vs evil tales you might want to check into this one. If you like a great, heart-pounding story to escape into, this is definitely one of those.
Reviewed by: Kelly Klepfer at: Scrambled Dregs
---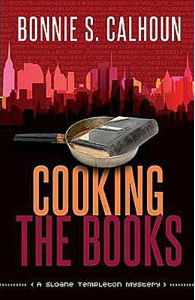 Cooking the Books
by Bonnie S. Calhoun
Published by Abingdon Press
ISBN#978-1-4267-3388-8
312 Pages
Description:

After her mother dies from a heart attack, Sloane Templeton goes from Cyber Crimes Unit to bookstore owner before she can blink. She also "inherits" a half-batty store manager; a strange bunch of little old people from the neighborhood who meet at the store once a week, but never read books, called the Granny Oakley's Book Club; and Aunt Verlene, who fancies herself an Iron Chef when in reality you need a cast iron stomach to partake of her culinary disasters. And with a group like this you should never ask, "What else can go wrong?" A lot!
Sloane begins to receive cyber threats. While Sloane uses her computer forensic skills to uncover the source of the threats, it is discovered someone is out to kill her. Can her life get crazier?
Read the first chapter HERE!
Review:

"All I can say is that when you turn on the lights, the roaches run everywhere. Sugah, you've obviously done something to someone that is pushing all these buttons. You just need to figure out what, it is."
I was thankful to receive a review copy of Bonnie Calhoun's debut novel and reading that line makes me smile. It also gives you a peek into this author's humor.
Fifi, the assistant manger of the book store has all the answers, just figure out who's pushing the buttons which is easier said than done. Sloane Templeton was still in the middle of breaking the family cycle of being a victim, learning how to make better choices in the men she dated and figuring out what she wanted to do with her life. She was walking that out day by day, recovering from an abusive relationship with a stalker x-boyfriend Trey, when suddenly she's become the owner/manger of Beckham's Brew and Books because three months ago her mother died of a heart attack.
I enjoyed reading how Sloane walked out her new life in Christ in the middle of life threatening situations. Could she trust God to be there for her? No one's helped her before. Was He listening? Things start getting crazy when a local real-estate agent starts pressuring her to sell the building her mom owned and where the book store is located.
Bonnie's characters were endearing and a bit unique like Aunt Verlene who is a chef wannabe. Sloane's Aunt fancied herself as an Iron Chef – Sloane knew a person needed a cast-iron stomach to eat her Aunt's creations. She wasn't sure about her Aunt's ingredients either and didn't even want to think about what she did with the case of cat food she helped Verlene bring into her house (she doesn't own a cat).
Sloane Templeton tells her Aunt to be careful who she tells about this rare cook book she's found. But Aunt Verlene just can't keep quite at the hair dressers. What is it about hair dressers? Are they part time therapists? Women find themselves telling them everything. Grin! Sloane says this to her Aunt about her hair, "that hairdo looks like it hurts, your hairs got your face pulled up so tight, I swear I saw your belt buckle move when you raised your eyebrows." Verlene paid her no mind. She had more important things on her mind like selling that rare book.
Fifi, the assistant book store manager, was giving Sloane a hard time about taking in strays and reminded her they weren't like pets. But Fifi didn't know what it was like to be abused, she did. If Sloane could give Barbara some coffee and a safe place for a few hours in the store then she would do it.
Sloane Templeton inquires about Fifi's book club, what they were reading and how they were managing without mom. Fifi says, "Sugah, Do you actually think that Granny Oakley's are a book club?" she looked at her with a smile. "Are you saying that those oldsters are packing heat? And have no interest in books?
Surprise, surprise! Bonnie Calhoun weaves a layered and fast-moving plot with stalkers, Doctors fighting over a rare books worth thousands, Sloane receiving death threats on her computer they can't trace and all the while protecting herself and her Aunt Verlene, chef wannabe as they make plans to sell her antique cookbook.
I enjoyed Bonnie's humor interwoven into the drama and suspense. Sprinkled through out the story were a great bunch of quirky supporting characters flawed, misfits working together to fight the bad guys. They were a hoot to read about and I've given you a peek into this authors humor and at some of these fun characters in this review.
I'm not sure where Bonnie will go from here but count me in on the ride. I loved this author's balance of humor and drama. You will too!
Reviewed by: Nora St.Laurent at: The Book Club Network
Bonus Review:

Bonnie S. Calhoun is a master weaver of snarky humor and suspense. Cooking the Books is fast paced, laugh out loud funny with enough suspense to make you shiver. Sloane is an oxymoron: tough as nails on crime and injustice, yet her Aunt Verlene and Fifi, her nutty store manager, manipulate her. Novel Rocket and I give it a high recommendation. It's a must read.
Reviewed by: Ane Mulligan at: Novel Rocket
Bonus Review:

Sloane Templeton finds herself book-ended by problems. Her mother passed away leaving a bookstore, a grieving daughter, a cast of quirky characters, and a rare book behind.
If that wasn't enough, Sloane also has a recent divorce under her belt and an ex-boyfriend who didn't mind giving her a good belt when she needed it. Sloane is attempting to heal and figure out life. But circumstances keep her on her toes, and her emotions on eggshells. The new man in her life seems oh so perfect, too perfect? An offer exists for the bookstore property, and the sales force seems a little too eager to slide that sale through. Sloane's Aunt Verdene holds the interest of the law enforcement and fire professionals in her neighborhood…and an occasional hoodlum.
This novel has sass and lots of it. Quirky supporting characters show up in every chapter. Sloane grows from insecure to a new awareness of steps she needs to take to ease the chaos in her life. Verlene does not blow up a section of her block. Sloane discovers the true meaning of the word neighbor. And, the book ends on such a note that there better be a follow up or two.
Readers who go for quippy, sassy Chick-lit style reads will want to check into sassy Sloane. Folks who like both heavy topics and humor in the same novel might find Calhoun's handling of some serious issues cathartic. Mystery lovers who want t's crossed and I's dotted might feel frustrated with the open-endedness of the final few pages. Not for the clean-cut, feel-good inspirational fans, the subject matter got a little tense in a few spots.
Reviewed by: Kelly Klepfer at: Scrambled Dregs
---

---