Why are magazines like Sex guides?
Fashion and the industry has always been about pushing the envelope. That being said, I think the envelope has been stripped, laid bare, and lies shredded on the floor. Enough already! As a girl, it bothers me that today's women's magazines view me as nothing more than
Read more


Fiction Etiquette with a Southern Twist Twisted Southern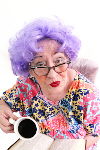 Good mornin' once again, faithful fiction folk. It does mah heart good to see y'all taking the Sacred Laws of Fiction Etiquette with the extreme seriousness they deserve. And it's especially gratifyin' to see that my expertise is not being wasted on a pasty-faced passel of thick-headed young'uns who don't know their place. Just do not be tempted to overstep your bounds.
Now before our time gets away from us, let us consider this month's question from one of our faithful readers. Ah am in great need of a sip of my mama's energizing tonic...
Read more