REVIEWERS CORNER
This month's focus - The Lits
Featured Reviewer of the Month:

From the time she could read, Rel Mollet has immersed herself in books taking every opportunity to read, even perfecting the art of reading in the shower as a teen! With a very understanding husband and three young daughters, who are becoming avid readers, Rel also works part time as a lawyer. Being a book club coordinator and women's ministry leader, Rel takes every opportunity to share her love of fiction with anyone who will listen. When she is not reading you might find her watching DVDs of The West Wing, Bones and Seachange with her husband in their hometown of Melbourne, Australia.
Reviewing - I was about 10 years old when my grandparents gave me a Janette Oke book which started my love of books written from a Christian perspective. With Christian books unavailable in public libraries in Australia, I started my own collection and have loved adding to it as the quality and variety of fiction has exploded over the past decade.
I share my personal library with family, friends and my church community and love hearing how books have touched their hearts. I began reviewing fiction for Koorong, one of the two major Christian retailers in Australia, when it started a fiction e-newsletter and asked for feedback in 2006. Wanting somewhere to store my reviews, I started my blog, Relz Reviewz never imagining where it would lead.
When the lovely Siri Mitchell referred me to her publicist for a review copy of The Cubicle Next Door, I was amazed to find he was willing to send me more books from his publishing house to review ~ all the way to Australia! Joining the CFBA and FIRST Alliances provided more review opportunities and the rest, as they say, is history.
It continues to be a blessing to review wonderful books, interview amazing authors and "meet" some lovely bloggers and publicists. I am privileged to be a writer for TitleTrakk.com and The Suspense Zone and love hosting giveaways on my blog. It is terrific to help in this small way to publicize fiction that challenges and encourages people to consider God and I especially love assisting new authors promote their debut novels.
I now have two teens, my 10 year old daughter and a friend guest reviewing to help keep up with the fabulous fiction which releases every month! The friendships I have developed with a number of authors, publicists and bloggers has been a surprising delight to this reviewing caper and I hope one day they get to visit me down under.
---
Splitting Harriet by Tamara Leigh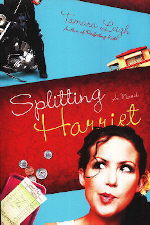 SYNOPSIS
Preacher's kid and prodigal Harriet Bisset returned to her church and her family in Franklin, Tennessee, seven years ago. Once the proud owner of two tattoos and a nose ring, Harri is now addicted to Jelly Bellys in lieu of hangovers and Bible verses in lieu of foul language.
The good news is that she has everything under control: a part-time position as director of women's ministry, a church family that adores her, a rent-free home in a senior mobile home park, and the possibility of owning the café where she waitresses. Nothing could tempt Harri to return to her old ways. Nothing but a 1298 cc, liquid-cooled, sixteen-valve, in-line four-cylinder motorcycle—and the church consultant riding it.
Reformed rebel Maddox McCray's arrival at First Grace spells C-H-A-N-G-E for the dying church. And it just might mean change for Harri when Maddox sets out to convince her that even Christians are allowed to have fun.
The story of a prodigal daughter's transformation, Splitting Harriet reminds readers of God's delight in forgiving, loving, and enjoying the ride.
My Take
A book only needs Tamara Leigh's name on it for me to be captivated but couple that with fabulous cover art and a great synopsis and I was hooked on Splitting Harriet before even cracking open a page! I knew I would be entertained but little did I know that Tamara's characters would remind me so poignantly of the freedom God desperately wants us to discover in Him.
Harriet Bisset is trapped by the guilt of her past, forever trying to make amends for the grief her rebellion caused her family and church community. Terrified of falling from grace once again, Harriet has immersed herself in doing good, socializing only with the elderly community in which she lives, addicted to Jelly Bellys rather than cigarettes and staying well clear of the opposite sex, at any cost.
Maddox McCray is a church consultant hired to bring Harri's declining church into the 21st century. A former bad boy himself, Maddox has experienced God's grace in his life and hopes to share that forgiveness and freedom with others. As Maddox gently makes changes to First Grace, Harri and her older friends are soon in uproar over the discarding of the creaking organ, allowing scrapbookers to come alongside quilters and the horrific suggestion of dual services!
Splitting Harriet is a wonderfully entertaining read with a message of deep spiritual importance. Tamara's characterization is exquisite from Harriet to Maddox, the uncompromising Bea and the floundering pastor's kid, Anna. I was invested in each of their stories as the tension arising from the changing of traditions and incorporation of new ideas inspires some at First Grace and terrifies others. The attraction between Maddox and Harri is captivating as Harri's fears of returning to her past poor choices torment her and impact on her relationship with Maddox and her long suffering brother Tyler. The dialogue is so authentic, I ached for Harri, cheered for Maddox and felt deeply for Bea. While peppered with humour and wonderful characters, it is the lasting message of God's grace and forgiveness that has stayed with me. You don't want to miss all that Splitting Harriet has to offer! Available now from Multnomah.
Reviewed by Rel Mollet at Relz Reviewz
---
Stuck In The Middle by Virginia Smith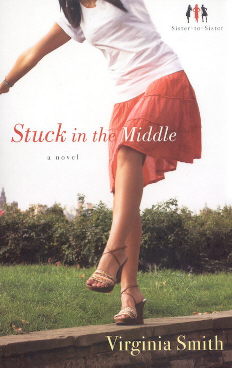 If you like contemporary fiction, and you've always wanted to explore the relationship between sisters, then Virginia Smith has just written a book you will love! Joan is the middle sister – squished between an older, soon-to-bear-the first grandchild sister and a beautiful professional younger sister. Not only is she in the middle of her sisters, but she has also placed herself squarely in the middle of her Mom and Grandmother's relationship as well. At twenty-five years old, Joan suddenly finds herself discovering her own path….one that takes her out of her comfort zone and into the middle of God's plan for her life!
This book blends the sister's story with a healthy dose of romance, and within the developing romance, Virginia Smith explores the differences between traditional and contemporary forms of worship as the main character and her traditional background meets the more contemporary man next door. The budding romance also serves as a launching pad for the reader to explore some of the circumstances in our lives that we use to sort of hold God at arm's length, and how He gently places other people and situations in our life to nudge us back into His presence.
While the main character is discovering her place in God's plan and trying to build a relationship with her handsome new neighbor, the story also explores the family relationships between sisters, mothers and daughters. Virginia Smith has a unique way of touching on very real problems we all face at some point in our lives, and she manages to take your emotions to a lot of different levels throughout the book. However the story remains light enough that you are able to give a satisfied sigh by the time you reach the final pages.
This is the first in a three-book series, so you don't want to miss it! And while you wait to read the 2nd and 3rd installments (Age Before Beauty and Last But Not Least), you will want to read some of the many other books Virginia Smith has written! Check out her website. Thanks for another great read Ginny!!
Review by Kim Ford at Window to My World
---
That's (Not Exactly) Amore by Tracey Bateman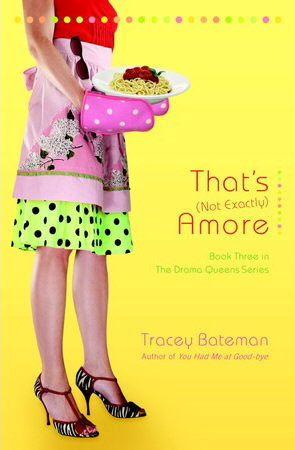 Of all the books in this delightful series, this one is my absolute favorite! I've identified with Laine Sullivan from page one of the first story, and she is my doppelganger, if such a thing actually exists (if you don't know what that means--Google it.
I mean, I loved Tabby Brockman in "Catch A Rising Star", but I had a hard time identifying with a slightly glamorous soap star, yet found her faith refreshing. And Dancy Ames was a joy in "You Had Me At Goodbye". Truly, she was. But as a roommate, I would have been SO intimidated by her.
Laine is more like me...we'd have mochas and cheesecake at Nick's coffee shop, for sure for sure! That's (Not Exactly) Amore paints her in a richer and deeper tapestry. And I so totally get her. She is a former accountant, now working toward her degree in interior design...reluctantly. Her final project is secured when she shakes on the re-design and remodel of the trio's favorite hangout, Nick Pantalone's coffee shop.
Her confidence is shaky at best, but it utterly collapses when she discovers that Nick is leaving and his dreamy yet intimidating nephew Joe will be in charge during the remodel. How in the world can Laine run plans and ideas past her oh-so-secret crush, knowing she has just enough design talent to fill a thimble? Thank heavens for handsome officer Mark, who rescues Laine one night and takes a romantic interest in her.
Are those sparks of jealousy in Joe's eyes, or is he merely expressing angry doubt at her skill with his uncle's shop? Laine just can't believe someone so dreamy could take an interest in her...but, then again, Officer Mark ain't nuthin' to sneeze at! She stays torn in so many pieces...over her career, her love life, her mother (who seems to go from mourning to mooning overnight!), her new roommate...everything just won't seem to fit properly into her ample life.
And I didn't even mention her distress over her ample figure (I feel ya on that, sistah friend!). Can she ever make up her mind? Will her hobby turn into her life's ambition, or will designing squeeze that out? Is her mom's new beau too good to be true or the real deal? And is everyone's suspicions about Joe and the mob true? Oh, say it ain't so, Joey! You're guaranteed a fun and enjoyable reading experience with "That's (Not Exactly) Amore"! In fact, I highly recommend the entire series! I'm giving this one five out of five bookmarks, with a stuffed sandwich as a charm!
Happy Reading! ~Deena~
Reviewed by Deena Peterson at A Peek At My Bookshelf
---