Kelly Klepfer came on board Novel Reviews several years ago as the Senior Editor through her connections with Gina Holmes, Ane Mulligan and Jessica Dotta of Novel Journey fame. Novel Reviews is the baby sister of the popular Novel Journey. At Novel Reviews we offer honest reviews of Christian and secular fiction titles and love to promote exceptional fiction. We began to do so after we met the authors via their interviews at Novel Journey. Disclaimer: Our reviewers are not paid for their reviews. Some may consider the receiving of a complimentary book or loosley bound manuscript (by publisher or author), as a form of compensation, so, be forewarned that our reviewers RECEIVE BOOKS. In our defense, it would be difficult to review without them. (Also, we are not affiliated or paid for any links to online bookstores.)


NOVEL REVIEWS CORNER
---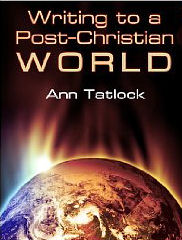 Writing to a Post-Christian World
by Ann Tatlock
Kindle Edition
Lighthouse Publishing of the Carolinas; 1 edition (August 1, 2011)
Language: English
ASIN: B005FMQYBW
Description
Know your audience.
For the Christian writer today, this first rule of writing is imperative. Not only do you need to have something to say, but you need to know who's out there listening.
Over the past 50 years, our culture has undergone a monumental shift, pulling people into a whole new way of thinking. Gone is the idea that absolutes exist, to be replaced by the belief that everything is relative….including truth.
So what is truth today? Anything you want it to be. All paths lead to God. It doesn't matter what you believe, as long as you are sincere. Such thinking lies at the heart of our post-Christian, postmodern culture.
How do we as Christian writers respond to such a mindset? How do we present the one true Truth to a culture that celebrates diversity? In this concise, easy-to-read book, Ann Tatlock answers these questions and more: * What is a biblical worldview?
* What is The Great Literary Conversation?
* How has relativism affected our culture?
* How has relativism affected the Church?
* What is postmodern literature?
* What is our greatest task as Christian writers?
Review:
I prefer fiction to non-fiction, since I'm not the brainiest of writers. But from the first paragraph, I was drawn into Tatlock's book. Written with a flowing narrative, she sprinkles in highlightable truths that resonated with the fiction-writer within. This was stuff I needed to know. I love how she used anecdotes to illustrate her points, making them "stick. " Not only did I devour the book, I learned. It's a must read for any Christian author. Novel Rocket and I give it a very high recommendation.
Reviewed by: Ane Mulligan at: Novel Rocket
---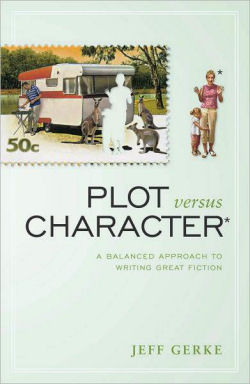 Plot Versus Character: A Balanced Approach to Writing Great Fiction
by Jeff Gerke
Published by Writers Digest Books; 1 edition (November 16, 2010)
ISBN# 1582979928
272 Pages
Description:

What's more important to a story: a gripping plot or compelling characters? Literary-minded novelists argue in favor of character-based novels while commercial novelists argue in favor of plot-based stories, but the truth of the matter is this: The best fiction is rich in both.
Enter Plot Versus Character. This hands-on guide to creating a well-rounded novel embraces both of these crucial story components. You?ll learn to:
Create layered characters by considering personality traits, natural attributes, and backgrounds
Develop your character?s emotional journey and tie it to your plot?s inciting incident
Construct a three-act story structure that can complement and sustain your character arc
Expose character backstory in a manner that accentuates plot points
Seamlessly intertwine plot and character to create a compelling page-turner filled with characters to whom readers can?t help but relate
Filled with helpful examples and friendly instruction, Plot Versus Character takes the guesswork out of creating great fiction by giving you the tools you need to inject life into your characters and momentum into your plots.
Review:

Gerke has written a winner. Whether you are a plot-driven or character-driven writer, this book has something for you. (I'm still waiting for the book for the procrastination-driven writer.) Written in an enjoyable conversational style, it's like the author is sitting down at Starbucks having a one-on-one consultation with you about your work. I enjoyed being able to go straight to the chapters that addressed my specific weakness areas. If you're looking to be a more well-rounded author, this is the book for you.
Reviewed by: at: Jenny B. Jones
Bonus Review:

I don't care whether you're a beginning storyteller or you have multiple published novels to your name, your writing will be tighter after reading Jeff Gerke's Plot versus Character. And I would recommend reading it more than once. As Gerke points out, most novelists lean in one direction or the other, and you don't have to be writing long before you can tell whether your writing is plot driven or character driven. In my opinion you can often tell by the types of novels you read. Partial to thrillers and other fast-paced action? Then you probably aren't excited about the idea of fleshing out your own book's characters until they nearly walk off the page. Partial to sharp dialogue between fascinating people? Then you've probably been told you need to add "conflict" to your plot. Or plot to your plot.
Gerke has had enough experience in the publishing industry to know most writers struggle to simultaneously provide riveting plot and compelling, believable, characters. So he shows how to strengthen your skills in both regards and then blend them together. I can't wait to apply this book to my next manuscript. Highly recommended to novelists and anyone even considering writing a novel.
Reviewed by: at: Trish Perry
---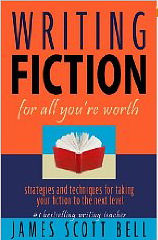 Writing Fiction for All You're Worth
by James Scott Bell (Kindle)
Published by: Compendium Press (March 31, 2011)
ASIN: B004URTI52

Description:

WRITING FICTION FOR ALL YOU'RE WORTH contains the best of James Scott Bell's articles and blog posts on writing, easily searchable under these headings: The Writing World, The Writing Life, and The Writing Craft.
You'll learn about the 6 critical success factors for bestselling fiction, how to write un-put-downable action scenes, and how to capture the interest of an agent. The keys to a dynamic opening page are revealed, and just as important, what NOT to do in the opening. There's plenty of inside information on what agents and editors say they're looking for and detailed instructions on how to write a stress free query. You'll learn what to put on your LAST page, when to use italics, how to write with courage. And a whole lot more.
Review:

What would you look for in the "best writing book ever?" The best of the best? The crème de la crème? That is exactly what James Scott Bell brings to us in Writing Fiction for All You're Worth. I've never experienced a craft book that kept me turning pages like a novel. Part of that is due to Bell's style and humor. The rest is because his "fingers-meet-the-keys" advice works. It's understandable. It turns light bulbs on in your head. Each chapter is like a conversation with JSB. Much of the content drawn from his stellar blog, The Kill Zone, then expanded, James Scott Bell offers us, in this editors opinion, the gold medal winner of writing craft books in Writing Fiction for All You're Worth. Novel Journey and I give it our highest recommendation.
Reviewed by: Ane Mulligan at: Novel Rocket
---

---