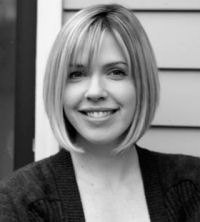 This month we are doing something a bit different. Our selection is not from one of the Christian publishers but was published in the general market and written by a Christian. To that end, we are going to spend the month of September talking to Sarah Jio, the author of The Violets of March, and other Christians who have elected to write for the general market. What does it look like to be in that world but not of it? We're hoping for some great discussion about art and faith, and we hope you'll join us. But first, we'd like to give you a chance to get to know Sarah better! She's cute, fun, and a busy woman. You'll see!
Tell us a little about your writing journey.
I began my career in magazines right out of college as a freelance writer. Over the years, I've written for Real Simple, O, Redbook, Parenting, Parents, Glamour, and many others. I'm also the health and fitness blogger for Glamour.com. Daily magazine deadlines keep my creative muscles toned, so to speak, so I find that magazine work and fiction go really well together. But my "career" began long before this. I wrote my first, ahem, book in the first grade (A Tug Boat's Dream if you must know!), and it won a local young author award! I think I always knew after that that I wanted to be an author someday (aside from the very strange time in high school when I wanted to be a pilot—which still makes zero sense to me!). The Violets of March is my debut novel, it also recently debuted in Germany, and will soon come out in Spain. My second novel, The Bungalow, will also be published by Penguin (Plume) in December. My third novel is complete, and my fourth is in progress. Whew!
Did you have strong feelings about writing a mainstream novel versus a Christian novel?
No, the only criteria I had when I set out to write The Violets of March was that 1) it needed to be a story I would feel proud of, and 2) it had to be a story that came from my heart. Like my book's main character, Emily, who suffers from writer's block and uncertainty about her writing career, I had my worries too. I wrote a book before Violets that didn't sell, and after that, I thought long and hard about the type of book I wanted to write. And after much consideration, I realized that I just needed to write a story that touched me, with characters I adored—a story that had meaning to my life, and one I hoped would have meaning to others. I wasn't concerned that it fit a certain genre (for instance, Violets covers many territories: mystery, romance, family saga, and a bit of historical fiction), just that it be a worthy story I was proud of. I hope I've succeeded in that!
How does your faith impact you as an author?
I've been a believer my whole life and had the good fortune to grow up in a Christian home. (And, yes, I went through that rocky period of life called adolescence when children of Christian parents often ask themselves, "Is this my parents' faith, or my faith?" Fortunately, I chose the latter.) My parents talked a lot about the gifts God gave us, and encouraged us to use our gifts in ways that glorified Him. My dad once said something to me that still haunts me: "One day your writing is going to reach a lot of people—will you use it for good?" I knew what he meant: Will I use my gifts for His work? Of course, the answer was and is yes, or at least, "Yes, I will try!" I think about this every day when I'm writing. My characters aren't always Christians, and they make a lot of mistakes (some that may raise an eyebrow or two), but truth is to be found in their journeys and worthy themes that I hope get people talking. I pray that my books, and my career, can strike this balance.
How did this particular story take root in your heart?
Oh, "taking root" in my heart is such a brilliant way to describe what happened, because it really did. I remember visiting my sister in San Diego for Christmas in 2007. I had been chasing my fussy one-year-old around all day and was exhausted. So I
grabbed my notebooks and kicked my feet up on the couch, and the story just came to me. The characters. The setting. The music. It was all there. Of course, it was just a sketch of what the novel would be, but I couldn't wait to go home and begin writing it!
What would you like readers to say to their friends after they read this story?
I am always so honored and excited to hear people say that the book took them by surprise and gripped them. Maybe they were expecting a love story and were transfixed by the mystery. Or maybe they thought they were reading historical fiction and found themselves touched by the love story in the book. In any case, I love it when a reader is moved. I love hearing that the book made them "feel"! And above all, I love it when readers say that they are still thinking about the story and characters long after finishing the book, which is the ultimate compliment to an author—that your story resonates with people. But I'd be equally excited if a reader simply told her friend, "I loved this book—you have to read it!"
Why do you think stories are important for communicating truth?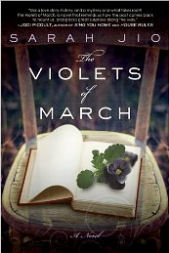 Good question! It's funny, after so many years as a journalist working so hard to get my facts straight, it's freeing to write fiction because I get to make stuff up! I love this. But, yes, in making stuff up we authors get the privilege of exploring real truths—real issues people face, real problems and tragedies and heartbreak. I can't tell you how many times I've had "aha" moments when reading fictional stories (most recently in reading the 1931 Pulitzer Prize–winning novel, Years of Grace, which I write about in The Violets of March).
Where can we find your book?
The Violets of March available wherever books are sold, as well as online at Amazon.
We hope you'll join the discussion this month at She Reads, www.shereads.org.
---
Sarah Jio is a veteran magazine writer and has written hundreds of articles for national magazines and top newspapers including Redbook; O, The Oprah Magazine; Cooking Light; Glamour; SELF; Real Simple; Fitness; Marie Claire; Hallmark magazine; Seventeen; The Nest; Health; Bon Appetit; Gourmet; The Seattle Times; Parents; Woman's Day; American Baby; Parenting; and Kiwi. She has also appeared as a commentator on NPR's "Morning Edition." Sarah has a degree in journalism and writes about topics that include food, nutrition, health, entertaining, travel, diet/weight loss, beauty, fitness, shopping, psychology, parenting, and beyond. She frequently tests and develops recipes for major magazines. Her first novel, The Violets of March, was published by Penguin (Plume) on April 26, 2011. Her second novel, The Bungalow, will be published on December 27, 2011, also from Penguin (Plume). She just completed her third novel, and her fourth is in progress. Sarah lives in Seattle with her husband, Jason, and three young sons, Carson, Russell, and Colby.
---

---