REVIEWERS CORNER
Featured Reviewer of the Month - SUSPENSE

Like many of you, I, Cara Putnam, love to read! As a teen, I hounded the small Christian bookstore in town until the owner would see me walk in and hand me the latest stack of catalogs. "Here, you can see for yourself when the next books are releasing." Since those days, I have also freely loaned my books to others and told people about books or authors they should try. My husband would tell you it's because I've never had an opinion I didn't love to share.
When I started my blog several years ago, it was natural to post reviews of books I love. I love connecting people with books and authors they might not otherwise try. If you're like me, it's hard to keep up with the abundance of authors and genres that now exist in Christian fiction. What a wonderful development! But where do you start if you're a fan of mystery/suspense/thrillers? Here are a few of my favorite authors:
Suspense
Colleen Coble writes romantic suspense with strong heroines located in a setting that practically becomes it's own character. Her books often have multiple layers that weave together in unexpected ways. Start with her Rock Harbor series or Anathema. Brandilyn Collins writes seatbelt suspense that has amazing pacing. I enjoyed her Hidden Faces series about a forensic artist, but her Kanner Lake series blew me away. The pacing and intricate plots are wonderful—especially if you like to race the heroine to figuring out whodunit. I also just read Mindy Starns Clark's new book Shadows of Lancaster County. While I've enjoyed her other books, this one is the place to start. A masterfully woven tale that pushes some provocative what-if questions.
Legal Suspense
As an attorney, I'm pretty picky about the legal suspense I read, though I love this subgenre. Randy Singer has become my new favorite legal suspense author. His book By Reason of Insanity is amazing. The twists and turns start on page two and don't end until The End. James Scott Bell's Try Dying series has a gritty, sarcastic voice that I love. And Rick Acker's books take place in Chicago and are legal thrillers set on a large scale with fast-paced action beyond the courtroom. Very enjoyable.
---
Cry in the Night by Colleen Coble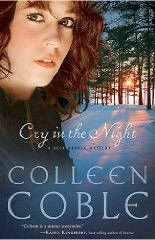 Cara's Review:
With her latest book, Colleen Coble takes her readers back to the Upper Peninsula of Michigan and into Bree Nichols Matthew's life. If you've read the earlier books, then you will be thrilled to walk the streets of Rock Harbor, wave at the friendly faces you remember, and hunker down for another page-turning suspense. If this is your first venture to the area, you'll soon find yourself engrossed in the tale of all that is happening to Bree, her search and rescue dog, Samson, and her son, Davy. You may decide after the read—since you won't need it during the book—that you'd like to find out more about Bree and go back for the earlier adventures.
In Cry in the Night, Bree is confronted with her worst nightmare. She's found an abandoned infant in the frozen wilderness and has welcomed the baby girl into her home —and heart—even as Kade cautions her to be careful. Then as she hunts for the baby's mother, the clues keep pointing to her first husband's mysterious plane crash. The more she picks away at the puzzle, the more she wonders if the very fibers of her life—and love—will be swept away.
I knew where this book was heading because of some brainstorming in the early days of this book, and I honestly didn't know if Colleen could pull all the twists off. Especially in a way that would satisfy me as a reader. I kept waiting for a thread to unravel, taking a large part of the story with it, but instead, the fibers of the story pulled tighter and tighter until they seemed to pull a taunt noose around Bree. And even though Bree is happily married, the romance will satisfy those of you who refuse to read a story that does not have a strong romantic thread.
Reviewed by Cara Putnam of Cara's Musings
---
The Hunted by Mike Dellosso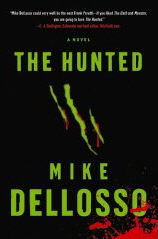 This story scared me. I would get so engrossed in reading the story that anytime someone walked in the room, I'd startle and scream. (ask my husband and sons if you don't believe me!) If you want to read a story that will have you holding your breath one minute – well, maybe for a few pages – then relaxing in the local diner over a cup of coffee the next, then you MUST read this story! I cannot believe this is Mike Dellosso's first novel! Move over Ted Dekker and Frank Peretti, there is a new star on the horizon!
I love suspense thrillers. But I especially love suspense thrillers with a good, believable element of true faith. Mike Dellosso blends these elements in a beautiful way that allows him to fictionally portray the spiritual battle taking place all around us for the souls of men. This book may be fiction, but the battle is real, and Mike captures both the darkness of human depravity (very scary character!!) and the awesome grace and forgiveness offered to all from the loving hand of God. (The struggle Joe and Rosa face as God works through them to help uncover the town's long held secret is very realistic!)
Fair warning – this is not a book for the big honkin' chicken club members! This is a very suspenseful and sometimes scary story. But you will devour its pages from front cover to back so fast that you will feel the breeze!! This well-written, fast-paced novel is a GREAT STORY! I highly recommend it and anxiously await another book from Mike Dellosso!!
Reviewed by Kim Ford at Window To My World
---
Kill Me if You Can by Nicole Young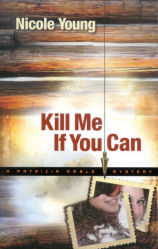 Confused and fearful of the feelings invoked by her friend, police officer Brad Walters, Tish Amble escapes to the Upper Peninsula in search of the family her grandmother blamed for her mother's suicide.
Planning to renovate the summer home she remembers from her last days with her mother, Tish discovers the men in her family have a shady past, an aunt who despises everyone except Tish and finding the truth can be a painful and dangerous task.
Nicole Young follows her debut novel, Love Me If You Must, with another enthralling mystery encompassing dysfunctional families, the insidious grip of criminal behaviors and the continuing journey of Tish's heart. The complexity of Tish's character is a joy to read as she struggles with the emotional pain of abandonment, the desperate need to connect with her seemingly unsavory family and battles her attachment to Brad . The suspense is intriguing and kept me turning each page with anticipation and not a little anxiety! Kill Me If You Can finishes with a killer ending, ensuring Nicole's third instalment, Kiss Me If You Dare, flys off the shelves in February, 2009
Reviewed by Rel Mollet at RelzReviewz
---