An Agent of Change
I was talking on the phone with my literary agent when the line began humming in a funny way. In my busy household, this usually means that one of my family members has picked up the phone.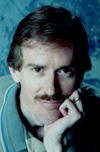 "Who's on the line?" I asked.
Silence.
"Something going on?" my agent said.
"I think someone else just picked up the phone. I think we're about done, anyway, aren't we?"
Read more