Kelly Klepfer came on board Novel Reviews several years ago as the Senior Editor through her connections with Gina Holmes, Ane Mulligan and Jessica Dotta of Novel Journey fame. Novel Reviews is the baby sister of the popular Novel Journey. At Novel Reviews we offer honest reviews of Christian and secular fiction titles and love to promote exceptional fiction. We began to do so after we met the authors via their interviews at Novel Journey. Disclaimer: Our reviewers are not paid for their reviews. Some may consider the receiving of a complimentary book or loosley bound manuscript (by publisher or author), as a form of compensation, so, be forewarned that our reviewers RECEIVE BOOKS. In our defense, it would be difficult to review without them. (Also, we are not affiliated or paid for any links to online bookstores.)


NOVEL REVIEWS CORNER
---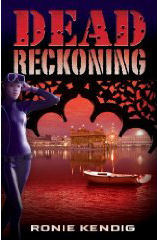 Dead Reckoning By Ronie Kendig
Published by Abingdon Press
ISBN 978-1-4267-0058-3
Product Description:

Trapped by a nuclear terrorist plot in Mumbai, underwater archeologist Shiloh Blake is consumed with passion for the water and inflamed at the injustices of life.

When her first large-scale dig traps her in the middle of an international nuclear arms clash, she flees for her life. When she spots a man trailing her, the questions are, "Who is he?" and "How is he always one step ahead?"

Reese Jaxon is a former navy seal and now serves his country as a spy. His life is entangled by the beguiling Shiloh Blake as he hunts down the sources to a nuclear dead drop in the Arabian Sea near Mumbai, India.

The only way to end this nightmare and prevent a nuclear meltdown is to join forces with Reese. Will Shiloh violate her vow to never become a spy?
Review:
Reading Dead Reckoning was like watching an action-adventure film. A spy-thriller, it grabs you by the imagination from page one and doesn't let go until the end.
I don't like to give anything away on a novel, so suffice it to say the characters are well developed and complex. The plot is completely believable, and Kendig keeps the tension high throughout.
I read it on a flight from Atlanta to Seattle, and she made a 5 ½ hour flight seem like a 90-minute one. I definitely recommend Dead Reckoning to anyone who loves spy thrillers. You won't be disappointed!
Reviewed by Ane Mulligan at Ane Mulligan.com
Editor for Novel Journey
---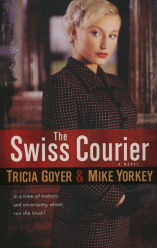 The Swiss Courier by By Tricia Goyer & Mike Yorkey
Published by: Revell
ISBN#978-0-8007-3336-0
324 Pages
Back Cover:
She's risking her life to save a man she doesn't know. But who can she trusts along the way?
It is August 1944, and the Gestapo is mercilessly rounding up suspected enemies of the Third Reich following the assassination attempt on Adolf Hitler's life. Gabi Mueller is a young woman working for the newly formed American Office of Strategic Services (the forerunner to the CIA) in Basel, Switzerland. When she is asked to put herself in harm's way to safely "courier" a German scientist working on the atomic bomb project into Allied hands, the fate of the world hangs in the balance. This fast-paced, suspenseful novel will whisk you along the treacherous twists and turns of a fascinating- and deadly- time in history.
Review:
Because I've read other books by Tricia Goyer that inspired me and this time period-talking about the Gestapo, intrigued me, I signed up to receive a review copy of this book. Once again Tricia working with Mike Yorkey created unforgettable characters and brought history to life. Historical fiction gives you the best of two worlds, one, I learn about history and two, I was moved by the story of brave, heroic characters going up against the odds of their time period for the greater good.
I wondered how things escalated in 1944 with Hitler's rule and when the atomic bomb was developed. It was amazing how many people risked their lives to see justice was done to fight against the Gestapo and its plans to dominate.
There's a good blend of the colorful characters and the unbelievable events that made this book quite an enthralling read. I was so thankful for the list of character names and rank in the beginning of the book. I found myself referring to the list to make sure who was on whose side. It was fascinating how farmers, shopkeepers, soldiers all came together for the common good, risked their very life to fight the good fight and see that their agenda was achieved for man kind.
I liked how the authors tell you about Valkir (in the preface), the last attempt to kill Hitler that failed and how it escalated the development of the Atomic bomb. After that event is when this story picks up. Wow!! You'll want to read this for sure and see history come alive.
Reviewed by Nora St. Laurent at Finding Hope Through Fiction
---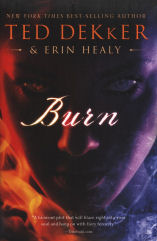 Burn by Ted Dekker & Erin Healy
Product Information
Format: Hardcover
Number of Pages: 384
Vendor: Thomas Nelson Publication Date: 2009
Dimensions: 9.25 X 6.13 (inches)
ISBN: 1595544712
Description:
Gypsy Janeal Mikkado is in an explosive situation. When her kumpania was attacked and her friend was about to be burned to death, Janeal chose to disappear with the million dollars she discovered. Now the person she thought was dead is back! Will Janeal face her past---or be consumed by flames of guilt and fear?
Review:
Coming off reading the best seller Kiss by this dynamic duo of Christian fiction writing a few months ago, Dekker and Healy have shown they are a great team again bouncing ideas together & making yet another best seller in Burn.
When I first started reading this book, I was hoping for an even better version of Kiss with all the supernatural powers or borderline God level powers in a human form. When you deal with stealing memories with a kiss in the last one, where can you go? How crazy was I for asking that question? Of course, I knew they were capable of using another of the major senses we deal with everyday all twisted up in a crazed thriller over a 15 year timeline.
This high octane rocket of a story dealing with Janeal Mikkado and her father Jason Mikkado, who runs a gypsy carnival of thrillers troop, was an interesting starting point. Another great starter was showing the villain right out of the box in drug dealer Salazar Sanso who is a man that always gets what he wants. There was no exception by seducing and duping Janeal to believe that her father was in danger and the DEA was going to hurt him too if the money was not found. One million dollars missing is a big deal. How about the idea of that million to be counterfeit? The power struggle to protect one's self from prison because it is counterfeit can make a man desperate. Mr. Sanso would do just about anything. This includes burning down a whole camp filled with gypsies & killing them all.
As the story unfolds, I found that it was easy to follow and then imagery of the scenes rocketed through my head. I will not spoil the ending so I will end my review this way. I recommend anyone who wants to read a very good action packed adventure to add this one definitely to your reading list. I feel it will be a movie someday. The Dekker fans out there will just enjoy another great story. I give this book 5 out of 5 stars.
Be Blessed!! Reviewed by Brad
Bonus Review
Ted Dekker can take the imagination on a wild ride. And he does yet again in Burn. With Erin Healy, he has crafted a story about a woman who gets caught up in deception and soul-hungers and onto the paths that lead to inevitable pain and death as they take their travelers further and further into darkness.
Though there are moments that are unbelievable, they still seem credible because they are written by a master of ripping masks off and hearts wide open. Or maybe in this case, intense light and horrific heat burning off the lies and leaving truth in its wake.
This is a thought-provoking read. More abstract truth than Christianese. And outside of a few minutes pause when a bizarre twist was revealed, I sped read to find the redemption I knew would be coming. I like the team of Healy and Dekker and I'm looking forward to the next novel they produce.
Reviewed by Kelly Klepfer
---

---