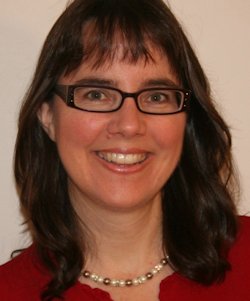 Sandra Orchard is the author of multiple suspense series, and her work has garnered the highest admiration from her readers. Her work has also received a HOLT Medallion, a Word Award, and a Daphne du Maurier Award for Excellence in Mystery/Suspense. In her own words, Sandra's heart is, "…utterly dependent on God for daily inspiration." She lives a life overflowing with both blessings and challenge as she parents her three grown children while honing her grand-parenting skills. Her family remains her most enthusiastic supporters as she continues to pursue all that God has planned for her writing career. Join me as we discuss the final installment of her Port Aster series, Desperate Measures.
Desperate Measures is a thrilling conclusion to a very complex series. Throughout the series you deal with intricacies of medical research as it relates to the consumer market – and it gets pretty deadly! What research is required for this type of thriller?
Much more than makes it into the novel!
I set up several red herrings and hints in the previous books about what really happened twenty years ago and what could be going on behind the scenes in the present, so I needed to research all of the possibilities in enough depth to lay convincing breadcrumbs.
I interviewed researchers, pharmacists, detectives and even FBI agents. I visited a research lab to familiarize myself with the equipment. I read online accounts of a variety of charges brought against pharmaceutical companies and how the investigations played out. I researched everything from CIA operations, to mining, to pesticides, to the drug trade and the political climate in South America (where the plant originated).
I was determined to find tantalizing nuggets that would both inform and surprise readers, and most importantly, keep them guessing.
Why does Kate feel compelled to hide what she is researching? Why can't she realize that by doing that, her actions begin to mirror the darker intents of the pharmaceutical company?
She knows Tom cares more about keeping her safe than uncovering the truth about the plant, and in his mind, the two possibilities are pretty much mutually exclusive. She's so singularly focused on her goal that she convinces herself this is the only possible course of action to expose the company.
In your research, did you discover that there were, indeed, medicinal benefits that never see the light of day because of greed and personal gain? If you didn't see this verified in reality, do you think it is plausible? Why or why not?
Often potentially beneficial medicines don't see the light of day, because there isn't enough funding for them to run the gamut of tests necessary to gain federal approval. So this leads two issues: one, that most research centers on the big money makers—cancer drugs, depression meds, anti-aging etc—and two, that once a drug has had that much money invested in it, there is a strong temptation to downplay negative results so the drug can get to or stay on the market. Most of us have experienced or know people who are told they need to stay on certain drugs or natural remedies or continue "maintenance" treatments, which leaves you with the niggling thought: do I really? Or do they just want my money? I think that experience makes the whole scenario plausible for readers.
Is the race to find the next wonder-drug, in fact, a real problem or one you created uniquely for your series?
The competition to get drugs (especially highly lucrative ones) to the market first is real and has an obvious upside to patients waiting for the drugs, and a potential downside, if it leads to inflating the benefits in the data or negating the negative side effects. So it seemed reasonable to me that with the amount of money a wonder drug would bring in, a company would take extreme measures to secure their piece of the pie.
When and why did medical practice become more about profit and less about healing? Was it fun or disturbing to explore this through fiction?
I don't think that's true across the board. Obviously companies need to make a profit to survive. I've had family members with cancer and family with chronic illnesses, so I am very grateful for the research they do. Of course, there are lots of people in the equation. Many are in it for the money, like any other job, but many researchers choose specific fields after seeing a loved one suffer the ailment and are therefore very much motivated by the desire to find a cure.
What was most disturbing to me was reading about the tactics drug companies use to entice doctors to push their meds. As patients we really need to investigate doctor recommended drugs for ourselves and make informed decisions. I
What compels you to write thrillers? Do you ever scare yourself?
That's so funny. Yeah, I guess I do sometimes, since I make my characters face some of my worst fears. I'm actually intrigued to hear you call my novels thrillers, though. I never thought of them that way. I like to write fast-paced, keep-you-guessing stories, and throwing my characters into the occasional life or death situation lends itself well to that.
Are there ever scenes that you re-read during the editing process that cause you to pause and think, "I can't believe that came from my imagination?" Are you still able to be amazed by the writing process?
Oh, yes, that's happened many times. There are some days where the ideas and words just materialize out of nowhere. I know it's a God thing. And I'm very grateful.
How do you feel once you complete a series? Do you miss your characters, or are you ready to bid them a fond farewell?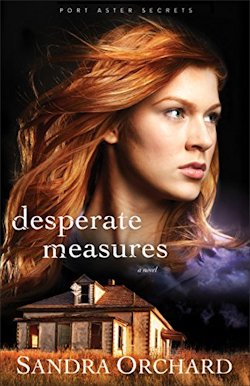 I've written a couple of series for Love Inspired Suspense that I would've happily revisited. But I was more than ready to bid Kate and Tom farewell—by lethal methods if necessary!
Unlike my other series, all the Port Aster Secrets novels revolve around Tom and Kate. And I made the mistake of letting them weigh in on the story lines in the second book. It made for a great read, but…
By the time I got a few chapters into writing Desperate Measures, I realized I'd been completely blind to trust my characters. They'd opened up so many twists and turns, that I wound up with more plot for book 3 than I had available word count.
So...I had no choice.
I had to resort to desperate measures. (Yes, my book titles pretty much mirror how the writing progressed )
Who will you miss the most from Port Aster? Why?
Kate's friend, Julie. I love how she knows Kate so well and isn't afraid to call her out on her act-now-think-later schemes. She doesn't play much of a role in this last book, but she continues to be the voice of reason in Kate's head.
What do you hope readers take away from this series?
I write mysteries, so things are never what they seem. And that's the main point of the series.
Twenty years ago, as Kate's father was being shoved into a police car, he told her: "Remember I love you, Kate. I will always love you."
How many times do you need to remind yourself of that truth about your heavenly Father?
No matter how things look. No matter what it seems to you is going on...He Loves You.
That's the truth I want readers to take away.
You are a rather prolific writer, so can you give us a sneak peek of your work-in-progress now that the Port Aster Secrets series has concluded?
I am super excited about my next series—Serena Jones Mysteries.
Serena is an FBI art crime detective, working out of the St. Louis headquarters, who frequently travels for undercover operations. Amidst her cases, she's also on a personal secret mission to find the art thief who murdered her grandfather. She has a fun sense of humor, and a zany aunt who likes to stick her nose into her cases, and an overprotective mother desperate for grandchildren and a hunky apartment superintendent who shares her love of art and old movies and who willingly takes care of her cat while she's out of town, and an equally hunky, overprotective FBI partner.
I am having so much fun creating the characters in these stories, and all the twists and turns that my readers have come to expect. The first book, A Fool and His Monet, releases March 2016.
What words of encouragement would you like to leave with your fans?
No matter how dark your circumstances may look at times, take God at His Word. Don't lose hope. He loves you.
---

---
Kim Ford has been a resident of Alabama for more than fifteen years. Originally from Georgia, she holds a Bachelor's degree in English from Brenau Women's College. After more than 12 years in sales and marketing, she now serves as the Lead Office Administrator for Auburn University's Department of Theatre. A mother of two sons, both of whom are pursuing college degrees, Kim's life is full and blessed. She enjoys reading great fiction, writing and spending time with her family.
She blogs at: Window To My World